Joe Root has no regrets about the manner of England's Ashes loss at Edgbaston, insisting he would like to "go back in time" and captain England in the same fearless fashion as Ben Stokes.
England's unabashed commitment to the attacking principles of 'Bazball' saw them lose a thrilling first Ashes Test to Australia at Edgbaston, with the hosts driving the game forward to a tense conclusion that ended in defeat by two wickets.
The England dressing room has not blinked over the risks that they took along the way, with Stokes and head coach Brendon McCullum insisting they are on the right track.
Now Root has joined the chorus, insisting the only thing he would change if he had his time again is not bringing a similarly aggressive style during his own reign.
Root led his country in a record 64 Tests over five and a half years, walking away last April after overseeing a draining run of one win in 17.
As the team's most accomplished batter he has let loose since returning to the ranks, scoring five centuries and averaging 67.31, but wishes he had taken Stokes' bold approach when he was at the helm.
Asked if England would like to go back to day one at Edgbaston and reverse their declaration after just 78 overs, the fastest in Ashes history, he said: "That's not what we're about as a team. If I could go back in time, I'd go back and start my captaincy tenure the way Ben has and try to play in a similar manner to how he does it.
"It's far more exciting, far more interesting and I think we are getting more out of our team and our individuals. We're playing better cricket to watch and producing better results overall.
"A lot of times that would peter out to a draw. The wicket we had was very slow, it could have made for a long, mundane game, but the way we went about it we gave ourselves a great opportunity to win the Test match.
"If are going to grow as a team we can't just look at a couple of moments going against us and say 'we need to do things differently'. If anything we need to double down on how we do it, completely back ourselves and make sure we get those one per centers right at Lord's.
"We feel like we've ran the game for five days and we might be on the wrong end of it but there's still so much more to come in that dressing room. It's a great spot to be in."
Apart from sheer weight of runs, one of Root's most significant contributions to the new era of English cricket is his frequent use of an unconventional reverse ramp shot against pace bowlers.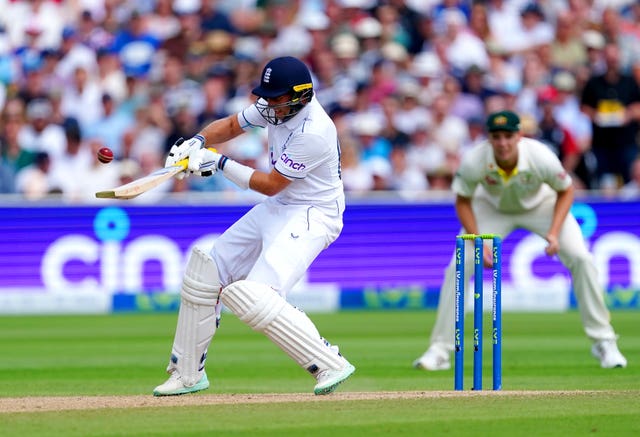 Root uses the stroke to take advantage of gaps in the field, turning accurate deliveries into boundary options, but also to make a statement of intent against quicks who are unused to being treated with such apparent disdain.
Even so, his decision to deploy it off the first ball of a finely poised fourth day against Australia captain Pat Cummins was a remarkable one. Root made no contact on that occasion, but was undeterred enough to use it twice more in the next over – hitting Scott Boland for six and four.
"I don't feel like Superman, I'm absolutely bricking it when the bowler's running in to bowl most of the time," he said of his mindset.
"Coming out first ball of the day, it was more about being 28 for two and it was a chance to lay a marker down. To say to everyone in the ground – the dressing room, the crowd – we are not here to be bowled at, we're here to push the game on.
"I think that's how we all look at the game now, from any position we feel like we can get somewhere to go on and win."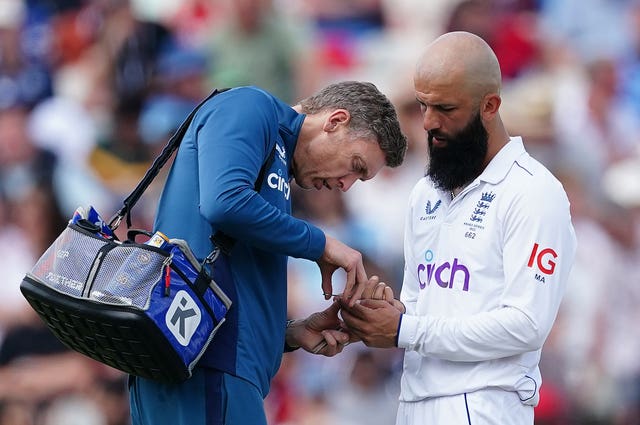 Root also enjoyed an unexpectedly central role with the ball as the first Test reached its conclusion, sending down 15 overs in the fourth innings as Moeen Ali struggled with a burst blister on his right index finger.
McCullum has said Moeen will play in Wednesday's second Test if fit, but if concerns linger over the injury, England could go two ways. They could send for a replacement, such as Surrey's Will Jacks, but they could also continue to rely on Root's part-time off-spin and use the chance to bring in Mark Wood's 90mph pace.
"I think Mo will be absolutely fine, I'm sure he will be, but it's always great when you get a chance to contribute to any Test match," said Root.
"You want to get involved and step up in those big moments. I'm always ready for a chance to take Test wickets."
---