Camera-shy Cameron Norrie admits he is unlikely to become a Netflix star any time soon.
Documentary makers were shadowing top tennis players at tournaments throughout last year as they filmed the Netflix show Break Point.
Nick Kyrgios, Matteo Berrettini and Taylor Fritz were among the players the cameras were focused on, but British number one Norrie will not be following suit.
"I think for me it's more important to keep training as hard as I can and to be known for being a tennis player and a good competitor," he said. "I think it's a big distraction having the cameraman there full time.
"I think it's great what they're doing for tennis, promoting tennis, and getting some new fans into the sport and people learning about tennis.
"But I'm not sure what I'd do. I think I probably wouldn't do it, but that's me right now. But I can understand why some players fancy it and why they are choosing the players that they are.
"But for me, I prefer Andy Murray's documentary and I'd prefer to do something myself if I were to do something one day."
Norrie does want to follow in Berrettini's footsteps, however, by winning the title at Queen's Club this week.
The Italian is absent this year, having won the previous two cinch Championships, the first against Norrie in the 2021 final.
"I think it would be unreal to do that, and especially here at Queen's," said Norrie.
"I came so close. I think I still had never won a title yet when I was in the final with Berrettini. I really thought that was going to be the one.
"It was a tough one. Yeah, a big goal of mine to get a title on the grass. It's a long way away, but I'm still in it and still need to keep improving everything in my game."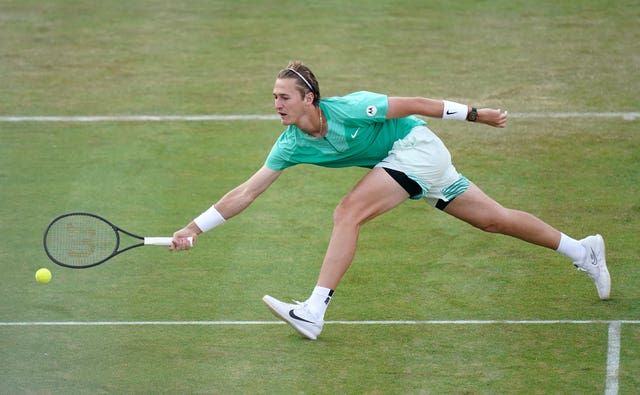 Norrie faces American Sebastian Korda, who knocked out Britain's Dan Evans in the first round, in the quarter-finals on Friday.
Korda, the world number 32, said: "He's probably one of the biggest fighters on tour. He doesn't give you very many free points.
"I'm expecting a good battle. It's going to be fun, for sure, and another good test for me. Yeah, another solid match coming up. I'm very happy for it."
On Thursday world number two Carlos Alcaraz reached the last eight, brushing aside Czech Jiri Lehecka 6-2 6-3.
Much is expected of the 20-year-old Spanish sensation, although he is clearly still coming to terms with his timing and movement on the grass.
However, this was a vast improvement on his laboured first-round win over Arthur Rinderknech.
"I'm really happy with the level I played at today," he said. "I think I had a solid match, I played my game and enjoyed playing here.
"Playing this kind of match I'm OK with this one. It's more practice and I am happy getting experience on grass.
"After this match the expectation changes. I think I'm ready to get a good result on grass."
Andy Murray's conqueror Alex De Minaur swept past Diego Schwartzman 6-2 6-2 and will face France's Adrian Mannarino, who beat Fritz 6-4 7-6 (7).
---