Belarusian Victoria Azarenka left Court One to a chorus of boos after losing a dramatic fourth-round contest to Ukraine's Elina Svitolina.
The crowd had been overwhelmingly behind Svitolina throughout and produced a deafening roar when she clinched a 2-6 6-4 7-6 (9) victory.
The former world number three had been booed at the French Open for refusing to shake hands with Russian and Belarusian opponents but here it was Azarenka, who put her hand up to acknowledge Svitolina before leaving the court, that received loud jeers.
It was unclear whether the fans thought it was she who had snubbed her opponent and Azarenka gave a long, lingering stare before banging her fists together as she walked off.
Svitolina only returned to the tour in April following the birth of daughter Skai in October, and she beamed as she said in her on-court interview: "After giving birth to our daughter, this is the second fabulous moment in my life.
"It was a really tough match. When I was 0-2 down in the second set I heard you guys cheering for me and I almost wanted to cry. I was really struggling and I really wanted to win today. You guys gave me so much strength today."
Svitolina also drew strength from thinking of the plight of her stricken homeland, saying: "I was thinking back home there are lots of people that are watching and cheering for me, I know how much it means for them.
"Any moments that they can share of happiness. I was thinking there is tough times in Ukraine and I'm here playing in front of you guys. I cannot complain, I just have to fight. And here I am, I won the match."
These were the final two mothers left in the singles draw but there was certainly no maternal bond here.
Svitolina spoke before the contest about her "big motivation" to beat Azarenka "for my country", and the pair did not even look at each other at the coin toss ahead of what was the first clash between Ukrainian and Russian or Belarusian players since the beginning of the war and the lifting of last year's ban.
Svitolina has made a very impressive return to the sport, including a run to the quarter-finals of the French Open, where three times she faced Russian or Belarusian players.
A couple of small Ukraine flags being waved as the players walked out onto Court One were the only initial indication of the political tension behind this contest.
But it quickly became clear the crowd were firmly behind Svitolina and in the fourth game a loud cry of Slava Ukraini – glory to Ukraine – was heard and applauded by sections of fans.
On the court, things were not going so well for Svitolina, who in her time away from the sport took an active role in leading fundraising efforts for Ukraine, including meeting with president Volodymyr Zelenskyy.
She had lost all five of her previous matches against Azarenka and, although most of the games were close, it was the Belarusian largely coming out on top.
Svitolina was staring at a swift defeat when she trailed 2-0 in the second set but the former world number three has returned to the tour with a much more aggressive mindset and she levelled things up before pushing to try to force a decider.
The 28-year-old has spoken warmly about the support her country has received from the UK, with Wimbledon funding accommodation and training facilities, and she must have felt as if she was playing at home.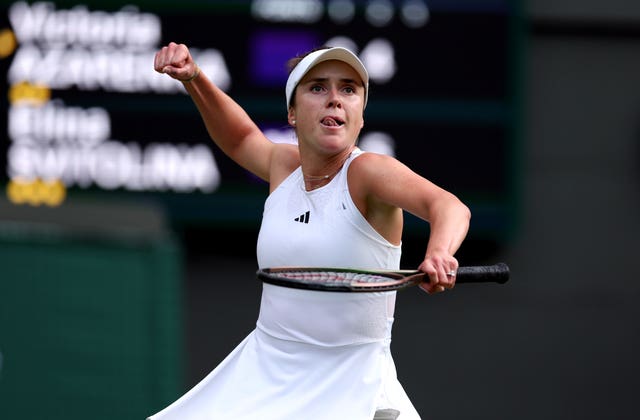 A huge roar greeted the arrival of a set point, then an equally big groan when she shanked a forehand, but a second chance arrived and Svitolina, a semi-finalist here back in 2019, converted.
At 3-0 up in the deciding set, the Ukrainian looked to be on her way to victory but back came Azarenka and the light was fading fast as they approached the denouement.
Svitolina then fought back from 4-7 in a tense deciding tie-break, finally clinching it 11-9 on her second match point and dropping to the turf in delight.
On a lighter note, the 28-year-old revealed ahead of the match that her Wimbledon run meant she had to give away tickets to the Harry Styles concert she had planned to attend.
"I hope Harry is watching," she said. "I'm a big fan of his."
---