Kanick didn't like the Browns NFL Draft.  I've offered up some reasons why I didn't like it, but I'm not an expert.
Instead of flogging that dead horse, I thought it'd be interesting to compare the Browns-Banner draft with some other GMs.  Other, proven, really good*, GMs:
Jerry Reese (Giants GM, 2007)
Ted Thompson (Packers GM, 2005)
Kevin Colbert (Steelers GM, 2000)
Tom Dimitroff (Falcons GM, 2008)
Ozzie Newsome (Ravens GM, 2002)
How did they approach their draft?  Did they look for holes in their roster and fix em?  Did they go for luxury picks (a.k.a, BPA)?  If so, in what rounds did they 'splurge?'
Also, and as an academic matter, I'll add in the needs assessment for the teams that I derived by looking at their depth chart on April 5.  It's not comprehensive..  but if I can identify a need, it's probably a need.
.
All these GMs share these commonalities in their drafts.
They addressed team needs in their first two rounds.
None of their top picks will un-seat a young productive player.
Their first rounders are projected as immediate three down starters.
The Browns' draft can't tick the box on any of these goals.
[Note:  I did NOT cherry pick these five.  These were the first five GMs that came to mind as the best.]
.
______
Jerry Reese (Giants GM, 2007).  
LB, O-line, S
1 19 Justin Pugh T
2 49 Johnathan Hankins DT
3 81 Damontre Moore DE
4 110 Ryan Nassib QB
5 152 Cooper Taylor S
7 225 Eric Herman G
7 253 Michael Cox RB
No one had Pugh rated that highly but Reese is the guy who 'reached' for Jason Pierre-Paul.  And it addresses a need with Diehl's age (and DUI).  Protect the franchise QB.  Smart.
Marvin Austin has been disappointing and Hankins looks like a shot fired across the bow.  Getting a top five player on game film in the 3rd is good; getting a possible franchise QB in the fourth is good.
And the need-addressing safety is 6'4″.
.
Ted Thompson (Packers GM, 2005) 
D-line; CB.
1 26 Datone Jones DE
2 61 Eddie Lacy RB
4 109 David Bakhtiari T
4 122 J.C. Tretter T
4 125 Johnathan Franklin RB
5 159 Micah Hyde CB
5 167 Josh Boyd DE
6 193 Nate Palmer LB
7 216 Charles Johnson WR
7 224 Kevin Dorsey WR
7 232 Sam Barrington LB
Went straight to need with Datone Jones.  I missed RB as a need for the Packers but it was one, and Lacy satisfied that.  Then.. with five picks in rounds 4 and 5, Thompson actually used them on players.  What a maroon, right Joe?
.
Kevin Colbert (Steelers GM, 2000)
DE, RB, S, LB.
1 17 Jarvis Jones OLB
2 48 LeVeon Bell RB
3 79 Markus Wheaton WR
4 111 Shamarko Thomas SS
4 115 Landry Jones QB
5 150 Terry Hawthorne CB
6 186 Justin Brown WR
6 206 Vince Williams LB
7 223 Nick Williams DT
Lots of holes to patch on the aging and salary cap bound Steelers who are coming off a losing season.  Did they punt their draft with luxury picks and trading for next year?
They. Did. Not.
Needs addressed in first four picks.  Possible/probably Roethlisberger successor selected.
.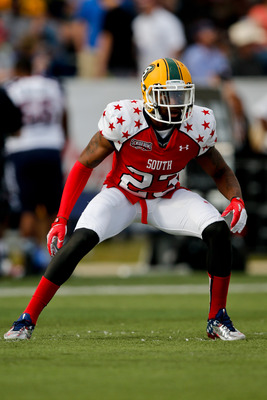 Tom Dimitroff (Falcons GM, 2008)
LB, CB, S, OT

1 22 Desmond Trufant CB
2 60 Robert Alford CB
4 127 Malliciah Goodman DE
4 133 Levine Toilolo TE
5 153 Stansly Maponga DE
7 243 Kemal Ishmael DB
7 244 Zeke Motta SS
7 249 Sean Renfree QB
Need a CB much Tom?  Dimitroff seems to be Heckert like where he gets a goal and achieves it.  The goal here was to address the Falcons' CB issue.
.
Ozzie Newsome (Ravens GM, 2002)
ILB.
1 32 Matt Elam FS
2 56 Arthur Brown ILB
3 94 Brandon Williams DT
4 129 John Simon DE
4 130 Kyle Juszczyk FB
5 168 Ricky Wagner T
6 200 Kapron Lewis-Moore DE
6 203 Ryan Jensen T
7 238 Aaron Mellette WR
7 247 Marc Anthony CB
Reed, Lewis, Ellerbe –> Elam, Brown, Simon.  Need, need, need.
Adding Kanick sleeper Wagner is, of course, smart too.
.
_____
* Grudgingly putting Newsome on this list because being lucky is a good attribute for a GM.
.