In an interview with Oprah Winfrey that aired on Sunday, the New England Patriots quarterback Tom Brady admitted that his retirement would be coming "sooner rather than later."
Brady, who will celebrate his 41st birthday this August, already has one of the best football careers in NFL history. He has won five Super Bowl championships and has been awarded league MVP three times and Super Bowl MVP four times.
He is already one of the oldest active players in the NFL but plans to keep playing for a few more years.
"I think about it more now than I used to. I think I'm seeing that there's definitely an end coming, sooner rather than later," Brady said. "As long as I'm still loving it. As long as I'm loving the training and preparation and willing to make the commitment."
Family seems to be Brady's main reason for thinking about retirement.
"There's other things happening in my life too. I do have [three] kids that I love, and I don't want to be a dad that's not there driving my kids to their games. I think my kids have brought a great perspective in my life, because kids just want the attention. You better be there and be available to them, or else they're going to look back on their life and go, 'Dad didn't really care that much.'"
The wide-ranging discussion covered Brady's spirituality, controversies, family life, training and lifestyle, his thoughts on players kneeling for the national anthem, and his coach Bill Belichick.
Brady also expressed discomfort with being called "the greatest of all time." He says that he doesn't compare himself to other players and just tries to be the best that he can possibly be.
"I am what I am. I know my strengths. I've improved on some of the weaknesses. And I still think I want to go out there and compete and play with a bunch of 22-year-olds. It's still a lot of fun," Brady said.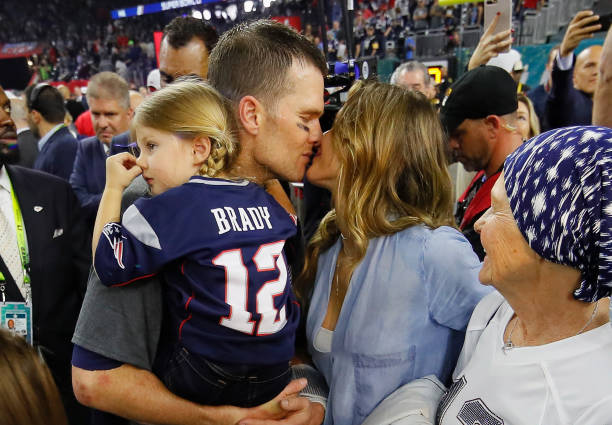 He also talked about the feelings he's experienced after losing a Super Bowl and how the experience has changed as he's gotten older. When he lost Super Bowl XLII in 2007, he was devastated and he said it took him over a month to feel like himself again.
In comparison, he says that he has grown to recognize the other important things in his life like his children and family. Now, after a loss, he uses the opportunity to teach his kids that losing and disappointment are a part of life.
Last season, Brady threw for over 4,500 passing yards and 32 touchdowns with a 66% completion rate. He led the Patriots to Super Bowl LII, his eighth time on the championship field, but the Philadelphia Eagles prevailed and won with a score of 41-33 over the Brady and the Patriots.