New Orleans downed Carolina for the third time this season to reach the second round of the NFL playoffs on Sunday while the Jacksonville Jaguars edged Buffalo to advance as well.
Drew Brees threw for 376 yards and two touchdowns to lead the host Saints over Carolina 31-26, New Orleans holding off the Panthers with a late defensive stand to seal the victory.
"This win is special," Saints defensive end Cameron Jordan said. "They came back late in the fourth quarter, made this a game. We had to finish out the game.
"We put it on our defense and we responded the way we were supposed to. We wanted it more. We had to fight today to play next week."
The Saints will visit Minnesota next Sunday in a National Conference semi-final game with Atlanta at top seed Philadelphia next Saturday.
Jacksonville's Blake Bortles threw for 87 yards and a touchdown and ran for a career-high 88 yards to lead the host Jaguars over Buffalo 10-3 in a defensively dominated American Conference first-round game.
The Jaguars managed only 230 yards, 33 less than the Bills, in their first playoff game since 2007. It was the first post-season contest for Buffalo since 1999.
"We prepare hard. We're battle tested. We know if we keep playing ball, good things will happen," Jaguars defensive end Calais Campbell said.
The Jaguars visit Pittsburgh next Sunday in an American Conference second-round matchup while the Tennessee Titans visit New England in next Saturday's other American Conference semi-final.
Jacksonville routed Pittsburgh 30-9 in early October on the Steelers' home field.
"We've done it before so we know we can do it," Campbell said. "We just have to hunker down and get it done."
Saints Hang On Late
At New Orleans, Brees connected with Michael Thomas on a 46-yard pass play late in the fourth quarter to put the Saints on the doorstep of Carolina's end zone and two plays later, Alvin Kamera scored on a 2-yard run as New Orleans jumped ahead 31-19.
Cam Newton answered with a 56-yard touchdown pass to Christan McCaffrey, the Panthers climbing within the final margin with 4:09 remaining, and after Mike Adams intercepted a fourth-down Brees pass, Carolina had one final chance at victory.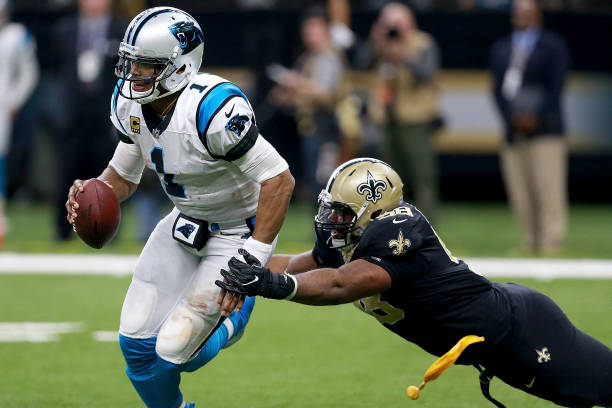 Newton guided the Panthers into Saints territory but two throws into the end zone fell incomplete and he was sacked on fourth down to end Carolina's hopes.
Brees connected with Ted Ginn on an 80-yard touchdown pass to open the scoring.
Carolina answered on a 27-yard Graham Gano field goal but Brees then marched New Orleans 75 yards in nine plays, completing the five-minute drive with a 9-yard touchdown pass to Josh Hill for a 14-3 Saints lead.
After Gano booted a 39-yard field goal to nudge the Panthers nearer, Brees guided the Saints on an eight-play, 75-yard trek capped by Zach Line's 1-yard touchdown run to put New Orleans ahead 21-6.
Gano hit field goals of 29 and 58 yards but Wil Lutz answered for the Saints with a 57-yard field goal to put the hosts ahead 24-12.
Carolina finally found the end zone with 12:47 remaining when Newton hit Greg Olsen on a 14-yard touchdown pass, the Panthers pulling within 24-19 to set up the late drama.
Bortles Tosses Winning TD
Buffalo's Stephen Hauschka kicked a 31-yard field goal and Jacksonville's Josh Lambo answered from 44 yards in the final two minutes of the second quarter to leave the clubs deadlocked 3-3 at half-time.
The winning points came on a tension-packed fourth-down play, Bortles flipping a 1-yard touchdown pass to Ben Koyack with only 42 seconds remaining in the third quarter.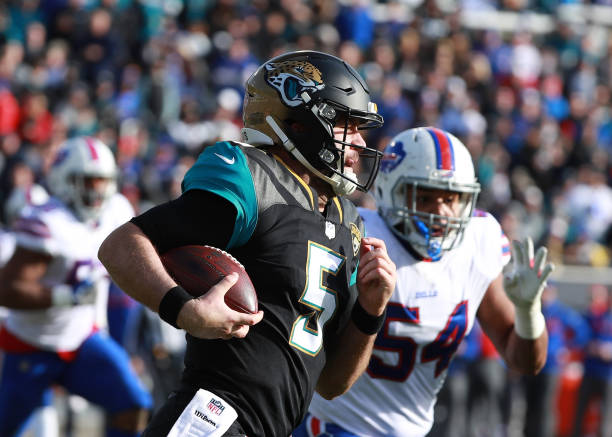 The dramatic score capped a 15-play, 86-yard march by the Jaguars that took nearly nine minutes.
The Bills moved into Jaguars territory in the final seconds but Buffalo quarterback Tyrod Taylor was seriously injured and replaced by reserve Nathan Peterman, who tossed an interception to Jacksonville's Jalen Ramsey that sealed the outcome.
"That was an incredible play," Campbell said. "But he does that all the time. That was huge."
Read More About: bills, blake bortles, cam newton, drew brees, jaguars, new orleans saints, Top Story