Club football is in crisis at the moment. The fashion in which Rangers FC, one of Scotland's biggest clubs, entered administration hasn't quite sent alarm bells ringing in the way that it should. The football economy has witnessed a hyper-inflation over the last twenty years, and at some stage soon, is bound to burst.
Over the last few seasons, we have seen the rise and rise of transfer prices. What would have bought you a world class player fifteen years ago, eg. Ronaldo's £20 million move from Barcelona to Inter Milan in 1997, would only buy you what most people would consider an average player for a competitive Premiership team today, eg. Stewart Downing or Jordan Henderson to Liverpool last year. You need just look at the 10 biggest transfer fees of all time to notice the change in times. 7 of the top 10 have been made in the last 3 years. Even Andy Carroll, statistically an average standard Premiership striker, who struggles to even cement a place at at both club and international level, comes in at number ten, costing Liverpool £35 million to acquire his services from Newcastle Utd. History has taught us that such a hyper-inflation in any industry is non-sustainable, sooner or later, the bubble is going to burst, and a lot of big clubs are going to pay dearly.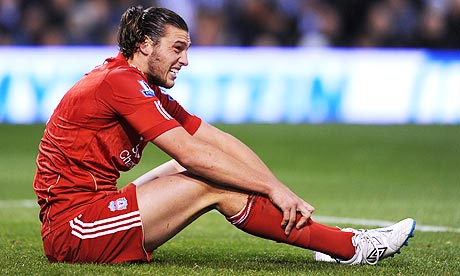 Despite common belief that the biggest spenders are going to suffer if and when this collapse occurs, this is not necessarily going to be the case. Clubs with large foreign investors, eg. Chelsea and Manchester City, are not going to be the worst off. Their money is coming from external sources, and those sources are the ones who are going to take the hit. Man Utd are a staggering £439 million in debt as of the end of 2011. This figure is being reduced, but still at a slow pace. Barcelona are in a similar position, at €589. While Real Madrid are €578. They are borrowing money which they plan to recuperate in the future, taking a massive risk. However, it must be noted that while the teams with such financial backing are not the ones that will be affected by the problem, they are certainly adding to it, creating spiraling prices in the game.
When Celtic clinched the SPL title last month, calls from Rangers fans claimed that it was a 'tainted' title; that it was due to the 10 point deduction for their Glasgow rivals. But the question has to be posed; are Rangers recent titles not more artificial? They borrowed money they didn't have, to buy players they couldn't afford. They gambled on their fans loyalty by predicting future ticket sales and sponsorship deals. The same principal can be applied to the domestic game in England at the moment. Opinions are being aired that the likes of Chelsea and City are 'buying success', and they are right, these are such 'artificial' titles. But are they not more genuine than the Premiership titles won by Man Utd in the last decade? Chelsea and City spend within their means, they just happen to be very large means. Man Utd, on the other hand, have spent big with money they do not have, and are going to be the first to fall if and when the collapse happens, weighed down by their vast debts. Even the purists today must admit that the beautiful game has been reduced to a business, an industry controlled by finance, and finance has the final say.
Europe is the focal point of club football, and with the exception of England, every major league is in countries where the Euro currency is used. A blind man could see that Germany is the most economically stable country in the Eurozone at present, and it is no different in footballing terms. Bayern Munich are the only team at Europe's top table that do not have a private backer; they are financially efficient. Any money spent has been generated through the club itself, be it shirt sales, ticket sales or sponsorship. Yet they remain as competitive as anyone in the transfer market, conveyed by the £39 million they have spent on players this season, and on the field, reaching the Champions League final. They are not the only example, and there is a school of thought that the medium term future of European football is German, with the likes of Borussia Dortmund and Schalke 04 growing stronger and stronger.
While it may be fair to say that the future is German, there is no doubt that the present is Spanish. Spain are the World and European Champions, and their club sides aren't doing too badly either. Out of the 8 semi-finalists in the Champions League and the Europa League, 5 are Spanish. But if you scratch beneath the surface examining finances, things do not seem as rosy. Teams are in the same boat as Man Utd; the debts of the 'big two' in Spain are astronomical. The money used in splurges to buy big name talents such as David Villa, Kaka and Cristiano Ronaldo have come from the clubs attempting to live outside their means.
Football has apparently remained immune to the global economic crisis over the last five years. Football is undeniably a business. Bob Dylan can be aptly quoted; "Money doesn't talk, it swears obscenity" Nearly every other industry in the world which isn't based upon limited resources have been effected. It doesn't take an expert economist to forecast that this is unsustainable. A crash will come in some shape or form in the near future, and just like Rangers, those who have spent the most frivolously with a view to investment will be the ones to suffer. In business money has the final say.
SPORT IS EVERYTHING. Brian Barry.
Brian Barry is a University College Cork student and also writes for vavel.com. He has recently joined the SportIsEverything team and is an invaluable addition. His sporting knowledge extends to many sports and this is reflected in his works. You can follow him on Twitter via @briangbarry or even send an email to sportiseverything@hotmail.co.uk.
If you are a budding young journalist or just someone with a basic interest in sports, contact SportIsEverything on Twitter via @TheBoyBarrett , or email sportiseverything@hotmail.co.uk. Submit your own works and we'll do our best to publish them. Always remember: Sport Is Everything.
Read More About: Rangers, Rangers Newco, SPL