"I don't know any other way to lead but by example"
Don Shula
Motivated. Strong-willed. Mentally tough. Leaders amongst men.
The above terms aptly describe two of the greatest superstars in the sporting world today. Cristiano Ronaldo dos Santos Aveira and LeBron Raymone James may live thousands of miles apart, yet both are aware of each other and the daily struggles they face. Although they may not have crossed paths, their lives hold many similarities. Both are perfectionists and have put in a lot of work to get to where they are in their respective sports. However, with success comes pressure and it is hard to keep yourself upright when you have the pressure of a thousand cameras on your back waiting for you to make a mistake.
To many, LeBron and Cristiano will not be held upon the highest pedestal until they have reached the peaks of their respective sports. For Lebron, it is that elusive first ring that he has chased for the past eight seasons. However, this season, his ninth, has looked like the most promising. For Cristiano, he has won it all at club level but knows he won't be written into the annals of history until he has brought international success to his home country of Portugal. At the start of this month (June 2012), both men were 'Kings' without a crown, yet their thrones did not seem out of reach. The Miami Heat were in the NBA Playoffs, and Portugal were in the European Championships. Like a flower that failed to bloom during Spring, LeBron and Ronaldo hoped that their careers would finally flourish under the glare of the Summer sun.
Both LeBron and Ronaldo had very similar upbringings. They were born within three months of each other, December 1984 and February 1985, respectively. They both grew up in working or lower class economic households and money was never plentiful. LeBron James was born in Akron, Ohio to a 16-year old mother and a convict father who wanted nothing to do with his son. His mother had to work numerous jobs in order to support young Lebron and they moved house regularly. This was not a recommended upbringing for any child, as it had an impact on his school life. LeBron is very close to his mother and fully appreciates the struggles that she went through to get him to where he is now. As a mark of affection, LeBron had his mother's name, Gloria, tattooed on his arm. Whilst many aspects of LeBron's life were unstable, he found solace in the one support structure that offered him stability; basketball. As he continuously moved from home to home, the one stabilising factor in his life was the courts. LeBron met a coach named Frankie Walker, and both he and his mother decided it would be more beneficial for LeBron if he moved into the Walker family home for a period. This was a huge moment in LeBron's life, as it taught him discipline and other life lessons.
Across the Atlantic in the working class district of Santo Antonio on the island of Madeira, Portugal, a young Cristiano Ronaldo was going through his own struggles. Money was never plentiful in his household, and he lived in a small house with his parents and four siblings. Ronaldo's impoverished upbringing and how he has developed into one of the world's best soccer players is something that further underlines his never-say-die attitude. Similar to LeBron, Ronaldo never let financial constraints or outside influences deter him on his way to fulfilling his goal. Although it can be argued that LeBron's upbringing may have been a tad worse than Cristiano's, there is no doubting that both were very tough and made the player's who they are today.
It was clear from a young age that both players possessed a huge amount of talent. However, talent isn't everything and the sporting world can be thankful that both players possessed the same work ethic and motivation that has helped them to develop into sporting greats.
Both Ronaldo's and LeBron's' rise to prominence occurred very quickly and they were noted as future stars of their respective codes. LeBron became a high school superstar for St Vincent-St Mary Fighting Irish and the hysteria surrounding this newborn superstar gripped the entire American nation. High school games were selling out regularly and everybody wanted to see 'King James'. Even though he was still in high school, LeBron found himself on the cover of Sports Illustrated. His star continued to grow and grow and by the end of his final year, colleges were queuing up to sign LeBron. However, LeBron had his heart set on the NBA and in 2003 he was drafted to the Cleveland Cavaliers as the number one overall pick. LeBron Raymone James had reached the NBA.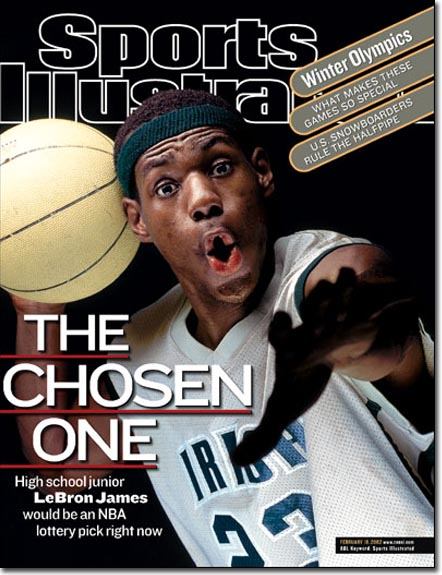 Cristiano Ronaldo's rise to prominence, although not as public as LeBron James', was a very rapid one also. He signed for the local youth team of Andorinha, and his performances meant that he would sign for C.D. Nacional after just two years. Word was spreading around not only Madeira but all of Portugal about the fantastic young prospect from the islands. In his one and only season with C.D. Nacional, Ronaldo captained their Under-12 side to their first ever regional youth championship. His impact was immediate and his potential began to strengthen and become more public. This led to him signing for the Portuguese giants, Sporting Clube de Portugale in 1997. Ronaldo became known as a proverbial 'rough diamond' in his early days at Sporting, as he struggled to adapt to unfamiliar surroundings away from his loved ones. The young Cristiano found himself victimised by the other players due to his strong accent and upbringing far from the mainland. Sporting decided it would be best if Cristiano's mother moved to the mainland to aid her son and this proved to be a huge moment in his development. Under the guidance of Sporting's famed 'Academia de Futebol', whose alumni include footballing legends such as Luis Figo, Ricardo Quaresma and Simao Sabrosa, Ronaldo began to hone his skills and show the promise that had earmarked him as a future star. He went on to become the first player to represent Sporting's under-16, under-17, under-18, B-team, and the first team, all within one season, scoring two goals on his league début for Sporting. However, perhaps his most important performance was in a friendly against Manchester United in 2003, which impressed Alex Ferguson to the point that he put him at the top of his wishlist. After six years at Sporting, Cristiano Ronaldo signed for Manchester United and, similar to LeBron, he had hit the big time.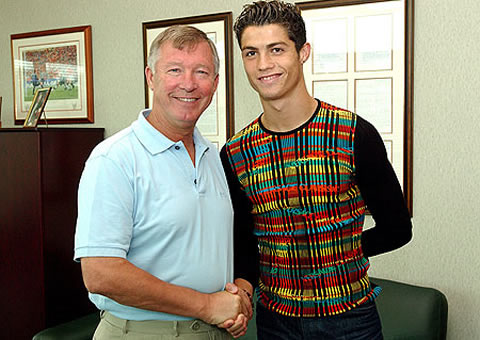 Although both stars had reached the highest level in their sports, (for James it was the NBA, and for Cristiano the Premiership) both knew that there was a long road ahead if they were to fulfil their ultimate goal of becoming the best in the world. They may have reached the summit, but the kingdom they both yearned for was many miles away. Both saw themselves as Kings that were yet to be crowned, and would not stop working until they were sitting on their thrones.
LeBron started his NBA career in emphatic fashion and lived up to his choice as No.1 draft pick. He had an excellent début season culminating in receiving the Rookie of the Year award for 2003/4. LeBron was perfectly suited to the NBA and went from strength to strength. Immediately, the comparisons between this young kid from Ohio and NBA greats began to flood in. Kobe Bryant reigned supreme at the time and his accumulation of five career NBA Championships rings was something that substantiated his claims as the greatest player in the NBA. Lebron knew that no matter how well he played, he would not be remembered as one of the greats until he got his hands on the elusive NBA ring. LeBron spent seven seasons at the Cleveland Cavaliers, before he became a free agent in the summer of 2010. Although he left Cleveland with a heavy heart, LeBron knew it was inevitable in order to fulfil his dreams of winning an NBA Championship. A media frenzy engulfed the American nation as to where LeBron was going to go; New York? Miami? or even stay in Cleveland? On July 8th, 2010, LeBron announced his decision via a live ESPN broadcast. The nation held its breath: "I'm going to take my talents to South Beach and join the Miami Heat". A new chapter in LeBron's life had begun, and only he had the power to write the fairytale ending.
Cristiano Ronaldo's early career at Manchester United did not have the same emphatic start that Lebron had with the Cavs. Ronaldo was constantly being compared to a 'rough diamond'. People knew he had the ability, but were unsure if he was going to mature. Sir Alex Ferguson took a huge liking to Cristiano, and knew the potential that the boy possessed. Ronaldo's first three seasons were the proverbial 'hot and cold'. He would score excellent goals, but then lose the ball trying outrageous tricks. This frustrated a lot of people and they began to question his ability to make it at the top level. Similar to Lebron, Ronaldo thrives off people writing him off and he began to work even harder. 2006 was the year that Ronaldo finally proved he had the potential to become one of the greatest in the world. His ball retention improved and he came up with a string of important goals for United, twenty-three in all competitions to be exact. The 'Boy Wonder' began to justify his price tag. Ronaldo's form exploded in the next few years, scoring a total of 118 goals in 292 appearance for United. He won numerous trophies, including the Premiership and Champions League. As he was still young, the frightening fact was that he was only going to get better. Ronaldo felt he had done all he could with United and moved to Real Madrid in 2009 in order to further his career. As expected, he was an immediate success and made the move from the Premiership to Primera Liga effortlessly. Although he had won it all at domestic level, it was international success that Cristiano yearned for. On a personal level, he knew he would not be remembered as one of the greats unless he could perform on the international stage. On an emotional level, Ronaldo wanted to bring joy and happiness to the people of Madeira by winning a major title with his beloved Portugal.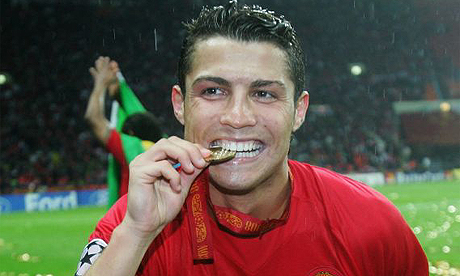 LeBron and Ronaldo had already achieved so much in their respective careers, despite being under the age of thirty. No matter how many personal awards they would receive, neither would be happy without completing their ultimate goals. The more talented they became, the more the media attempted to derail their careers. This only further motivated the superstars to work harder in order to reach the promised land.
LeBron's first season with the Heat was a major success and he averaged 26.7 points per game. The Heat steam-rolled their opponents and reached the NBA Finals, in which they would face a strong Dallas Mavericks outfit. LeBron came into the series full of confidence, knowing that he was on the cusp of greatness. The triumvirate of James, Dwyane Wade and Chris Bosh were thought to be too strong for Dirk Nowitzki and the Mavs. LeBron was in blistering form all season, but unfortunately his impact fizzled out in the Finals, as he averaged just a measly 17.8 points per game and the Mavericks went on to win. LeBron was so close to getting his hands on his first ring and making his dreams come true, but fell at the final hurdle. He was inconsolable.
Cristiano Ronaldo's international career was something that divided opinion in Portugal. Although he finished as Portugal's top goalscorer in the 2006 World Cup qualifying campaign, many critics felt he was not doing enough for the team and that he was selfish and wasteful. This did not affect Ronaldo and he continued to deliver for Portugal on the big stage. In the quarter finals Portugal faced a familiar England team. Ronaldo would have played with or against the majority of the English players and knew that the spotlight would be on him from the first whistle. The match was shrouded in controversy, with Ronaldo seemingly urging the referee to send off his then Manchester-United team-mate Wayne Rooney. To make matters worse, Ronaldo went on to score the decisive penalty in a shootout that sent Portugal to their first ever World Cup semi-final. Ronaldo was one step closer to his dream.
Unfortunately, like LeBron, it was not to be Ronaldo's year and Portugal were beaten by France in the semi-final. The next few years were a case of elation and sadness for Ronaldo on an international level. He always performed in qualifying, scoring endless goals, but always met with heartbreak at the major tournaments. The Portuguese team always qualified from their groups, but ultimately came up short in the knock-out stages, e.g. quarter finals in 2008, round of 16 in 2010. Ronaldo and LeBron began to wonder if they would ever get their moment in the sun.
2012 would prove to be a decisive year in LeBron James' life. The Miami Heat were in scintillating form and qualified for the play-offs with ease. LeBron felt that he had learned from the previous year's mistakes and that he was now as ready as ever to win his first Championship ring. On the other hand, Ronaldo was scoring goals for fun at both club and international level and seemed to reach an even higher level than what he was at before. Both players came into the year full of motivation and belief. There was no more hope, just belief. Hope has connotations of luck, LeBron and Ronaldo did not need luck. They had the ability to get the job done.
LeBron was in excellent form throughout the post-season and led the Heat to the NBA Finals for the second year running. This time he was ready and would not let the opportunity slip through his fingers. They faced an excellent OKC Thunder team that was full of youth and flare. Many believed that this game was too hard to call, but one look into LeBron's eyes and you could tell he was a different player to last year. This was LeBron's year and he wasn't going to let anyone get in the way of his date with destiny. LeBron was a beast in the Finals, registering averages of 28.6 points, 10.2 rebounds, and 7.4 assists per game. His career-defining moment was the decisive game, Game 5, in which he registered a triple-double and brought the Larry O' Brien Championship Trophy back to South Beach for only the second time in the franchise's history. LeBron had finally done it. All his blood, sweat and tears. All the sacrifices his mother and those around him had made to help him reach his goal culminated in this moment of sheer bliss. LeBron Raymone James could finally sit on his throne and live up to his self-titled nickname of 'King James'.
On the 21st June, 2012, the same day that LeBron was celebrating his Championship-winning triple-double, Cristiano Ronaldo was on his way to fulfilling his own dream. His beloved Portugal were facing a sticky Czech Republic team in the quarter finals of the European Championships. It was a tight-knit affair during a tournament in which Ronaldo had finally begun to deliver. They had been drawn in the proverbial 'Group of Death' along with footballing powerhouses Holland, Germany and Denmark. Portugal needed a win against a strong Holland team in order to progress to the knockout stages. This was not going to be an easy task and Ronaldo knew he would have to be at his best. Thankfully, he came up with the goods once more and scored two goals in a match-winning display to set up a quarter final match-up against the Czech Republic. Ronaldo was going from strength-to-strength and his performances portrayed a level of maturity that was once absent in his earlier career. In the quarter final, Ronaldo scored one of the most important goals in his international career to put Portugal into the semi-finals. He was one step closer to his dream.
LeBron James had finally become an NBA champion, something that nobody could ever take away from him. It is somewhat ironic that both Ronaldo and LeBron would save their greatest moments to date for that same fateful day on June 21st. For Ronaldo, the job is not done. He faces the old enemy Spain in arguably the biggest game of his international career. LeBron has reached the summit, but he is alone. He stands at the mountain top with his hand outstretched waiting for Cristiano to join him.
History is written by the victors and players are judged on what they have won. Something tells me LeBron won't be sitting by himself for much longer. Is it time for Cristiano Ronaldo to finally reach the Promised Land?
SPORT IS EVERYTHING. Richard Barrett.
Richard Barrett is a Sports Studies and Physical Education, University College Cork graduate. He is the editor of sportiseverything.com and his background extends to many sports.You can follow him on Twitter via @TheBoyBarrett or even send an email to sportiseverything@hotmail.co.uk.
If you are a budding young journalist or just someone with a basic interest in sports, contact SportIsEverything on Twitter via @TheBoyBarrett , or email sportiseverything@hotmail.co.uk. Submit your own works and we'll do our best to publish them. Always remember: Sport Is Everything.
Read More About: Chris Bosh, Cleveland Cavliers, Cristiano, Cristiano Ronaldo, Dwyane Wade, Euro 2012, Lebron, Lebron James, Lionel Messi, Manchester United, Miami Heat, NBA, NBA Championship, Portugal, Real Madrid, Ronaldo, Sporting Lisbon
---