In no particular order, the following is a compilation of the alternative moments to remember (and forget) during what was a topsy-turvy footballing year. From that 'Aguerooooooooo' goal, to the unearthing of Luis Suarez as the heir to the Third Reich, these are moments that will go down in history as ingredients to the most flavoursome year in recent footballing memory. Sit back and enjoy.
1. Manchester Turns Blue.
Forty-Four years. For forty-four long years, the Manchester City supporters (not so surprisingly in abundance at present) had to wait for their beloved 'Citaaay' to finally win Britain's greatest prize, and it came during what was undoubtedly the most exciting Premiership finale on record. It was a tough pill to swallow for fans of the red side of Manchester, even if the majority have never stepped foot inside the city of Manchester. Clips of Sergio Aguero's 94th minute title winner against QPR will no doubt be replayed for the rest of eternity.
2. Adolf Suarez.
Luis Suarez exudes controversy. Be it from his diving antics or his recreational racism, one thing we have learned about the talented Uruguayan is that he simply does what he wants. One minute he will pluck the ball out of the sky with ease and score a wonder goal (Liverpool vs Newcastle, Nov 2012), the next you'll find him rolling around the ground as if he was an extra in Saving Private Ryan. The racism controversy between Evra and himself enthralled the nation, with Suarez seemingly not realising what he said was in fact racism. I presume he had the same lawyer as John Terry, as he also did not realise calling one half of the Brothers Ferdinand a 'black c*nt' constituted racism. What's this about footballers not being intelligent eh?
3. Kolo Toure Living A Double-Life
The headline says it all. Many, including myself, were astounded when we heard that Kolo Toure was in fact leading a double-life. The 'happily' married brother of African star Yaya seduced a young model and duped her into thinking he was just an everyday average car salesman. The girl was astounded when her friends informed her that he was actually a £90,000 a week Premiership footballer. One thing I have learned from this is that Kolo must have some excellent acting skills, as he has also fooled the world into thinking he is a half-decent centre back. Watch this space, L.A. beckons.
4. Joey Barton vs. the World
Joey Barton has become the Marmite of football. You either love him or hate him. The reformed thug-turned-philosopher is never far from controversy. During the incredible final day drama of Man City vs QPR, Barton found himself embroiled in a moment of madness in which he completely lost the plot. Having being sent off for elbowing Carlos Tevez in the face, Barton kicked Sergio Aguero and attempted to head-butt Vincent Kompany. He then had to be dragged from the pitch for trying to have a go off Mario Balotelli, all the while rowing with the rest of the City players and staff. This madness effectively ended Barton's QPR career and the F.A. handed him a 12-match ban.
Nowadays, Joey uses his Twitter page as a platform for his controversial views, commenting on everything from Gary Lineker's ears to his interpretations of the works of Nietzsche. He is continuously referring to people as 'thick' (Frimpong especially), even though it is rare if there are no spelling mistakes in his Tweets (Gold Star for Joey). Joey most recently had a Steve McClaren moment when he somehow acquired a French accent, despite having only been playing in France for a few months : http://www.youtube.com/watch?v=Z3U-r8T31Ns ). No doubt more controversy awaits us in  2013 as we follow the life of the enigmatic Joey Barton.
5. Gary Neville Creams Himself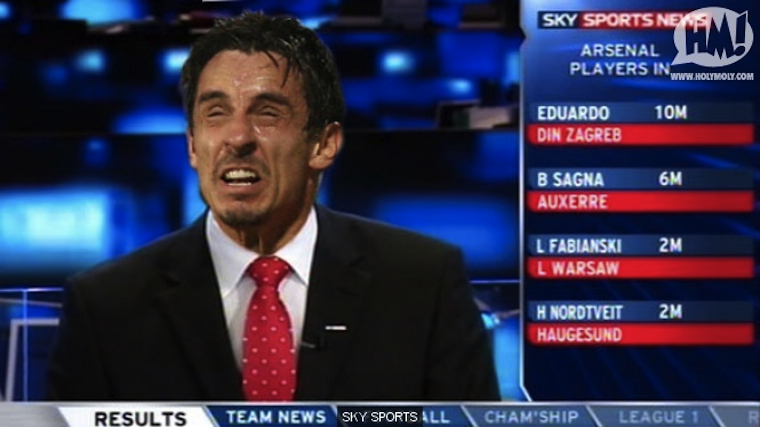 When Sky announced that Gary Neville was to join their punditry team, we expected biased, boring views from a Manc with an annoying face and an even more annoying moustache. However, what we got was one of the great moments in footballing commentary. As Chelsea continued to astound and entertain footballing fans throughout the world with their historic Champions League run, one commentator got a little over-excited and seemed to enjoy Torres' goal against Barcelona a little too much: http://www.youtube.com/watch?v=d6RG6yxgeFE/ . If this is what Gary is up to in the commentary box, then no wonder Ray Wilkins always has that dirty grin on his face.
6. Chelski
Chelsea had a highly successful 2012 on the pitch, winning the Champions League for the first time and also winning the FA Cup. However, this success merely papered over the cracks that were present throughout Chelsea Football Club. It was a tough year for the North Londoners in which Der Fuhrer, John Terry, was ousted as a racist and the club went through three managers. Andres Villas-Boas was sacked in March, with Roberto Di Matteo brought in as a temporary replacement. RDM could do no wrong and soon led the team to glory. Champions League success was Abramovich's priority and RDM promptly delivered. Many believed that this would cement RDM's position as manager for years to come, yet he was sacked in November after a shaky start to the season. This led to outrage throughout England and, to the disdain of the Chelsea supporters, Rafael Benitez, a.k.a. Bad Buy Benitez was brought in to lead the team for the remainder of the season.
One conclusion that we can make from Abramovich's actions is that he gains pleasure from sacking managers, maybe not pleasure on the Gary Neville/Torres Goal level, but perhaps the same amount of pleasure Joey Barton gets from kicking people's heads in.
7. Characters with Character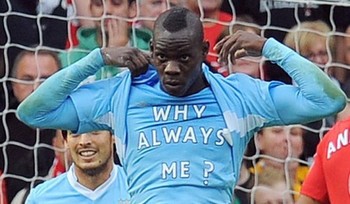 2012 was a year where controversial superstars like Zlatan Ibrahimovic and Mario Balotelli were, unsurprisingly, as 'modest' as ever. The following is a collection of these stars' infamous quotes and some others that made us laugh during the year:
(i) King Zlat having just signed for French giants PSG;
"It's true that I don't know much about the players in Ligue 1 but for sure, they know who I am."
(ii) Super Mario ensured City fans that he won't be joining Liverpool or Chelsea anytime soon with this gem just before Euro 2012:
 "If [racism] does happen I would leave the pitch and go home. Racism is unacceptable to me, I cannot bear it. We are in 2012, it can't happen. If someone throws a banana at me in the street, I will go to prison because I will kill him"
(iii) Sir Alex ferguson was left outraged by the terrible actions of Ashley Williams when he kicked a, wait for it, football off Robin Van Persie's head. Yes, a footballer kicked a football and it hit another in the head. Disgraceful actions and even more disgraceful that the culprit didn't spend Christmas behind bars:
  "That was the most dangerous thing I've seen on a football field for many years. It was absolutely deliberate. The whistle has gone, the game has stopped and he has done that right in front of the referee, he could have killed the lad. It was a disgraceful act"
(iv) This beauty from BBC's Guy Mowbray during Euro 2012 was, unfortunately, not responsible for Gary Neville's commentary box orgasm, I hope. :
"There's Cassano, powering one into Ashley Cole's backside."
(v) Not only does Martin Keown have a face you'd like to punch, he also has the sporting knowledge of a man who's lived in a cave all his life. Speaking about Cristiano Ronaldo, Martin may have gotten his American sports just a tad mixed up:
"He's got such a great leap. It's like an NFL basketball player"
(vi) Finally, not a soccer quote but undoubtedly one of the highlights from this Summer's Olympics. One weightlifting commentator provided us with this beauty:
"This is Gregoriava from Bulgaria. I saw her snatch this morning during her warm up and it was amazing."
Let's hope 2013 brings even more controversy!
SPORT IS EVERYTHING. Richard Barrett.
Richard Barrett is a Sports Studies and Physical Education, University College Cork graduate. He is the editor of sportiseverything.com and his background extends to many sports.You can follow him on Twitter via @TheBoyBarrett or even send an email to sportiseverything@hotmail.co.uk.
If you are a budding young journalist or just someone with a basic interest in sports, contact SportIsEverything on Twitter via @TheBoyBarrett , or email sportiseverything@hotmail.co.uk. Submit your own works and we'll do our best to publish them. Always remember: Sport Is Everything.