Russian teenager Mirra Andreeva will not let herself get carried away by comparisons with Emma Raducanu's US Open win in 2021 after she stormed into the fourth round at Wimbledon.
Qualifier Andreeva, the youngest woman in the main draw at 16-years-old, again showed why she is the talk of the tennis world with an accomplished display in a 6-2 7-5 victory against compatriot Anastasia Potapova in round three.
This victory in 95 minutes bettered her debut grand-slam showing of making the third round at Roland Garros last month and made it six wins in a row on grass after she came through qualifying.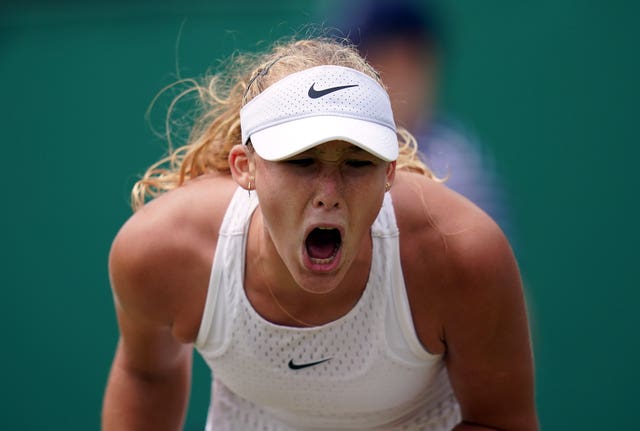 Comparisons are already being drawn to Raducanu's triumph at Flushing Meadow as a qualifier two years ago.
But Andreeva insisted: "Of course, in 2021 she did amazing job. Everyone was impressed. I think she was impressed also to pass the qualies and to win the slam at 18. It's amazing but me, I just try to not think about it.
"I think it will disturb me, all these thoughts. I just try to play every match and don't think how far I have gone already or which round I'm playing, against who I'm playing.
"I just try to play every point. Doesn't matter against who, doesn't matter which round. I just play my game. I don't change anything mental-wise, tennis-wise.
"When I played my first match in qualies, I just didn't have any expectations because it was my first match on grass. I just tried to give it all on the court.
"Since that first match, I actually found the right rhythm. Now it's working pretty good, I can say. So, honestly, as I said, I did not have any expectations. I just play.
"I always say that it's a game. The game will decide who will win the match."
Andreeva lost the Australian Open juniors final in January before she grabbed headlines at the French Open with a fine run, losing in three sets to fellow teenager Coco Gauff.
In her defeat to Gauff, Andreeva put herself at risk of being defaulted when some youthful petulance saw her swipe a ball angrily into the crowd during a tense moment in the tie.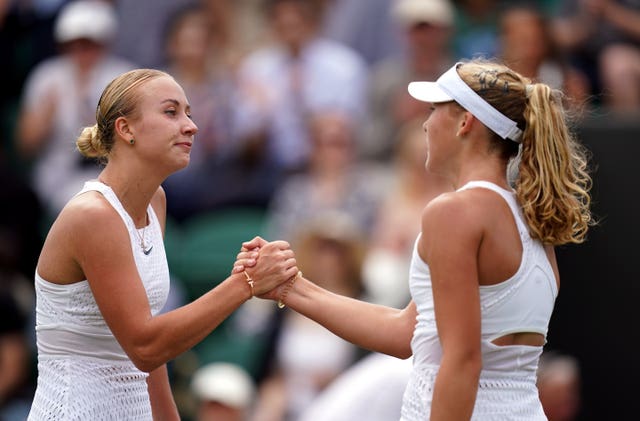 While she got away with a code violation, it appears to be a moment the Krasnoyarsk-born right-hander has learned from and when 4-1 down in the second set against Potapova, she showed impeccable poise to keep calm and book a fourth-round meeting with Madison Keys.
Andreeva, who did allow herself the odd punch to the leg in tense occasions, revealed: "Honestly, after Paris I just had quite a long talk with myself, just me and myself, and that's it.
"I talked to myself. I just talked. I don't know, just in my head I realised some things. I took some decisions that I think are now important for me.
"I think I did a good job because now everything is working so far."
Andreeva's Wimbledon debut is taking place the year after Russian and Belarusian players were banned from the event following Russia's invasion of Ukraine.
Her exploits in SW19 are being cheered on from her home country, with her grandfather Petr – on his birthday – among those cheering her on from afar.
"Today is the birthday of my grandpa," the world number 102 said.
"They were watching my match, like 50 people that they invited. Today I received much more support, much more kind messages from my family.
"I spoke to my grandparents already. I said happy birthday. Today, yes, I can say that I received a lot of messages from my family.
"I also feel the support from Krasnoyarsk. A lot of people are supporting me."
---