Liam Broady admitted it took a monumental effort to realise his childhood dream as a career-best win over Casper Ruud on Centre Court made him the first British male into the third round at Wimbledon.
Broady outlasted world number four Ruud to win 6-4 3-6 4-6 6-3 6-0 in an enthralling contest that lasted three hours and 27 minutes.
Victory over Ruud, who had made the finals of Roland Garros and the US Open during the past 12 months, was even sweeter for the Stockport left-hander given it took place in front of a buoyant Centre Court crowd.
"It was a pretty terrifying, exhilarating experience coming out at Centre Court on Wimbledon, but it's been my dream since I was five-years-old," Broady reflected, having lost his only other match on the venue to Andy Murray in straight-sets in 2016.
"I played on Court One in the finals of the juniors (in 2011). I was a set and a break up. I completely choked it, completely guffed it. That has kind of haunted me my entire career, to be honest.
"It always bothered me coming back, playing on the bigger courts and never really feeling like I was comfortable and had performed. Losing to Andy on Centre, losing to (Milos) Raonic on One, then (Alex) De Minaur on One and never winning so much as a set.
"That's why it felt good. I feel like it's taken a monumental effort for me personally to be able to win a match on Centre Court at Wimbledon. I mean, Novak (Djokovic) hasn't lost a match on Centre in 10 years, which is a testament to how good of a player he is, as well, but that was a big one for me.
"This is why I play tennis. I'm 29, going into this tournament I'm 150 in the world, I only have so many Wimbledons left in my career. This has to be seen as a reward. You have to take the bull by the horns with these opportunities.
"I have played on Centre Court now twice in my entire career. The opportunity might not come by again for one reason or another, so I felt more excited than anything going out there.
"Because as hard as it is, you still have to kind of relish the opportunity. It is the pinnacle of the sport, the pinnacle of almost any sport, Centre Court of Wimbledon. Obviously to have got the result as well is the icing on the cake."
In trademark gutsy fashion, Broady dug deep to down Ruud but did take a tight first set when he reeled off four games in a row with the home crowd fully engaged.
Ruud has made no secret of the fact grass is his least favoured surface but started to up his level and was edged into a two set to one lead.
Broady's mixture of flamboyance and grit eventually saw him grind down the fourth seed, going on to win seven of the last nine games to inflict the biggest shock of the tournament so far.
After early exits at Surbiton, Nottingham, Queen's and Eastbourne, the Manchester City fan was delighted to peak at just the right time in his sixth main draw appearance in SW19.
"It's always better to have played more matches on grass," British number five Broady insisted after banking £131,000 ahead of facing 26th seed Denis Shapovalov in round three.
"Time on the match court, as Andy has shown in the three challengers he's won on the grass, is pretty priceless.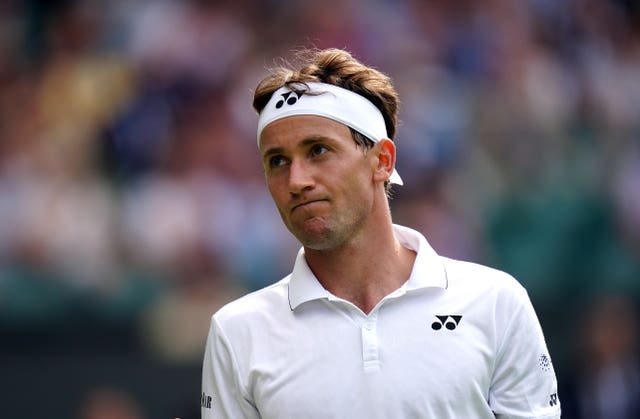 "Even though I maybe didn't get as many results as I'd have liked to in the build-up, literally the day before my first-round match, I went to bed and I thought, 'Oh, like I feel good now,'
"For the first time in probably three months, I thought, 'I think my game is there now, I can rest,' which is when you want it to, isn't it? The day before the first round of a slam."
Ruud's own preparation for the third major of 2023 included attending two concerts of The Weeknd and playing golf before he spent time on the grass during an exhibition event at Hurlingham last week.
He added: "Of course ranking-wise it's an upset, but I consider him a better grass-court player than myself.
"I think if he plays the way he played today, I think he has good chances of reaching top hundred within the year."
---