Katie Swan is hoping a strong performance at Wimbledon might encourage Elton John to visit SW19 to support her.
The 24-year-old recently signed with Rocket Entertainment, the management company co-founded by the music superstar, and has already been enjoying the benefits.
"I am feeling really good off court," said Swan. "It is a really exciting time. I have signed for Rocket. I got to go and see Elton John playing in London, which was fun."
Swan, who was formerly with Andy Murray's 77 agency before the Scot decided to close its tennis division, took mum Nicki with her to The O2.
"She is a huge fan of Elton," said Swan. "My favourite song is Don't Go Breaking My Heart, but he didn't do it. So Your Song was my other favourite one. It was unreal. His voice is a joke, it's so powerful – I am so glad I got to see him live before he finishes."
John's farewell tour is set to finish in Sweden on Saturday, so Swan would need to reach at least the fourth round in order to have a chance of tempting him to Wimbledon.
"I haven't met him yet," she said. "I am hoping I will get the chance to at some point. I've heard he is a big tennis fan so hopefully, if I can get some good results, then maybe he'll want to come and watch me."
Another treat before the tournament came on Thursday when Swan hit with Venus Williams on Court One.
"It was an incredible opportunity," she said. "Laura Robson messaged my coach saying, 'Venus is looking for a hit on Court One to open it if you're interested'.
"And I was like, 'OK, let's not turn that down'. For me, that's something I wouldn't have even dreamed of as a kid. It was unbelievable and something I'll never forget. She was really friendly."
Ill-timed injuries have so far prevented Swan reaching the potential she showed as a junior.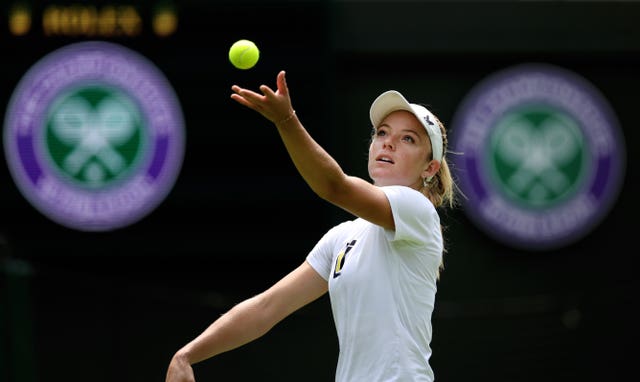 She made her Wimbledon debut back in 2016 and reached the second round in 2018, securing what is so far her only victory at the All England Club.
There have been positive signs this year, though, with Swan pushing towards the top 100 and reaching the final of the warm-up tournament in Surbiton, beating last year's Wimbledon semi-finalist Tatjana Maria along the way.
"I think this year is more exciting than normal," she said. "I feel in probably the best form that I have been in coming into this week. I'm excited to get going."
The draw did not appear to be kind to Swan, who will take on 14th seed Belinda Bencic on Monday.
The Swiss has twice reached the fourth round at Wimbledon but she has not won a match here since 2019 while she has only played one match – a first-round loss at the French Open – since the beginning of April because of injury.
"Everyone here is tough but obviously she's an Olympic gold medallist and she's achieved so much in her career," said Swan.
"I was excited when I saw the draw. Court Two is the biggest court I've played on here so I'm really pumped for it. I back myself and I think having the home support will be a lot of fun out there."
---