Katie Boulter reflected on a "special" moment as she won her first WTA Tour title at her home tournament in Nottingham.
Boulter beat Jodie Burrage 6-3 6-3 in the first all-British final at this level since 1977 to cement her position as British number one and surge up to a career-high 77 in the rankings.
The 26-year-old has travelled from her Leicestershire home to the Nottingham tennis centre since she was four years old, so to win here makes it extra special.
"I actually found some photos of me at the beginning of the week where I was training here as a 'tiny topper' and I looked so happy and like I was having the time of my life," she said.
"I tried to remind myself before the final that that little girl still loves playing tennis and just enjoys every single moment she is out on court. I am very proud of myself to be in that position, whatever happened.
"I have so many special feelings, I am staying at home, mum's cooking makes all the difference. It does feel very special because it is my home tournament.
"I dreamed of this moment, to win this tournament, as a little girl when I was four years old.
"Having come here as a fan and now as a player and somehow finding a way to win it means more than everything to me."
Victory completed a British double as Andy Murray won the men's Challenger Tour event.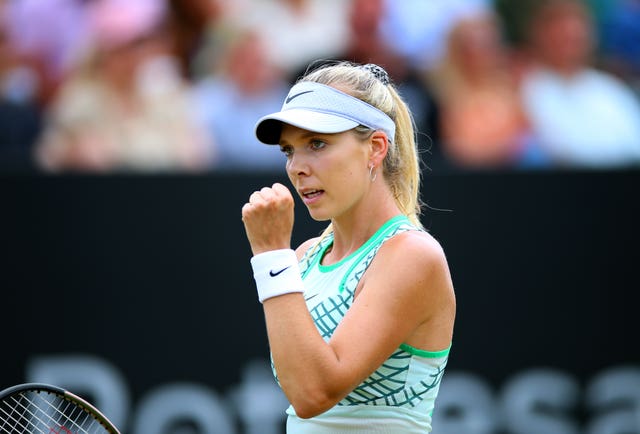 Despite defeat, it was also a breakout week for Burrage in reaching her first final, and with three Britons making the last four, it was a strong response to criticism for the lack of British women in the French Open singles last month.
Indeed, it is their best showing in a tournament since Virginia Wade and Sue Barker were at the top of the women's game in the 1970s.
And Boulter, who said she will celebrate with a meal out at the pub, hopes this can be just the beginning for her.
"I'm at a career high and really happy but not content and have a long way to go," she said. "My aim is not to be top 100, it's to be 50, 40, 30 and ever since I broke through the first time I believed I had the game to become that player and that will always be my main focus.
"Hopefully I can find some consistency and make this week in, week out. My challenge is to find consistency and I'm proud to have brought that every week.
"I played lights-out today and went for the title, wanted that trophy, and told myself I had to back myself to win it.
"I will be sleeping with my trophy tonight and it's nice to have some reward that I can look back on. Next week will be about resetting and I will be ready for Birmingham – that's my job."
Burrage has had some long matches this week and after a recent injury said she was "hanging by a thread" physically, but she is also taking the positives.
"A bit gutted today, a tough, tough match, Boults played absolutely incredibly so credit to her, for me this has been such a positive week," she said.
"I have beaten some really good players, proved some things to myself, so I will only take the positives.
"I will take positives from this and confidence from it and hopefully play some good tennis in the coming months."
---