I'd love to be British number one – Jodie Burrage
Jodie Burrage has the British number one ranking and a top-100 place in her sights as she looks to write a positive narrative this grass-court season.
Bone stress in her arm forced the 24-year-old to miss her chance to qualify last month for the French Open, where no British women were in the main draw for the first time since 2008.
It was particularly frustrating for Burrage because she had just reached her career-high ranking of 106 after winning a second-tier tournament in France and was only a win or two away from overtaking Emma Raducanu to become the country's leading woman.
"Obviously missing the French was a really tough call for me," Burrage told the PA news agency. "I'm not good with missing tournaments anyway but it was kind of a conversation of, 'you either play French and then miss grass or you miss the French and then play grass'.
"There's quite a few things that I missed out on and could-have-beens but that's just what tennis is, ups and downs. Hopefully I'll get there at some point, and I believe that I can get there, I'll just have to wait a little bit longer."
Burrage and the rest of the leading British women are beginning their grass-court campaigns this week at the Lexus Surbiton Trophy, and there is a good chance that by the end of the week one of them will have passed Raducanu.
Burrage and Katie Boulter are best placed but Harriet Dart and Katie Swan are also in contention, with the quartet all looking to push on into the top 100.
Burrage is optimistic the domestic picture will look healthier come the end of Wimbledon, saying of the French Open wipe-out: "It is a bit of a timing thing. There are obviously quite a few of us that are 110-140 so I'm sure in the grass-court season some of those girls are going to push through.
"It is obviously disappointing from a British outlook but I can't really focus on the whole of British tennis. I'm at my career-high ranking and have had some really good wins and a really good season."
Burrage admits she follows the ranking permutations – "I just want to know where I could be if I get wins, it motivates me" – but she is thinking wider than simply British number one.
"It's definitely a big goal to be British number one," she said. "Obviously rankings and stuff is done throughout the world so I guess I kind of focus more on your actual ranking.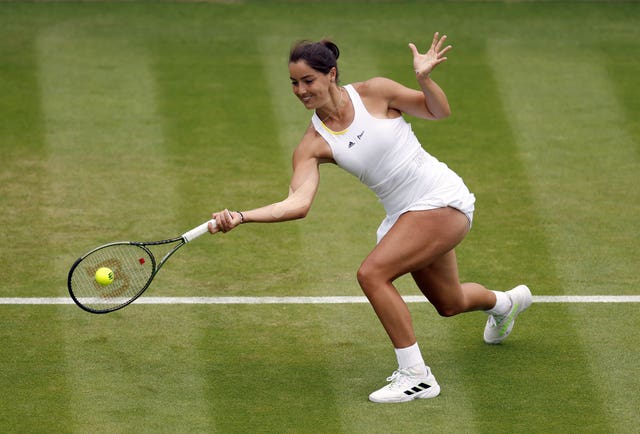 "I would love to be able to say I got to British number one but, one, I'm not there yet, two, it could not happen, so overall I'm just looking at boosting my ranking up to get me in grand slam main draws and that's my real focus."
Another major target is to force her way into Britain's Billie Jean King Cup team for their play-off against Sweden in November.
Burrage was upset to miss out on selection for last year's finals and then the qualifier against France in April, when she was the highest-ranked player available.
"It's something that I would really love to do, to play a match for Great Britain," she said. "I was disappointed not to be in the team but I can't really do much about that now. My job now is to make sure I'm in the squad for next time. Hopefully I can do it because it's one of my biggest goals."
Burrage talked things through with captain Anne Keothavong, and added: "If I take care of things week in, week out then I kind of take the question out of her hands a little bit so that's what I'm trying to do.
"I spoke to Anne at length about it all. She's got good comms. Hopefully for next time I can make it an easier decision for her."
Burrage used the opportunities given to her on grass last year to push up the rankings, reaching the semi-finals in Surbiton and the final in Ilkley before beating then world number four Paula Badosa in Eastbourne.
She suffered a second first-round loss at Wimbledon, though, and bettering that is the first aim.
"I'm just looking forward to playing," she said. "I'm still yet to win a match there so that's my first goal, but I can't wait. The ultimate goal is Wimbledon but we've still got five weeks before that so there's a lot of work to be done first."