How does grand slam king Novak Djokovic compare to his rivals?
Novak Djokovic became the most decorated men's tennis player in grand slam history with his French Open success on Sunday.
The 23rd major title of his career broke the record he jointly held with Rafael Nadal and here, the PA news agency looks at his record and how he compares to his rivals.
King of the grand slams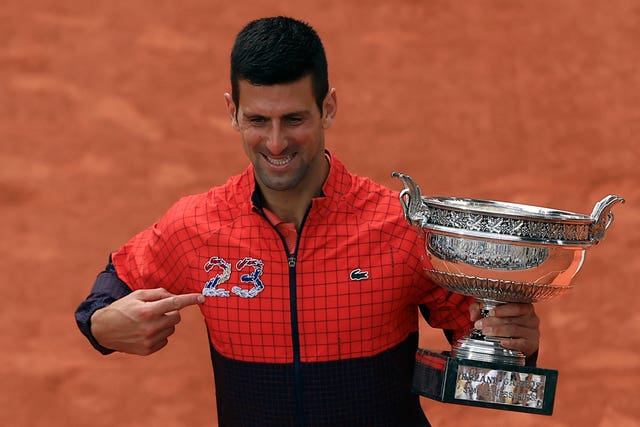 Djokovic has won 10 Australian Opens and seven at Wimbledon, with three each now at the French and US Opens.
That makes him the first man ever to win at least three singles titles at all four grand slam tournaments – a measure of his all-round greatness.
Nadal, Rod Laver and Roy Emerson have won each at least twice with Fred Perry, Don Budge, Andre Agassi and Roger Federer the other men with a career slam.
Djokovic's 10 Australian titles are a record, for the Open era or for a male player – Margaret Court won 11 women's singles titles, seven of them in the amateur era.
He is the only man other than Nadal, with 14 French Open wins, to reach double figures at a single slam. Federer holds the record of eight at Wimbledon, with no man winning more than seven US Open titles, or five in the Open era.
Djokovic has won six of the last eight major tournaments he has played and three in a row and will head to the next, Wimbledon, as a four-time defending champion – a run dating back to 2018, with the 2020 tournament not being played due to the Covid-19 pandemic.
Since that wipeout, his only grand slam defeats came to perennial champion Nadal at Roland Garros in the 2022 quarter-final and at the US Open in 2020 – when he was disqualified for hitting a ball girl with a ball – and 2021 when Daniil Medvedev beat him in the final to end his dream of a calendar year grand slam. He is chasing that goal once more this year.
Djokovic has won 88 per cent of his grand slam matches, 348 of 395, and will surely pass 400 matches and 350 wins by the end of the year – more than likely during Wimbledon next month.
The big three
Federer was the first of the modern 'big three' to truly push forward the level of elite tennis, winning 16 of his majors by January 2010 when he completed his fourth Australia Open success.
At that point he had reached eight straight finals and at least the semi-final in 23 consecutive slams. He went on to extend his run of quarter-finals to 36, stretching from Wimbledon 2003 to the 2013 French Open.
His last major title came at the 2018 Australian Open, with Djokovic denying him another in the Wimbledon 2019 final before Federer retired last year.
Nadal's 22 titles have of course been compiled primarily in Paris, with 14 titles from 18 visits. He won nine out of 10 from 2005 to 2014 and five out of six since 2017 before missing this year's event due to injury.
One of the exceptions came when he withdrew due to injury before his third-round match in 2016, meaning he has lost only three matches at Roland Garros – two to Djokovic, in the 2015 quarter-finals and the 2021 semis and Robin Soderling in 2009's fourth round – while winning 112.
The Spaniard has four US Open titles and two each at Melbourne and Wimbledon. The 2010 US Open made him the youngest man, aged 24, to complete a career slam.
Djokovic has now surpassed both men on the statistics sheet and with Nadal, 37, battling injury troubles and set to sit out the rest of this season, it seems Djokovic's longevity and all-round quality will establish him as the consensus best of all time.