Holger Rune survived a fifth-set tie-break against Francisco Cerundolo to set up a French Open quarter-final rematch with Casper Ruud.
Their encounter at the same stage last year descended into acrimony when Rune accused Ruud of celebrating in his face in the locker room and showing a lack of class, which was fiercely denied by the Norwegian.
For a while it looked like they might not meet again, with Argentinian Cerundolo battling back from two sets to one down to force a decider and then holding three break points at 4-3.
Dane Rune saved all of them, broke serve himself then failed to serve it out but put the disappointment behind him to clinch a 7-6 (3) 3-6 6-4 1-6 7-6 (7) victory after just short of four hours.
Rune felt it was just deserts after his loss at the same stage of the Australian Open to Andrey Rublev, saying: "I had a heart-breaking loss in Australia where I could serve for it and I lost it in a match tie-break like this.
"I told myself when we started the tie-break just to relax and enjoy it. Moments like this stay with you whether you win or you lose. I enjoyed every moment."
On meeting Ruud again, the Dane said: "Obviously there was drama last year and I hope we can make less drama this year.
"He's a good player. I respect him. There's no problem. We're good. Should be a match without problems, hopefully. I'm just looking forward for it."
There was another moment of umpiring controversy in the third set when, like in the clash between Cameron Norrie and Lucas Pouille on the same court, the umpire failed to spot a double bounce.
This time Cerundolo was the victim and, to compound matters, umpire Kader Nouni awarded Rune the point after his opponent gestured that it should have been stopped.
Rune insisted he did not know the ball had bounced twice and Cerundolo reserved most of his ire for the umpire while echoing Norrie and Pouille's call for video replays.
"I don't know if he was sure it was a double bounce or not," said the Argentinian. "But it was a tough moment. It's not good that he didn't give me the point.
"But I understand the tension and you want to win, and what he did. But I am really annoyed with the umpire. They have to do something with cameras, get the chance to look again at the point, because you cannot do that mistake."
Ruud edged three tight sets against Chilean Nicolas Jarry, coming through 7-6 (3) 7-5 7-5 to keep alive his hopes of making back-to-back finals.
The Norwegian is slowly coming back into form after a disappointing start to the year, and he said: "This year I felt a little more pressure, obviously, because I needed to try to defend my final spot.
"That's been on my mind. And I haven't done as well in other tournaments, so I know every match that I can win and points on the rankings that I can try to gain can be important for the rest of the year.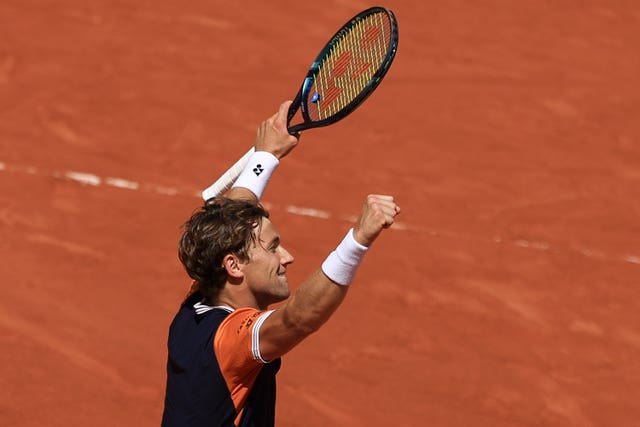 "So I don't feel like I have played my best tennis yet but, at the same time, I'm playing many opponents who play very aggressively and they play fast and give me no rhythm.
"I think my next match is going to be a little more playable from the baseline and I think the game will be a little bit different from this match. I'm going to try to prepare for that and hopefully bring my A game."
In the night match, Alexander Zverev continued his strong tournament with a 6-1 6-4 6-3 victory over Grigor Dimitrov and will next face Argentina's Tomas Etcheverry, who saw off Yoshihito Nishioka 7-6 (8) 6-0 6-1 to reach a grand slam quarter-final for the first time.
---