New crowd favourite Chris Eubanks believes he is able to compete with the world's best following his remarkable run at Wimbledon but intends to avoid setting "lofty goals".
The world number 43 arrived in SW19 with just two grand slam wins to his name and a dislike of playing on grass but emerged as one of the stories of the Championships.
He upset seeded stars Cameron Norrie and Stefanos Tsitsipas en route to the quarter-finals and looked set to once again punch above his weight before his progress was halted by defeat in a five-set thriller with 2021 US Open champion Daniil Medvedev.
American Eubanks revealed a whirlwind experience in south-west London has transformed how he views his career.
"I would say I definitely believe a lot more in my ability to contend with some of the best players in the world," he said following his 6-4 1-6 4-6 7-6 (4) 6-1 loss on Court One.
"It's tough to really know until you've played some of the best players in the world.
"I've seen how my game stacks up against them, how I can disrupt them, how I can frustrate them.
"I think it just gives me added confidence in my ability that I know I can compete with some of the best players in the world, whereas maybe I didn't fully know or believe that before."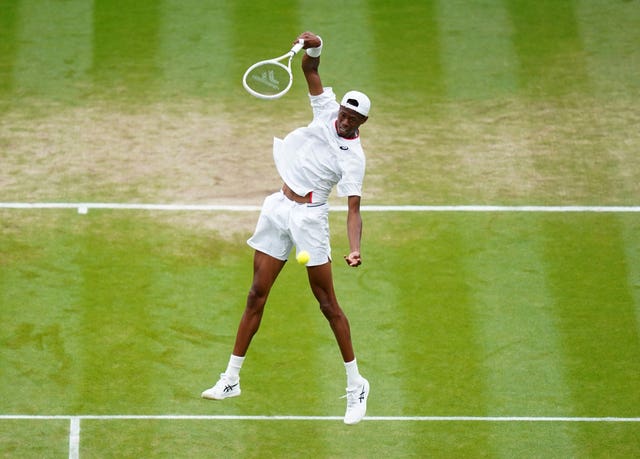 Charismatic Eubanks delighted crowds on and off court during his best grand slam appearance to date.
His explosive exploits – on the back of winning the Mallorca title on grass in June – included hitting a staggering 321 winners, breaking a 31-year-old tournament record held by compatriot Andre Agassi.
Speaking about his future, he said: "It's a bit tough right after the match to jump right into setting lofty goals at this point.
"If I can continue to have the joy that I had on court for these past three weeks, continue to work as hard as I've been doing over the past year, I think good things are going to happen and it's kind of going to take care of itself.
"I'm having a great time. I'm probably having the most fun I've ever had in playing tennis. I'm going to continue to try to ride this momentum out."
In addition to his standout results and all-action performances, Eubanks also attracted attention due to having a similar name to British former boxing world champion Chris Eubank.
The 27-year-old admits he knew nothing of his "flamboyant" near-namesake until a few years ago.
"I think the first I heard about him was probably right after I went pro," he said.
"I had a Wikipedia page. All of a sudden I saw there was a name very similar to mine.
"That was when I started to be like, 'who is this guy? He seems to be a pretty cool guy'.
"I don't know nearly that much about him. I do know he is a pretty sharp dresser and I guess I'd say flamboyant – is that a right word to use about him?".
---