Carlos Alcaraz relishing chance to play Novak Djokovic in French Open semi-final
Carlos Alcaraz is relishing the chance to take on Novak Djokovic for a place in the French Open final, according to his coach Juan Carlos Ferrero.
The hotly-anticipated clash will take place at Roland Garros on Friday after both moved through to the last four without dropping a set.
It is a fascinating battle of the generations, with 36-year-old Djokovic chasing a record-breaking 23rd grand slam title and Alcaraz, 16 years his junior, a second.
Ferrero knows what it takes to win on the Parisian clay having lifted the title in 2003 and he feels his man is ready to topple Djokovic.
"I think both players are maybe the best in the world right now," said the Spaniard.
"Novak has the experience to play these kind of matches more than Carlos, of course, but, at the same time, Carlos really wants to play that match. He was really looking forward to that match since the beginning.
"Of course, he had to play match by match and we were very patient about it. But I think he is ready.
"He practised for these kind of matches. He practises for these kind of moments to be there and try to make history step by step.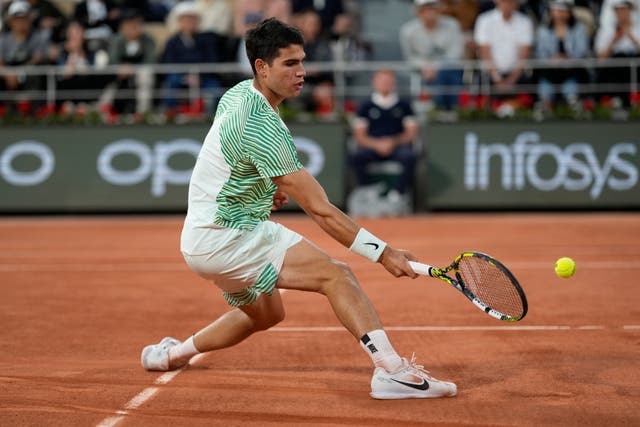 "He wants to do it but of course we really know that Novak is going to give absolutely his best. I think he is going to fight until the last ball and he is going to prepare for the match as well as we can do.
"So we expect a really tough and close match. Carlos believes a lot in himself and he believes that he can beat Novak."
That belief has been evident since the moment Alcaraz burst onto the global stage.
He swatted aside Stefanos Tsitsipas in the quarter-finals on Tuesday evening with a display of all-court brilliance.
He can take confidence, meanwhile, from having beaten Djokovic in their only previous match, on clay in Madrid last spring, when he also defeated Rafael Nadal.
"He dreams very big about what he can do, so I think it's one of the most important things that he believes in himself and that he believes that he can go to the court and win against everybody," said Ferrero.
The pair have worked together since September 2018 and it has proved the dream partnership so far, with Ferrero helping the 20-year-old to hone his incredible natural talents.
"I'm impressed obviously about his level, but I'm with him now almost five years, so I know the level he's able to play," said the former world number one.
"So in that way, I'm not impressed at all because I know that he can play like this. The most impressive thing for me is that he is showing his best level against the best. That's the most important thing."