World number one Carlos Alcaraz toasted a "special" maiden win on Wimbledon's Centre Court before he fired a warning to his rivals.
Alcaraz had to work hard to beat France's Alexandre Muller 6-4 7-6 (2) 6-3 in a tough second-round contest that lasted two hours and 33 minutes on the main stage at the All England Club.
The Spaniard lost on Centre Court to Jannik Sinner last summer and despite combining 31 winners alongside 42 unforced errors against Muller, this latest victory made it seven successes in a row on the grass.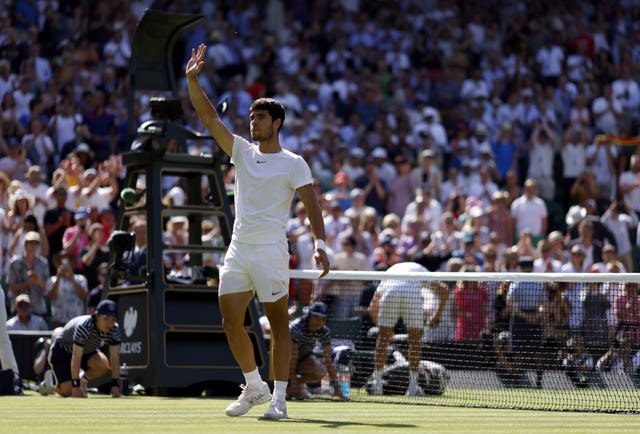 US Open champion Alcaraz has won his last 16 sets on English grass, but feels even better is to come ahead of a third-round meeting with Chilean Nicolas Jarry.
"Yeah, I feel that I can be better. Today I'm going to say it wasn't my best match on grass, but I feel great," Alcaraz insisted.
"I always say that doesn't matter if you play a perfect match, you can be better. It's my case.
"Of course it is really special to have my first win on Centre Court here in Wimbledon. A really beautiful court. I really wanted to have my first one.
"I feel that I belong in that court. I feel like I'm ready to play more matches, to play more great matches on that court."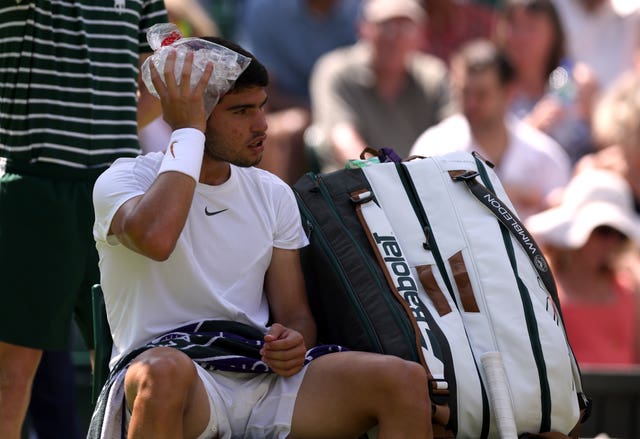 Nerves did appear to be present for Alcaraz during the early exchanges and he sprayed 10 unforced errors in the opening half an hour, but a 135mph ace seemed to ease his tension before he clinched a break in the next game as he edged a tight first set.
Muller, ranked 84 in the world, continued to take the match to Alcaraz, who saw four break points come and go at the start of the second set.
Alcaraz eventually had to go to a tie-break and he reserved his best tennis for the crunch moment. A volley at the net got him off the mark and he followed up with a succession of drops shots that helped him claim the second set.
More break point opportunities were squandered by the 20-year-old in sweltering heat with the roof open on Centre Court, but he eventually did break for only the second time in the match at 4-3 up in the third.
Match point was brought up with a 116mph ace and, although Muller briefly stole the show with a stunning backhand return, another big forehand winner from Alcaraz confirmed his 42nd win of the season.
The first seed added: "A little bit (nervous) at the beginning, but the experience that I had last year help me a lot to manage the nerves better than the last year.
"Of course, the round is different, playing the fourth round against Sinner. It was different. This time I enjoyed it. I enjoyed it a lot.
"I felt different from Centre Court than the Court One. I felt the Centre Court is faster for me than the Court One. It was different for me.
"At the beginning the match was long, let's say, and I adjust very well until the end."
Victory for Alcaraz means he remains on collision course to meet defending champion Novak Djokovic, who is chasing a record-equalling eighth title in SW19, in the final on July 14.
But the 20-year-old said: "It would be amazing for me to play a final here in Wimbledon, even better if it is against Novak obviously, but there's a lot of great players playing here on grass, that feel really, really comfortable on grass.
"I have to be really, really focused until the final. It's a lot of matches ahead. I have to play my best in every match.
"Let's see if I reach the final or not."
---