Jan Choinski has targeted a Wimbledon return next year but wants to get there in his own right.
German-born Choinski, the son of an English ballet dancer, was handed a debut wild card and rewarded tournament organisers with an impressive first-round win against world number 56 Dusan Lajovic.
But his fun ended on Thursday when his former doubles partner Hubert Hurkacz won a tight match 6-4 6-4 7-6 (3) on Court 18.
The 27-year-old, who changed his nationality to British in 2019 and is ranked 164th in the world, got the taste for SW19 and wants a 2024 repeat.
"I would be very happy coming back next year," he said. "Maybe even without needing a wild card for the main draw, try my best to get my ranking to a position where I can enter the tournament by myself."
Asked whether he has proven he can produce at the top level, he replied: "Yes, I think so. I mean, I played a very good first match.
"I kept it as close as possible. Also having chances to win a set off a guy (Hurkacz) that's top 20, previously been top 10 in the world, played semi-finals here as well, ended Roger's (Federer) career at Wimbledon.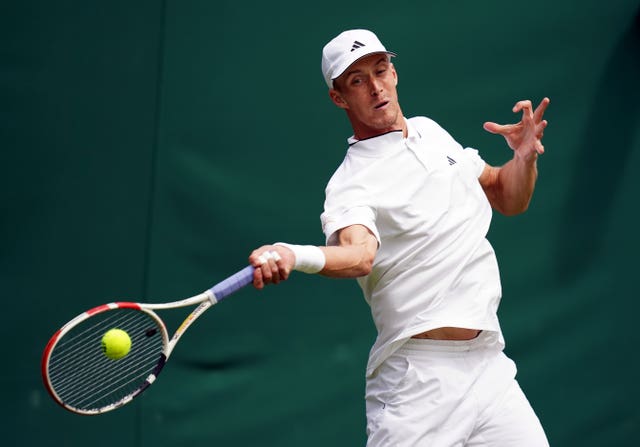 "It doesn't get much better than his level in terms of tennis and grass-court tennis.
"Keeping the match quite close and having my chances to take a set off him, as well, is just positive.
"I couldn't thank the people more that gave me the opportunity to play in this tournament. I feel it has to do with a lot of trust, as well, trusting me that I've got the level to compete at this level. Yeah, just want to say huge thanks.
"I have learnt a lot during the past couple of days. I think just going to take out all the positive bits, and also super happy about winning my first grand slam match."
Choinski was always up against it, saving break points early on, but Hurkacz, who made the 2021 semi-finals at SW19, kept knocking on the door and crucially made the breakthrough at 4-4 and then served the first set out.
The second set followed an identical pattern with a key break at 4-4 putting Hurkacz in firm control.
After saving several break points throughout the third set, Choinski's moment came at 6-5 when he had three set points at 0-40 on Hurkacz's serve, but he could not convert them.
With that his chance disappeared as the Pole dominated the tie-break to seal a straight-sets win and book his spot in the third round.
He added: "I felt like I was playing good tennis. The match was very competitive. We played over two hours. I think the first two sets were decided each by one break.
"I tried my best. You know, unlucky that I got broken twice at 4-4. Then in the third set when I had the three set points, I'm sad about not making those, but that's tennis. That's life."
---