Andy Murray was bullish about his Wimbledon chances after putting on a Centre Court show for the Princess of Wales and old foe Roger Federer.
The two-time champion took apart countryman Ryan Peniston with a 6-3 6-0 6-1 victory under the roof to ease into the second round of Wimbledon for the 15th consecutive time.
Federer, whose career had been celebrated with a short video prior to the start of play, and Kate made sure they were back in their seats in the front row of the Royal Box in time for the first shot of the all-British clash.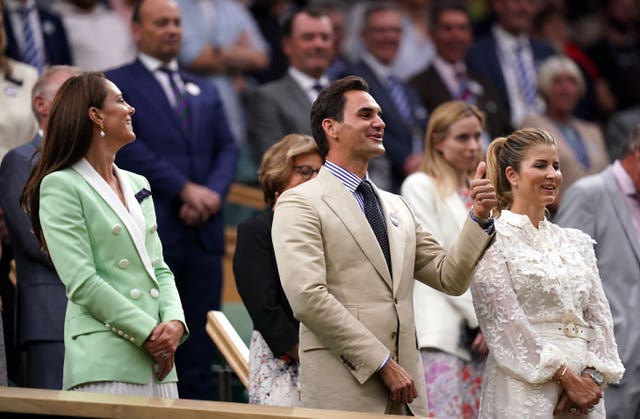 It is 11 years since a tearful Murray was beaten by the great Swiss in his first Wimbledon final, and he sincerely believes that his days of challenging for the title here are not over.
"I'm playing well enough to beat most of the players, I think, in the draw," said Murray. "Physically, I feel good."
Federer gave Murray a thumbs up for his performance and the Scot enjoyed competing in front of the man who was on the other side of the net for some of the most significant moments of his career.
"It's obviously brilliant to have him around the event," said Murray. "I'm pretty sure he will be around the sport a lot. I know he loves tennis.
"I didn't find it strange. It was nice to have him there. I think (Pete) Sampras has sat up there and watched Roger and Rafa (Nadal). I've sat and Rod Laver has been at a bunch of matches at the Australian Open."
Sat just behind Federer in the Royal Box, at Murray's instigation, was former Iranian prisoner Nazanin Zaghari-Ratcliffe, who the Scot was moved to learn had watched his 2016 triumph from her cell.
"It was very emotional talking to her and hearing her story," he said. "It was brilliant that she was able to come along and watch. I wanted to invite her to come along and watch the tennis in totally different circumstances."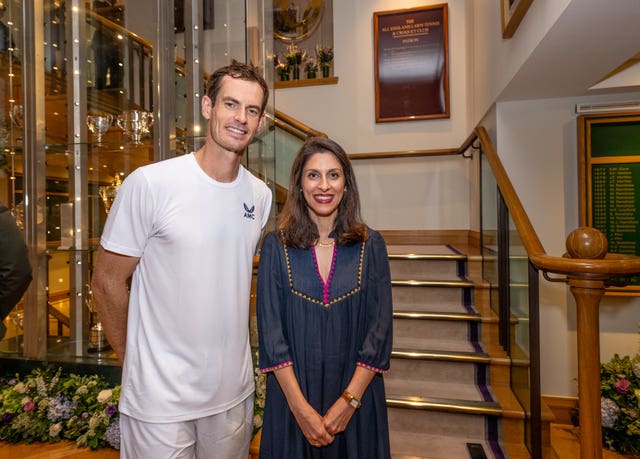 Murray missed the French Open to focus on his grass-court preparations, winning back-to-back Challenger Tour titles in Surbiton and Nottingham, and was rewarded with his first straight-sets win at Wimbledon since 2017 and his most convincing victory here in nine years.
That was particularly welcome given the experience he had in Australia this year, when successive five-setters against Matteo Berrettini and Thanasi Kokkinakis ruined his chances of a deep run.
"What has happened at a lot of the majors that I played in the last few years, I've had lots of pretty long matches early on in the tournament," he said.
"I've had multiple long matches one after another. So any time you get the chance to finish a match quickly and can conserve some energy is a really positive thing. It's not necessarily confidence that I gain from it, it just means that hopefully the deeper I go in the tournament the fresher I will be."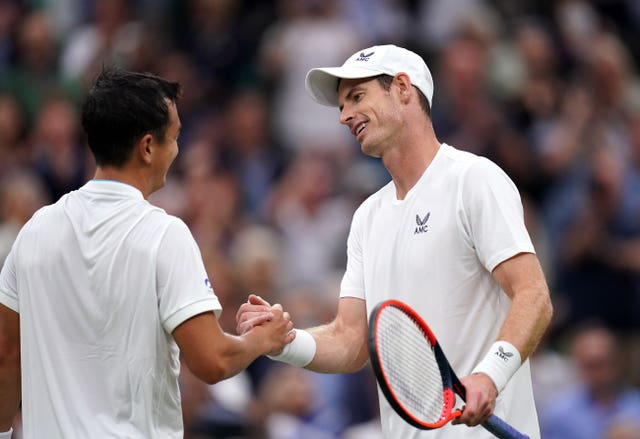 By starting a 15th Wimbledon campaign, he matched the open era record for a British man set by Jeremy Bates, and in nearly 1,000 tour-level matches he had never lost to a player ranked as low as Peniston's 268.
The 27-year-old from Essex, who survived cancer as a toddler, had a breakthrough year in 2022, particularly on the grass, and won his first-round match at Wimbledon.
He settled well on his Centre Court debut and was the better of the two for much of the first set but he was unable to take either of two early chances to break the Murray serve and paid for one loose game.
By the second set the Scot was playing much better and a run of nine straight games took him to 2-0 in the third, with Murray making just nine unforced errors across the last two sets.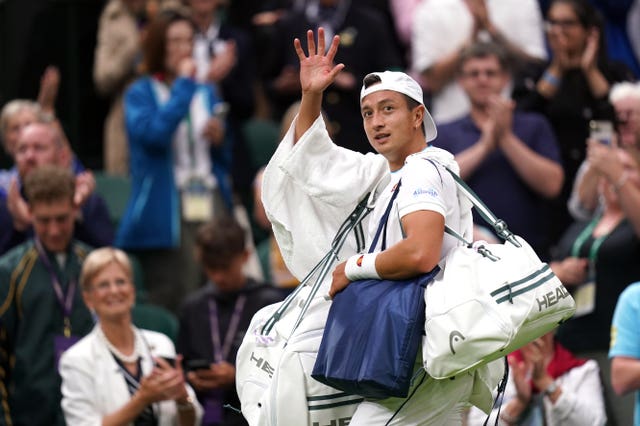 Much more difficult tests will await, including against the winner of the clash between fifth seed Stefanos Tsitsipas and Dominic Thiem, who were thwarted by the rain on Tuesday, but the crispness with which Murray struck the ball off the ground certainly appears to bode well.
The 36-year-old admitted to nerves at the beginning, and he said: "I didn't start the match how I would have liked. It's always different conditions playing under the roof.
"But, as the match went on, unforced errors, I cut them out. I was pretty ruthless at the beginning of the second and third sets. So I was pleased with everything, apart from the beginning."
Peniston managed to enjoy the experience despite the scoreline, saying: "I couldn't really believe it. I was trying to maintain the calmness, but it was impossible. The first 20 minutes or so, it didn't feel real at all."
---