World Cup chiefs 'well prepared' for safety threats in France
World Rugby chief executive Alan Gilpin says tournament organisers are "well prepared" to deal with any protests or safety threats at the World Cup in France.
More than 600,000 international visitors – a World Cup record and 50 per cent more than for Japan 2019 – are expected to attend the event in September and October.
Ticket sales currently stand at almost 2.5million as the biggest Rugby World Cup tournament in its 36-year history prepares to take centre stage.
Protests across France over pension reforms earlier this month saw almost 300 people arrested and more than 100 police officers injured.
Football's European governing body UEFA, meanwhile, brought in new measures to improve safeguards for fans attending finals in the wake of last season's Champions League fiasco.
UEFA drew on recommendations from an independent review panel into chaotic scenes at the Stade de France in Paris which saw Liverpool supporters suffer serious congestion problems and over-zealous policing.
And Just Stop Oil protestors invaded the pitch during Saturday's Gallagher Premiership final at Twickenham, throwing orange paint powder on to the field.
The World Cup kicks off at the Stade de France on September 8 with a blockbuster opener between France and New Zealand, launching a 48-match schedule involving 20 countries.
"Like every major event, we are planning all the time for such a wide range of different scenarios, and protests of any nature are certainly part of that," said Gilpin, speaking with 100 days to go before the tournament starts.
"Of course, it is an area of challenging concern, but it is an area we are planning for, and like all of those scenarios we are working incredibly closely with the authorities in the various host cities.
"While I am sure, as there is in every major event and every RWC, there will be incidents we need to deal with, I think we will be well prepared for that.
"There are lessons to learn, clearly, from incidents like at the Stade de France and the Champions League final last year. There has been an enormous amount of debate around that.
"We are confident in those plans, but like any time we are talking about safety, we are not complacent and there is a huge amount of work that has been done and that will continue throughout the next 100 days and the tournament.
"A Rugby World Cup over seven weekends, 48 matches in nine cities is a big undertaking, so we are pretty relentless about the planning from a safety perspective.
"We can reassure rugby fans that are travelling to France, or that will be in France for the tournament, that their safety along with the teams and the players are our top priority. The French government, the cities are all part of that effort."
Events to mark the 100 days landmark include the Webb Ellis Cup being delivered to France by 2019 South Africa World Cup winner Tendai Mtawarira, an unveiling of tournament medals made from recycled phones donated by fans and community rugby clubs and a spectacular light show set to transform the Arc de Triomphe in Paris.
And Gilpin believes the World Cup's 10th staging promises to be the most open tournament yet.
"We have seen in the (world) rankings, it has never been so competitive," he added.
"On any given day, there are six or seven teams that can beat each other. We've got more uncertainty about our World Cup champions than ever before. That all leads into the excitement we are seeing.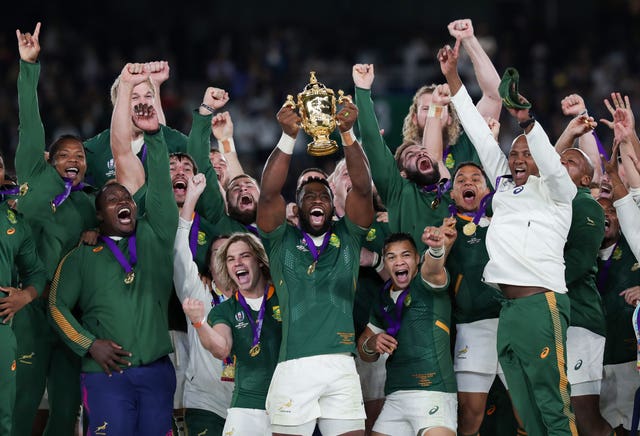 "Our message is that we are in great shape. From our perspective, never has a country been so excited to host a Rugby World Cup – the levels of engagement are fantastic – and never has a country been so ready to host a Rugby World Cup.
"We know from ticket purchasing that more than 600,000 international fans will be welcomed to France, which is a record for any rugby event.
"The organisers have achieved, and will achieve, record ticket sales for RWC, selling out 2.5million tickets. It has been the hottest ticket for any rugby event to date."