England will make history at Twickenham on Saturday amid a call for the Rugby Football Union to ensure the financial rewards available in the women's game match its growing value to the governing body.
The Red Roses host France in a Grand Slam decider with over 53,000 tickets already sold, surpassing the previous highest ever crowd of 42,579 seen for last autumn's World Cup final against New Zealand in Auckland.
It provides another landmark moment in the expansion of women's rugby, with England the standard bearers as they continue to pack out club grounds across the Six Nations.
In the process, it significantly outperforms the men's game in research undertaken to find its 'net promoter score' – to what extent would those attending matches recommend the experience to others.
Rugby Players' Association general secretary Christian Day is currently involved in discussions with the RFU over a new deal for women as their existing contracts expire this summer.
Day believes that the Red Roses are now an important asset to the RFU and are becoming key to the sport's prosperity.
"To me, when you look at how rugby is going to grow, you look at the women's game," Day said.
"I don't think anyone would have thought there would be 60,000 at Twickenham on Saturday and I wonder how many of those have been to an England game before.
"It's a whole new market, a new demographic of fans, supporters and people who watch.
"Viewing figures on the BBC are all over one million, which is what the recent Saracens v Harlequins match did on ITV, so very similar numbers.
"The women's game offers a huge opportunity for growth and who's to say that there can't be double-headers at Exeter, for example?
"That explains some of the investment but also why we need people to get behind this concept of women's rugby being serious.
"We're going through contracting now and we want a fair representation of what their value to the RFU is. I think it's rising.
"I think they're becoming a big part of the RFU brand and we know that it's the players who generate the vast majority of money in rugby."
Day insists that the Red Roses have emerged as superb ambassadors for the sport, noting that they "crave the support they've never had before" whereas for men "it's a harder sell because they've always had it".
A fixture of every England game is the players staying long after the final whistle to engage with fans, taking selfies and signing autographs.
"Huge credit goes to the RFU as well as the players for the ticket sales for Saturday. They've invested and that crowd hasn't happened by itself," Day said.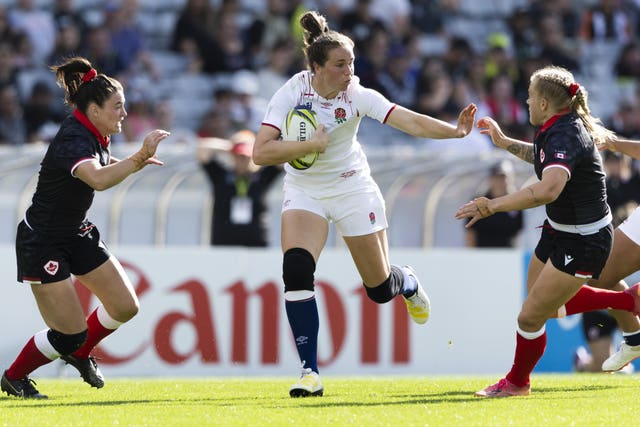 "I've used the tube countless times and all I can see is Zoe Aldcroft staring back at me selling tickets for Saturday.
"The girls may realise on Saturday that they can't have 60,000 selfies but they'll still try to get around the pitch to engage with everyone.
"I've been to games with my daughter and she's had a selfie with every player. Huge credit goes to them."
For England star Emily Scarratt, who misses the France showdown because of neck and ankle injuries, women's rugby has its own unique selling point.
"Generally there isn't as much kicking in it and there's a bit more ball in play time," Scarratt said.
"We try to find the edges and the width and there's a bit more freedom in the play, which is a fantastic reason to come and watch it. People who come to the games generally really enjoy what they see."
---