After sticking by the George Ford-Owen Farrell combination throughout the Six Nations, England Coach Eddie Jones broke up the dynamic duo for England's opening two Tests of the mid-year internationals.
Saracens fly-half Farrell was rested for England's opening test against Wales at the end of last month while Ford was given the start at 10 during the 27-13 victory at Twickenham.
While Ford may have struggled with the boot on the day, England struggled without him during the first-half of the first Test against Australia in Brisbane on Saturday.
The Bath pivot replaced Luther Burrell shortly after the half hour mark and paid immediate dividends as England went from trailing by one point on 30 minutes to leading by six at half-time.
England would go on to win 39-28 in a thrilling Test match at Suncorp Stadium and while James Haskell had one of the best games of his career, it was Ford's injection that really opened up the game for England.
Prior to the 23-year-old's introduction, England were very limited in what they were doing from an attacking perspective. The majority of England's go forward play was either attacking through Mike Brown and Anthony Watson down the blindside, or by Farrell hitting forward runners.
Occasionally the Sarries playmaker would bring Jonathan Joseph into the game with an inside ball, but the overwhelming majority of England's attack centred around one-off passes to forward runners.
The Vunipola brothers, Dylan Hartley, Haskell and  George Kruis all carried well throughout the game but England had enough bruising ball carriers without the need to add Burrell to the mix.
Burrell opened the scoring for England against Wales two weeks ago, and reminded some of us why he was such a controversial exclusion from England's World Cup squad last year, but he was underwhelming against Australia and poor defensively.
The Saints centre made two runs for a total of three metres and was yanked after 30 minutes after a forgettable shift at inside centre.
Luther Burrell had only two runs against Australia and as expected they were hard and straight. pic.twitter.com/nL9oo5UmSZ

— Jack O'Toole (@jackjotoole) June 12, 2016
While Burrell was barely used in attack, he was at the heart of both of Australia's first half tries as the Wallabies went after the Huddersfield native defensively.
Burrell caught out 3 times here. Turns his back on Folau, doesnt communicate with Watson and doesnt push up on Foley pic.twitter.com/fd68UE1YV1

— Jack O'Toole (@jackjotoole) June 12, 2016
In the build-up to Michael Hooper's first try we can see England hold a strong defensive line with Foley being allowed to drift while Maro Itoje and James Haskell have the switch covered.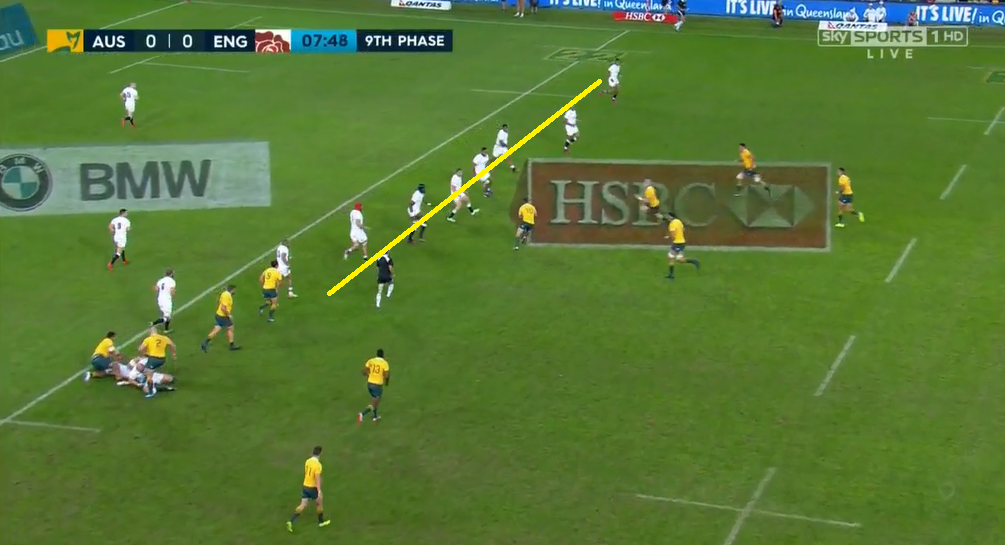 Dylan Hartley and Billy Vunipola have David Pocock covered if Foley plays him short, while if he plays the ball wide to Rob Simmons, Burrell and Mako Vunipola should be able to make the tackle.
As the play unfolds Foley ends up passing the ball behind his decoy runners and into the hands of Israel Folau. Burrell still lines up well with Folau but needs to step up and make the tackle. Instead he decides to hang back and drift while Folau proceeds to dummy before accelerating through the hole.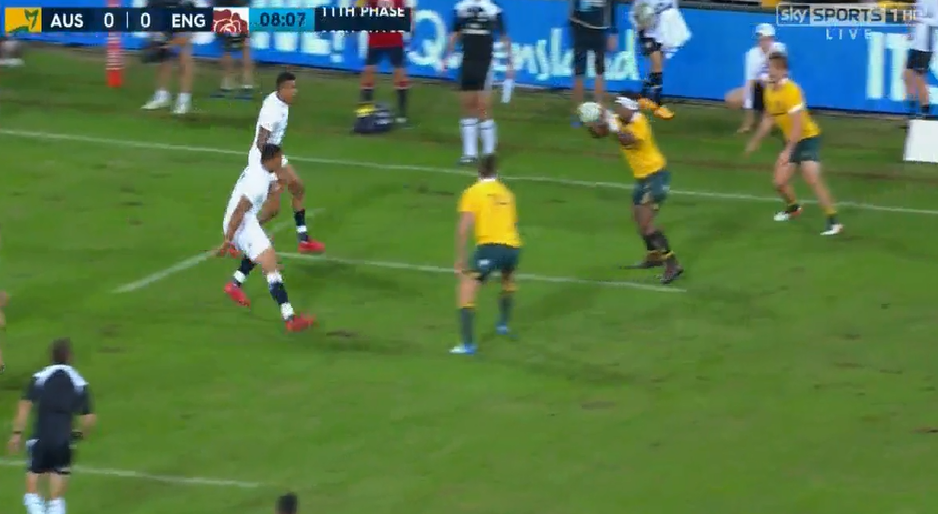 Burrell does well to take down Hooper after Folau puts him away down the sideline but when the ball is recycled and shifted wide to Samu Kerevi, Burrell fails to communicate with Watson as Kerevi draws him in before passing to Hooper for the opening try of the game.
These are examples of small lapses in concentration but they make a big difference when playing a team like Australia in Brisbane.
When Ford was brought on with ten minutes to play in the first-half, Farrell immediately moved to inside-centre and tightened up England's defence whilst also opening up the attack.
Great hands involved by all but with Ford at 10, Farrell slips in at 12 and can make plays like this. Yarde w/space pic.twitter.com/IXAAhqgUwf

— Jack O'Toole (@jackjotoole) June 12, 2016
By having Farrell at inside centre, England have playmakers both at first receiver and in the midfield. The play above hinges greatly on good hands from both Hartley and Chris Robshaw, but when Farrell receives the ball from Robshaw he immediately recognises Yarde on the outside and gets the ball to him with a great cut out pass.
By the time Yarde receives the ball he has ten metres between him and Wallabies winger Dane Haylett-Petty, who does brilliantly well to take the Quins winger out over the sideline. Not to say Burrell wouldn't have made the same play in the same situation, but the likelihood is that he looks to take the contact rather than exploit the open space, which is easier said than done when needing to throw a ten-metre cut out pass at full tilt.
George Ford gives England immediate width as they're able to move the ball nearly 55m's wide with just three passes. pic.twitter.com/xOLpNRyM3W

— Jack O'Toole (@jackjotoole) June 12, 2016
With Ford at first receiver, England also have one of the sharpest passers in world rugby playing in the ten channel. In the video above Ford zips it wide to Robshaw who passes it on again to Watson, and within three passes, England have gone from deep inside their own 22 to counter-attacking up the field.
Watson tries a chip and chase, which is ultimately unsuccessful, but it's an opportunity nonetheless.
Great pass from Ford but Farrell's under line freezes Lealiifano while Folau gets caught gambling for the intercept. pic.twitter.com/MfIJHkAnfp

— Jack O'Toole (@jackjotoole) June 12, 2016
A couple of minutes later and England are pressing right on Australia's line. Billy Vunipola takes the ball up in a quick hit up, he recycles it quickly and Youngs gets the ball off to Ford.
When Ford receives the ball it's a basic four on three but if Farrell drifts, he will allow Christian Lealiifano the right to drift as well.
Farrell and Joseph both run unders lines and as a result Lealiifano is frozen to his man while Folau looks to jump the pass to Joseph and grab the intercept.
The fullback guesses wrong as Ford ignores both men and plays the ball wide to Yarde, who crosses untouched.
If there's any clip that highlights the fluidity of Ford and Farrell's on-field relationship it is probably this one. Farrell is an extremely intelligent rugby player while Ford is about as gifted a passer as there is in rugby.
The final play highlights Ford's ability to read the game and play what's in front of him. After a slicing Danny Care break through the heart of the Australian defence, England recycle the ball quickly and get the ball in Ford's hands.
What Test match rugby is all about. Ford sees Hooper coming up and knows hes going to try and jam Nowell. Great kick pic.twitter.com/bfl4iOIWgH

— Jack O'Toole (@jackjotoole) June 12, 2016
Ford sees Hooper coming up fast to try and either make a play at the ball, or at Nowell, and spots the space in behind and expertly exploits it with a perfectly weighted kick. Kerevi makes a gallant attempt to chase Nowell down but he'd struggle to get there in the first minute, never mind the 79th.
The Burrell experiment may have showed brief signs of a revival against Wales, but versus Australia Ford proved that he deserves the chance to reclaim the number 10 jersey.
The eventual return of Manu Tuilagi may complicate matters, but for now there is no doubt what England's strongest 10-12 pairing is; it's undoubtedly Ford and Farrell.
Jack O'Toole, Pundit Arena
Read More About: analysis, Australia, australia rugby news, Axis, breakdown, brisbane, combination, Duo, eddie jones, England, england international rugby, england rugby, english rugby news, First Tet, george ford, israel folau, Jonathan Joseph, michael hooper, owen farrell, Suncorp Stadium, Top Story, Video, Video Analysis, Wallabies