Mike Brown supports the idea of central contracts for England players as a way to ease the burden on clubs operating in a bleak financial climate.
Brown's own career will continue into the 2023-24 season when he will be 38 years old after he agreed a contract extension with Leicester, who have seen enough during five appearances to extend his initial short-term deal.
Ollie Hassell-Collins has also agreed to join the Tigers next season but to underline the difficulty facing the Gallagher Premiership, Anthony Watson is considering leaving the east Midlands for the Top 14.
The greater financial rewards available in France have already seen several current red rose internationals such as Sam Simmonds, Joe Marchant and David Ribbans agree to head across The Channel after the World Cup and the fear is that more could follow.
Saracens boss Mark McCall is among a growing number of voices within the game to see central contracts as a way to make England players more affordable for clubs, as well as ensuring they remain in the Premiership.
"Central contracts could be a good idea, taking the pressure off clubs financially," England's most capped full-back with 72 appearances said.
"If the RFU are paying for a decent amount of the top players' salaries then there's money there that can be used elsewhere in the salary cap. It takes the pressure off them, their load management and the alignment for players.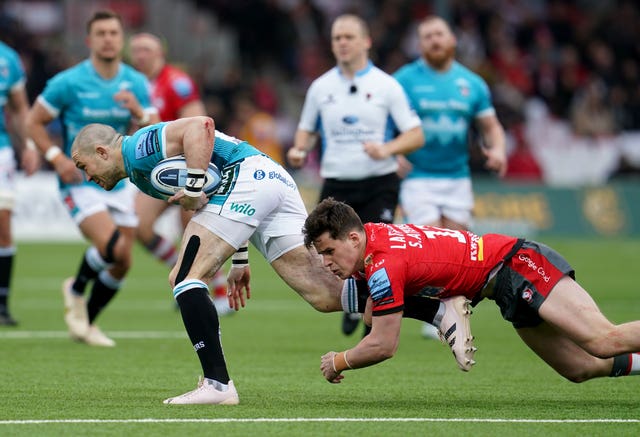 "Hopefully we won't in the future see players having to go abroad through lack of jobs, or financial pull. We need to stop that happening."
A professional career that began in 2005 continues to thrive in its twilight years as Brown looks to contribute to Leicester's Premiership title defence and challenge for European honours.
Released by Newcastle at the end of last season, the former Harlequins stalwart kept himself in shape throughout the winter with solo training sessions until he secured a trial with the Tigers in January.
With Freddie Burns leaving for the Highlanders and Freddie Steward on Six Nations duty, Brown took advantage of a sliding doors moment to show interim head coach Richard Wigglesworth that he still had plenty to offer.
A remarkable 19th season beckons and he sees no reason to map out the finishing line.
"I knew I could still play and contribute, it was just about getting that opportunity," Brown said.
"It's been good to have the chance to show that I was right in my own head and prove to myself I could still do it. I've come in with no expectations and thrown myself into it and I've thoroughly enjoyed it.
"I never wanted to think about how long I can play for. As soon as you start putting a deadline on it, mentally that is when your body starts winding down.
"I use (former England and Harlequins number eight) Nick Easter as an example of this. That guy was an absolute machine.
"He didn't train that much in the gym but he never got injured and he played 80 minutes every single week.
"As soon as he said he was going to retire at the end of that season, he started getting injuries, so I always looked at that as an example.
"I just feel mentally freer on the field now. Mentally I enjoy the parts of the game I want to take enjoyment from, there is no pressure on me really. I don't need to prove myself to anyone."
---