The sporting world, the Irish part of it at least, is still reacting to the sensational events of UFC Featherweight Champion Conor McGregor's apparent retirement. "The Notorious" sent this mysterious Tweet sending the world of MMA into hysteria.
I have decided to retire young.
Thanks for the cheese.
Catch ya's later.

— Conor McGregor (@TheNotoriousMMA) April 19, 2016
Ever since, the media and fans alike have been trying to decipher what this all means. It's believed that it was a power-play on the Dubliner's part in an effort to exert his influence over a near-billion dollar company.
Some have drawn parallels between the fighter and Roy Keane in the past, and now Conor is following in the footballer's footsteps.
It's not the first power play by a sportsperson, and it certainly won't be the last. Here are some other incidents of dramatic grabs for power by some outspoken sportspeople.
Martin Johnson and the Irish Rugby Team, 2003
Soon to be World Champions England arrived in Dublin for their Six Nations clash with Ireland with a rather cunning plan. The English team, led by Martin Johnson, took up residence on Ireland's side of the red carpet and refused to move. The Irish team were forced to line-up on the grass.
President Mary McAleese was caught up in the incident but kept up her end of the bargain and cheerfully shook hands with both sets of players.
The mind games worked and Johnson's charges won on Irish soil, something they have only done once since that day.
Wayne Rooney and Manchester United, 2010 and 2013
The current Manchester United captain has actually pulled this trick twice, and left the club with their pants down and their wallets empty.
Threatening to leave to local rivals in City in 2010, he forced the club into an extraordinary contract with astronomical wages. Sir Alex Ferguson even had it all arranged for the Englishman to head for Chelsea in 2013 but David Moyes bungled it in a way only Moyes could.
Rooney saw his chance and once more exploited the club's vast reserves.
Roy Keane and Mick McCarthy, 2002
One of the most famous sporting moments in Irish history, the Saipan incident divides friends and families to this day.
Irked by the FAI's preparation for the 2002 World Cup, Keano threatened to leave before opting to stay. He then did a scathing interview with Paul Kimmage which brought the power-struggle between Keane and Irish Manager, Mick McCarthy to a head. When McCarthy confronted, he unleashed possibly sport's greatest ever rant.
What happened next depends on your viewpoint. Keane either walked out or was sent home. Either way, his grab for power failed miserably.
I wouldn't tell him though.
English, French Clubs and the ERC, 2014
Arguably the most successful power-play on this list, the results of this are clear to see. After English and French clubs announced they would no longer be entering the Heineken Cup amidst disputes over structuring which was detrimental to English sides in particular, the ERC was rocked.
Eventually, the Rugby Champions Cup was set up and English clubs are flourishing.
Liverpool fans and Liverpool FC, 2016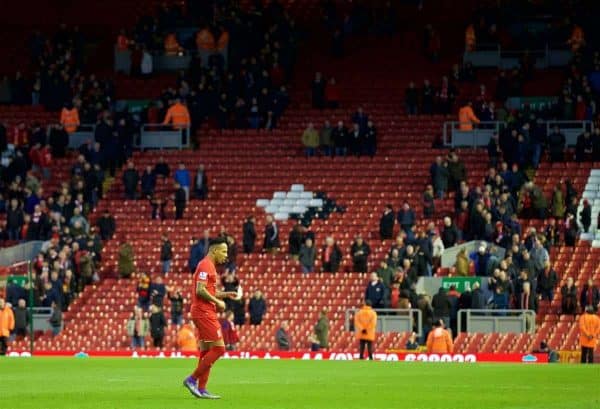 Another very successful entry, this worked out brilliantly with a helping hand from Sunderland. After a 77th minute walkout by fans in Anfield, the team's two-goal lead collapsed and two points were dropped.
Needless to say, the fans demands over ticket prices were quickly resolved.
Saido Berahino and Jeremy Peace, 2015  
From the very successful to the dismal. Someone really needs to explain to Saido Berahino how a power-play works. After vowing to never play for West Brom while chairman Jeremy Peace remained at the club on September 2nd, he played on September 1oth.
Read More About: conor mcgregor, conor mcgregor retirement, Martin Johnson, roy keane, Saipan, Wayne Rooney