The former welterweight champion of the world Johny Hendricks has announced that he has retired from the sport of mixed martial arts.
Johny Hendricks has announced his retirement from the sport of MMA, effective immediately.
Since losing his UFC title to Robbie Lawler by way of split decision at UFC 181, Hendricks has gone 2-5 – with his most recent loss coming at the hands of the middleweight powerhouse Paulo Costa. Issues with weight-cutting, confidence and seemingly in his motivation for fighting plagued the later years of his career and with his recent run at 185lbs, he just never really looked capable of being competitive with the bigger men.
His famed punching power just seemed to leave his body entirely after a while. It truly was a strange sight to see because in his prime, he could knock guys to the canvas in a flash.
Speaking to MMAJunkie, Johny made it clear that he wishes to pursue other passions in life and that his fighting days are now over.
"I'm done. I'm retiring. I'm getting out of the MMA world. I've been thinking about this long and hard for a while. I'm going to get back to my roots. I'm going to start coaching at All Saints. I coached a little bit of high school last year, but I'm going to make the move over to All Saints and start doing those things.

"One of the things that's nice is being home the last seven months, spending time with the kids, not worrying about what I needed to do. I looked at my wife and said, 'Do we really want to do this. I know I'm the one who has to do it, but do we want to do it? Do we want to go through the grind that I used to do, be gone for long periods of time, put my family second, do those kids of things?' Right now, I can't really say that.

"I made this decision two weeks ago, but I prayed about it and wanted to make sure I was going to be OK with it."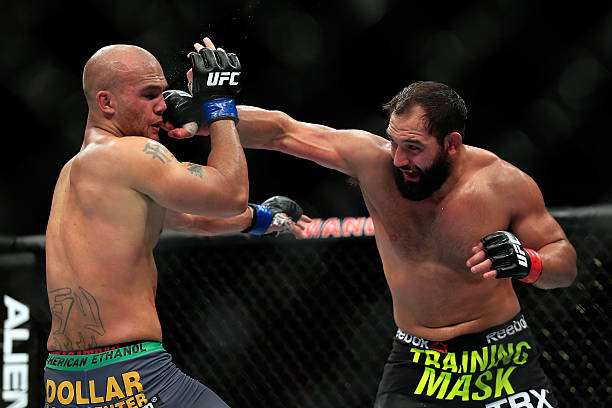 It really never looked as though Hendricks was able to get over both his loss to Lawler and his narrow decision defeat at the hands of the long-time champion Georges St-Pierre. It was to be his defining moment – and he gave GSP the toughest fight of his career. Many people believe that 'Big Rigg' did enough to get the job done and even to this day, the result of that fight stands as one of the most divisive in the history of the sport.
Continuing on, Hendricks said that even if they gave him a rematch the former two-weight world champ St-Pierre it would matter little.
"Even if you threw Georges St-Pierre at me, the world knows [I won]. Realistically, I'm satisfied unless they say, 'Johny, here's a million-dollar payday. Come fight this dude.' You can't turn that down. That would be stupid. But everything I set my mind to, I achieved it. That's the gist of what I'm feeling at this moment and what I've been feeling the last month.

"I'll call the UFC and tell them I'm done. I'll call USADA and tell them I'm done. It's never a honeymoon phase with me. My goal is to get wrestlers into national champions. I want to get wrestlers better than I was, better than I could ever be. For me to do that, I have to put the past in the past and start moving forward."
Known for his elite-level wrestling and frankly insane KO power, Hendricks never reached the heights that he was able to sustain during his original run at 170lbs and while his late-career slump is still fresh in the memory, his legacy over time will no doubt revolve around his glory days and his time fighting some of the best welterweights to ever do it.
Cillian Cunningham, Pundit Arena
Read More About: bigg rigg, georges st-pierre, johny hendricks, middleweight, mma, UFC, welterweight