Phil Mickelson hopes he can use his surprise second place in the Masters as a "stepping stone" for the rest of his career.
Mickelson began the final round 10 shots off the lead held by Brooks Koepka, but as Koepka faded it was the 52-year-old American who put the most pressure on eventual winner Jon Rahm.
Five birdies in the last seven holes gave Mickelson a superb final round of 65, equalling his lowest score at Augusta from the first round 27 years ago.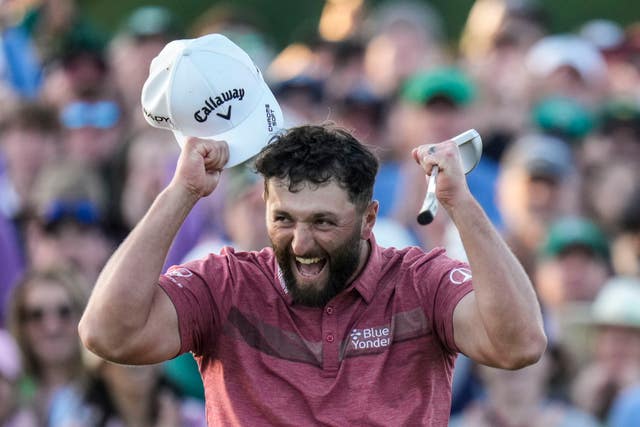 That set the clubhouse target on eight under par with Rahm 10 under as he tackled the treacherous Amen Corner, but the Spaniard emerged unscathed before birdies on the 13th and 14th effectively secured his second major title.
While three of Mickelson's six major victories have come at Augusta National, his late charge came on the back of recent form showing just two top-20 finishes from 10 LIV events, which only have a 48-man field.
And it also came a year after he sat out the Masters following the fall-out from his explosive comments about the Saudi-funded breakaway and the PGA Tour, with chairman Fred Ridley forced to deny suggestions he had been disinvited.
Mickelson has been noticeably subdued since then and "didn't speak at all" at the pre-tournament Champions Dinner, 1979 winner Fuzzy Zoeller told Golfweek.
However, there was a spring in his step as he spoke to the media after his round, having declined to give a formal press conference earlier in the week.
"Hopefully it's a stepping stone," said Mickelson, who needs to win the US Open – in which he has been runner-up a record six times – to complete a career grand slam.
"I know I've been playing really well. I've been shooting low scores back home. When I've been competing, I have not been staying present.
"This is hopefully a catapult to really kick start the rest of the year and continue some great play because I have a unique opportunity at 52, no physical problems, being able to swing a club the way I want to, to do things in the game that not many people have had a chance to do later in life."
The emergence of LIV Golf has caused a massive split in the men's professional game, with CEO Greg Norman claiming the other 17 LIV players in the field would pointedly celebrate en masse behind the 18th green if one of their number were to win.
Rahm's performance ensured that did not transpire, although with Koepka, Mickelson and Patrick Reed all in the top five there can be no doubt it was a good week for the Saudi-funded breakaway on the course.
Off the course it was a different story as an arbitration panel ruled that the DP World Tour was justified in fining and suspending players who competed in the first LIV event last year, despite being refused the required releases.
"I'm very appreciative that we're here, that we are able to play in the majors," Mickelson added.
"And I thought it was exciting that this tournament rose above it all to have the best players in the world here and lost all the pettiness. That was great.
"I'm happy where I'm at. I wanted something different for a lot of reasons and I'm getting a lot out of it because having a team environment when I was in high school and college golf, it elevated my game.
"And that's what this is doing for me at LIV. I'm not saying it's for everybody, but it's been awesome for me, and I love it.
"This tournament isn't about what tour you play from. There's players from all over the world on many different tours, and you're bringing the best players to play against each other in the majors.
"That's what the game of golf should be. There's always going to be and should always be a place for historical events like this, but it's okay to have a little bit of difference and variety in the game of golf."
---