Patrick Reed shrugged off his row with Rory McIlroy and a six-hour weather delay to make an impressive start to the Hero Dubai Desert Classic.
Players were informed in the early hours of Thursday morning that Emirates Golf Club was "inaccessible" and told not to travel to the course due to several roads being flooded following heavy rain.
Following a few hours of dry weather and a massive clean-up operation by ground staff, play got under way at 1.15pm local time, although half the field were unable to get on the course at all and will start round one on Friday.
Reed completed 16 holes in four under par to lie a shot off the lead held by Belgium's Thomas Pieters, who had three holes remaining.
The English trio of Matthew Jordan, Daniel Gavins and Oliver Wilson had set the clubhouse target following rounds of 68 completed shortly before play was suspended due to darkness.
Tommy Fleetwood was also four under and facing a 15-foot birdie putt on the par-three seventh – his 16th hole – when play resumes, with playing partner McIlroy having a putt from four feet to improve to three under.
The pre-tournament build-up had been dominated by the war of words between Reed and McIlroy, which emerged after Reed threw a tee towards McIlroy after being snubbed by the world number one on the practice range.
McIlroy said he had not seen the tee but had not been impressed at being subpoenaed on Christmas Eve by the lawyer who is representing Reed in a defamation lawsuit against several media members and organisations.
McIlroy's subpoena is related to a separate civil lawsuit filed in June by Larry Klayman, which claims that Florida residents who bought tickets to PGA Tour events, or would in future, were damaged by the PGA Tour allegedly weakening fields by suspending players who joined LIV.
Reed, who joined LIV during its inaugural event in June, told reporters the subpoena – which Klayman has also attempted to serve on Tiger Woods – has "nothing to do with me and nothing to do with any of the lawsuits that I'm a part of" and labelled McIlroy "an immature little child".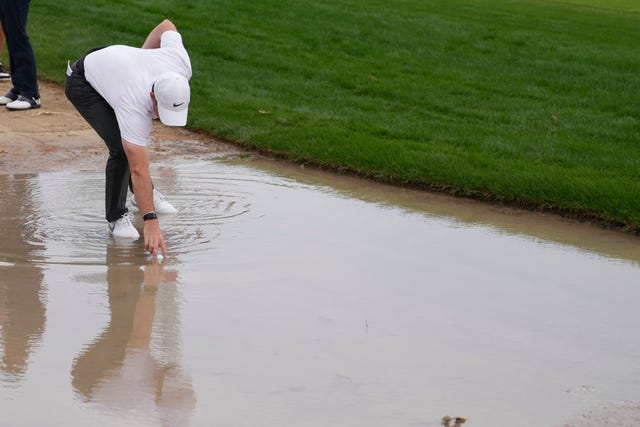 Joint clubhouse leader Jordan carded five birdies and a single bogey in his 68, while playing partner Gavins looked set to finish a shot ahead before dropping a shot on the 18th as the light faded.
"If you shoot a good score here, you enjoy it," Jordan said. "It was challenging in terms of we knew rain was coming and darkness and everything else so there was a bit of uncertainty whether we would finish.
"It was nice to see (the message from the Tour) at 20 past five that I could roll back over in bed and have a lie-in, but it's certainly strange around here to see water hazards in places that you don't expect."
---