Not easy to deal with 'bombshell' merger – Jon Rahm
Masters champion Jon Rahm admits it has been tough to deal with the "bombshell" announcement of a peace deal between golf's warring factions that has still left the game in a state of limbo.
Rahm confirmed many players feel a sense of betrayal at the news that the PGA Tour and DP World Tour plan to merge their commercial operations with the golf-related businesses of Saudi Arabia's Public Investment Fund (PIF), which bankrolls the breakaway LIV Golf League.
The world number two was taken aback by the shock development and feels there are many unanswered questions as the world's best players gathered at Los Angeles Country Club for the 123rd US Open.
Asked about players feeling clueless about what the future holds, Rahm said at his pre-tournament press conference: "Add me to that, by the way.
"There's a lot of unanswered questions. It's tough when it's the week before a major. (I'm) trying not to think about it as much as possible.
"I think it gets to a point where you want to have faith in management, and I want to have faith that this is the best thing for all of us, but it's clear that that's not the consensus.
"I think the general feeling is that a lot of people feel a bit of betrayal from management. I understand why they had to keep it so secret. It's just not easy as a player that's been involved, like many others, to wake up one day and see this bombshell.
"That's why we're all in a bit of a state of limbo because we don't know what's going on and how much is finalised and how much they can talk about, either.
"It's a state of uncertainty that we don't love, but at the end of the day, I'm not a business expert. Some of those guys on the board and involved in this are. So I'd like to think they're going to make a better decision than I would, but I don't know. We'll see."
While Rory McIlroy received 90 minutes' advance notice of the deal from PGA Tour board member Jimmy Dunne, Rahm revealed he was at home making breakfast when the news broke.
"Basically texts just started flowing in," the 2021 US Open winner said. "I thought my phone was going to catch on fire at one point.
"I think it was that day at one point I told Kelley (his wife), 'I'm just going to throw my phone in the drawer and not look at it for the next four hours because I can't deal with this any more'."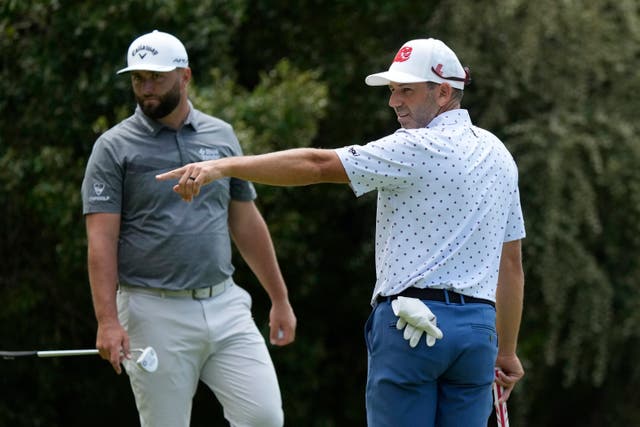 Speaking ahead of his US Open title defence last year, Rahm used the figure of 400 million US dollars when pledging his loyalty to the PGA Tour amid talk of massive offers to join LIV Golf.
And he reiterated that he and his family were already financially secure for years to come when asked how he would be able to focus on his golf this week.
"What do I do? To be honest, I think a little bit in my case is [down to] perspective," the Spanish Ryder Cup star added.
"No matter what happens, whether I agree with it or not, the PGA Tour gave me a platform to play golf at the highest level and after taking advantage of that possibility, I'm in a situation where my family and my kids don't have to struggle financially ever, and I don't know how many generations I can help if I do it properly.
"I'm in a very high state of privilege in this world. I can do what I want. I can do what I love for a living. I have a blast every single day, even though I get mad on the golf course every once in a while.
"When I start with that point of view, no matter what happens, I can only be thankful to what's going on. If things change, things change. I'll have to adapt to the situation and will have to make some decisions.
"I'm happy where I am in my life, and every day in the morning when I look at my kids, I'm even more blessed in that sense. It's an easy way to forget about what's going on when I look at it that way."