A persistent back injury, culminating in a spinal fusion procedure in 2017, has meant that for the past five years Tiger Woods has spent more time off the course than on it. But after impressing at the Valspar and The Players Championship this season, the most gifted golfer of all time is edging closer to one of the greatest comebacks in sport.
_____
The Lay Of The Land
As the injections, scopes and endless surgeries had failed to fix his damaged back, there wasn't much left for Tiger Woods to do but retire from the sport he loved.
It was April 2017 and he was recuperating from extensive back surgery, the fourth such procedure he had undergone in his career, as his medical team sought to rid him of the relentless lower back pain that had plagued him for the past few years.
On tour his fellow competitors such as McIlroy, Johnson and Watson were continuously pushing the limits of how far a golf ball can carry from the tee-box – 425 yards, 460 yards, 489 yards – it was freakish stuff.
How could he possibly compete with that when the simple act of lifting a driver above the shoulder sent his back into spasm – an admixture of pinched nerves and deadened muscles signalling to the 42-year-old that his best days were now invariably behind him?
Woods had himself once hit an obscene drive of 498 yards on the 18th fairway of the Plantation Course at Kapalua, a feat which to this day remains the longest drive in PGA history.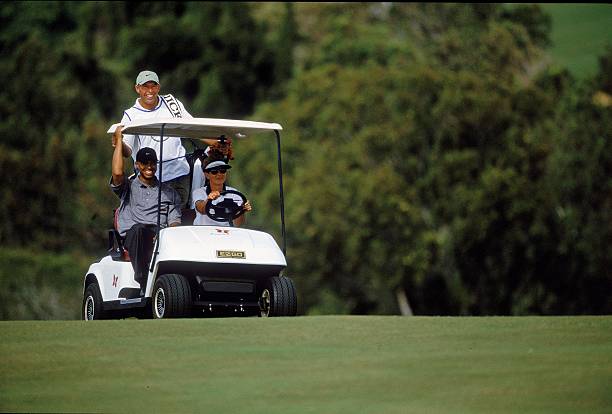 But that had been sixteen years ago and in the intervening decade and a half, everything had changed.
Injuries, too numerous to detail, had become so routine that it ended up being the tournaments that Woods attended that became notable, rather than the ones he missed. The greatest talent the game of golf had ever witnessed had now entered a new phase of his career, one punctuated by missed cuts and false dawns.
On top of his on-course woes followed the headline-grabbing domestic turmoil that would derail his career and irrevocably tarnish the distinguished, level-headed persona that he had worked so hard to cultivate. In 2009, after a minor car crash outside his luxury Florida mansion, the gossip merchants pounced and over the following months a catalogue of extramarital affairs would be uncovered.
Despite all of the many forces that have conspired against him – the media, the public, his own ailing body – Woods is back playing golf at a level that few thought possible only a year or so ago. In a story that has already had more than its share of triumph and failure, the question is – is there yet another chapter to be written?
_____
The Rise
In 2000 Tiger Woods was the biggest sports star in the world.
His was a talent that electrified a sport and propelled the youngster to mega-stardom.
Whether it was on the covers of Time Magazine, Newsweek or Sports Illustrated, Tiger Woods was everywhere in the early 21st century.
Folks who had never given a passing thought to the game of golf were now tuning in to see Tiger create magic at Augusta and Pebble Beach and Medinah. It didn't matter whether you knew your fades from your flop shots because to be a witness to genius is awe-inspiring, wherever you find it.
And Tiger was a genius.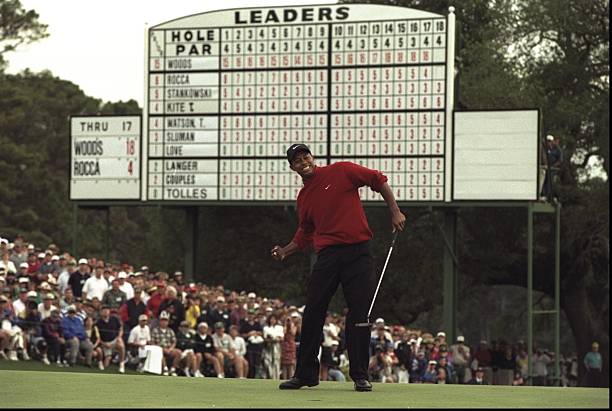 In 1996 he transitioned seamlessly from an amateur to a professional and promptly settled into number 33 in the top 50 golfers in the world. It was the fastest rise into the top 50 in history.
The following year he would pick up his first major, the illustrious Masters, becoming the youngest ever winner of that competition (as he remains today). By the year's end Woods had become the number 1 golfer in the world. He was the youngest man to ever do that, too.
He would go on to win another 13 majors and 78 PGA tour events.
He quickly became the highest paid sports star in the world in 2001 and would hold that distinction for a decade as a host of the world's biggest companies rushed to claim a piece of the Tiger magic. General Motors, Buick, American Express, Titleist and Accenture were just some of the corporations that tied Woods into obscenely lucrative endorsement deals which served to further enrich the young golfer and develop his brand further.
EA games quickly re-titled their successful series of golf video games from 'PGA Tour Golf' to 'Tiger Woods PGA Tour', as clear a statement as any that Tiger Woods had become bigger than the sport he played. Golf may have sold well, but Woods sold better.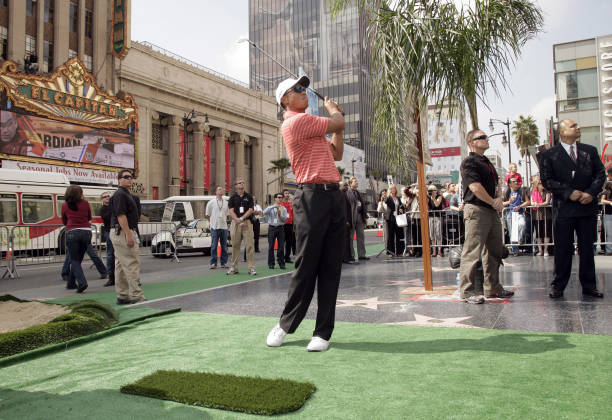 And then there was his collaboration with sports giant, Nike.
Over the course of his career, Woods has collected more than $200 million by being the face of the brand. The Nike tick is now synonymous with Tiger Woods and the sight of Woods making his way down an 18th fairway on a sunlit Sunday afternoon in a red Nike shirt became the abiding image of the Tiger Woods phenomenon and the game of golf itself.  
The attraction of Woods to fans and sponsors alike was based solely on one thing – his brilliance on the golf course.
He didn't have the idiosyncrasies or unpredictability of a John Daly, or the laid-back swagger of a Jiminez. He didn't have Phil Mickelson's charm or the endearing candidness of an Ernie Els.
In fact, an occasional tantrum when things weren't panning out the way he wanted them to – which usually manifested itself with an iron being thrown to the ground – was about the only rough edge to an otherwise well rounded public persona.
He projected an image of himself as a controlled, mature sportsperson who allowed his golf to do the talking.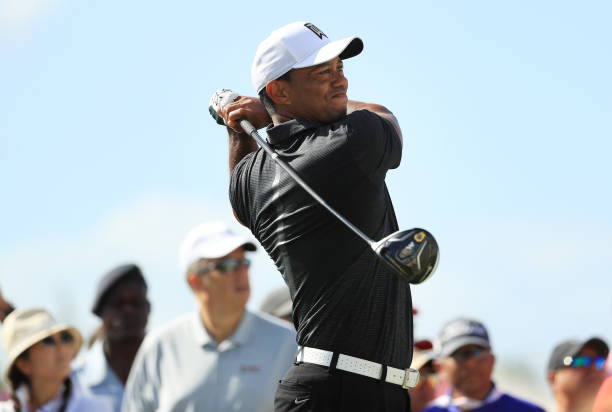 Untypically for a celebrity of his stature, Woods had guarded his personal life with a zealousness that sometimes bordered on the obnoxious. In press conferences and television interviews, his surly demeanour left the media in no doubt that his private life was off-limits. An intrepid journalist who had been foolish enough to venture a question on anything other than golf could be shot down with a withering look from the golfer and ignored.
With fans too Woods was inaccessible. Whereas others on tour were happy to revel in the adoration of punters, Woods kept them at arm's reach, marching down fairways focused only on the next shot, rarely acknowledging the hordes to either side that roared his name.
His $20m luxury yacht had been aptly named 'Privacy'.
However gladly he had accepted the endorsements of sponsors, video game developers and advertisers, Woods was never comfortable with the exposure that accompanied it.
He was a control freak, both on and off the course, and there were just too many variables to risk allowing fans and others a glimpse into his real world. And then there were the skeletons in the closet that would soon turn his private life upside down.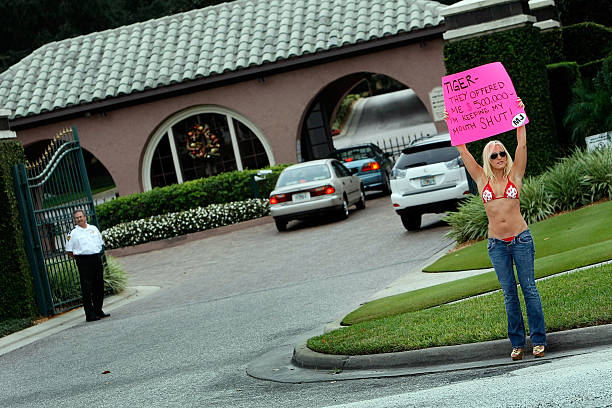 Tiger Woods also became a role model for young, non-white children the world over, though it was a role that he neither sought nor wanted.
Here was a guy competing in an overwhelmingly white sport and winning. You didn't have to go too far back in American history to find a time when someone of Woods skin colour would have been denied access to the majority of courses in the USA based on his race, and the historic significance of his success was not lost on a sizeable proportion of minorities in America at the time.
And yet, Woods never embraced the vital role that his mixed-race heritage might allow him to play.
Early in his career, Woods had coined a term for his ethnicity – Cablinasian, an abbreviated term for Caucasian, Black, American, Indian and Asian. This was his attempt to recognise his multi-ethnic ancestry but it also had the effect of allowing him to avoid using his massively influential position to forward cases of racial inequality. To some within the black and Asian community, it was almost as if Woods was denying a significant part of his identity just to avoid some difficult questions.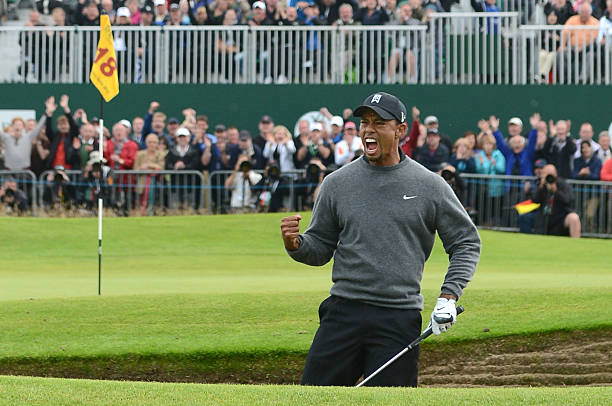 Ultimately, Woods was seeking the holy grail of sports stardom – to be revered and to have his brilliance recognised the world over, through multi-million dollar endorsements and careful PR management, while at the same time avoiding personal scrutiny.
But of course it never really works out that way.
_____
The Records
(A small selection of the many records Woods collected during his golden era)
Youngest player to ever win the Masters at just 21 years of age

Most wins by a player in his 20s – 46

Most US PGA Tour tournament wins in the modern era

Largest margin of victory in the US Masters

Largest margin of victory in a majors

Most consecutive major golf tournaments won

Most awards for Professional Golfers' Association Tour Player of the Year

Highest earning golfer of all time

Highest earning athlete of all time
_____
The Fall
The news that Woods had instigated a multitude of affairs while married to Elin Nordegren became one of the biggest news stories of 2009. The iron bolts that had guarded his private life were blown off and Tiger Woods reputation was in tatters.
Where Tiger is concerned, everything is enhanced.  
While he was presiding over an unprecedented period of domination of golf, his genius on the course was examined and re-examined with forensic precision.
But when the fall came his demise was pored over with the same assiduity as all of his achievements had been.
His form declined sharply and for the first time in his career, Woods was contending with ego-sapping cuts from major tournaments. He quickly slid down the rankings, his place in world golf deteriorating one competition at a time.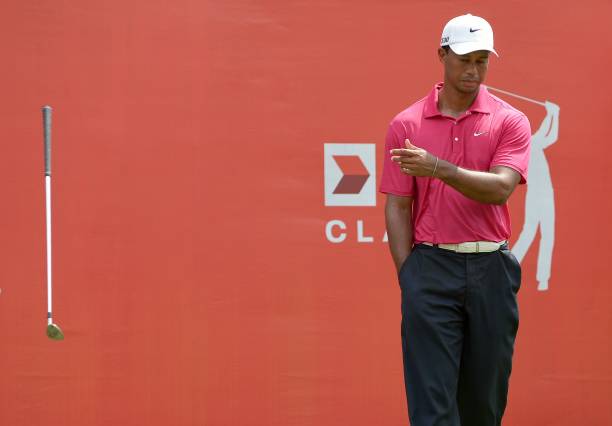 For a player with who constantly demanded to be the best, the ignominy of failing to make the USA Ryder Cup Team must have been almost too much to bear.
Woods had been projected by the media as an almost otherworldly talent, above all of the weakness and petty seductions of mere mortals. But as word of Wood's infidelities spread, the press were just as happy to pick apart that reputation and cut the former world number one down to size.
What had begun as a juicy domestic squabble soon became a sex scandal of epic proportions. It emerged that Woods had been having affairs all over the world, including one with a porn star, a waitress and a neighbour's daughter.
The details of Wood's indiscretions had been salacious enough to bring down any distinguished sports star.
But in his case, it was even worse.
For one thing, Wood's had always cut an unsympathetic figure. He had a tetchy relationship with the media (who had been almost sycophantic in their praise of him early in his career) and was at best ambivalent to the adulation that golf fans had so readily extended to him.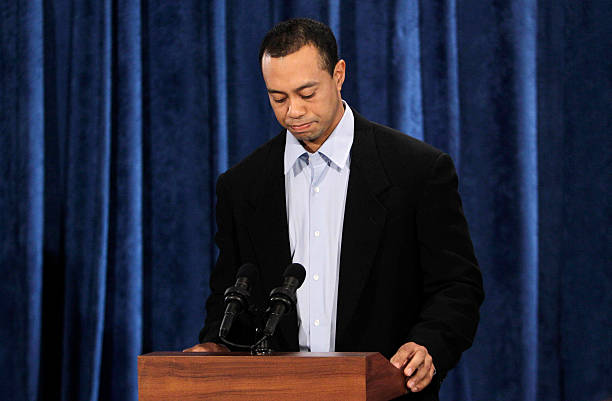 It also didn't help that Woods played in a sport that had been relatively unacquainted with scandal.
NFL players and boxers, who had been guilty of far greater transgressions than Woods – domestic battery, firearms offences, ear biting – had weathered the very same public disgrace that Woods was now suffering, and had resumed their careers with little fallout.
But in the stuffy culture of exclusive clubs, starched collars, old money and mandatory propriety that make up a large part of the golfing fraternity, a scandal of this type was difficult to overcome.
A well-polished public apology followed in which Woods acknowledged the hurt he had caused to his family, friends, fans and the sport he loved.
But it was too late.
Sponsors began to abandon Woods and leading figures within the golfing world turned on the man who had done more for the global appeal of their sport than any other in history. Tom Watson and other highly regarded figures within USA golf condemned him.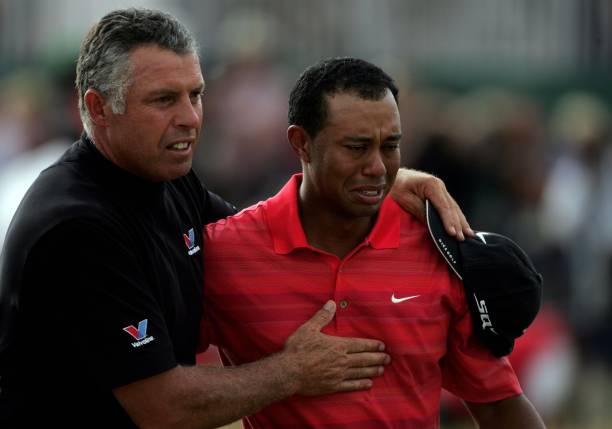 His divorce from Elin Nordegren was finalised in August 2010. The settlement ran into the hundreds of millions of dollars, but to a man who had topped the highest-paid athletes list for over a decade, his only perceptible loss was of a wife and a reputation.
Then in 2017, he hit the headlines again after he was found asleep in his car in Florida and was arrested on DUI. It emerged that Woods had been self-medicating with prescription drugs. He was sentenced to attend a DUI school and to perform community service.
The downfall of Tiger Woods was complete.
_____
The Comeback
But he didn't retire.
Tiger Woods is back competing and heads to the US Open playing a better brand of golf than he could have ever expected while his career was in the gutter.
In a 2015 article, Mike Wise writing for ESPN was unequivocal in his summation of what Tiger Woods career now entailed:
"Tiger, meanwhile, depressingly trudges toward his 40th year — his descent into dufferdom deepening with each missed cut, his dominance forever gone. Nostalgically pulling for Tiger now feels like pulling for Mike Tyson after his fall or Michael Jordan as a creaky-kneed, woebegone Wizard – the relationship still pathetically pined for after it ended years ago."
And three years ago it was difficult to disagree with this view. But there is reason to believe that the Tiger Woods of 2018 is a different beast.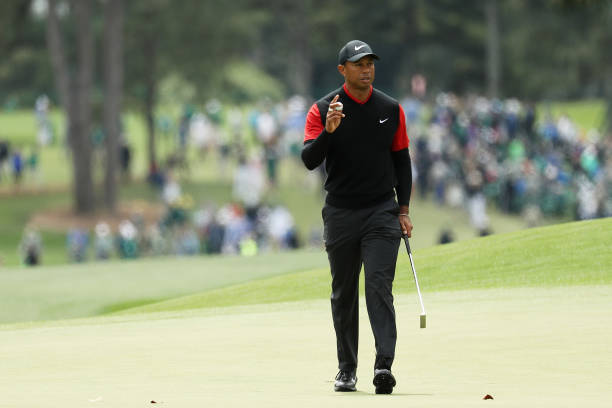 It has been a season of ups and downs. There have been career lows and infuriating glimpses of the residual class a player like Woods is bound to have. The iron play has been precise when it hasn't been completely sloppy. The drives have either been wonderful, or hideous.
His performance around Augusta had more lows than highs and early in the year, he failed to make the cut at the Genesis Open.
And for the first two days of the Players Championship, Woods looked every bit the has-been that ESPN suggested he is. But then on Saturday, a spark ignited and Tiger roared into life.
He made 14 birdies over the two days and suddenly the 'Greatest Hits' feel of his golfing return began to venture towards new album material.
He was runner-up at the Valspar Championship and tied for fifth in the Arnold Palmer Invitational.
And despite his recurring back problems, Woods is currently ranked 26th on the PGA tour in terms of driving distance and 5th in strokes gained around the green. His scoring average this season isn't far behind the likes of McIlroy and Johnson.
If he could begin to hit the fairways with greater regularity, Tiger might just give himself a chance.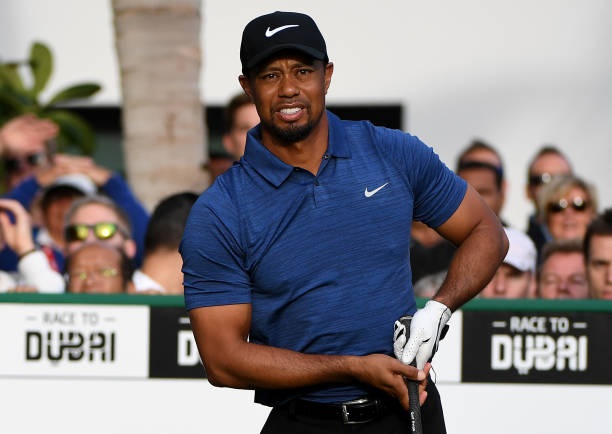 And in the lead up to Thursday's US Open, Jordan Spieth has been playing a few rounds with Tiger and believes that pieces of the jigsaw will soon fall into place.
"He's playing good enough golf to win a tournament at any point in time. Nobody would ever count out probably the most clutch putter and short-game player of all time and then he's striking the ball extremely well, the rounds I've played with him. He's hitting the driver long and straight, working it both ways. It's a matter of time in my opinion."
The big question now is whether or not a 42-year-old Tiger Woods can put together the error-free round that he will need to win a tournament.
If there is a trait that Woods has that can lead him to even more titles, it is arguably the same trait that enabled him to carry out multiple affairs with women all over the world, risking his both his family life and career – that obstinate, single-mindedness approach – a willingness to do whatever it takes to get what he wants, whatever the cost.
It's not necessarily the most noble of traits in a character. But even so, the world is desperate for Tiger Woods to reclaim some of his former glory and win again. Not because he deserves it. Not because he needs it.
We want him to reclaim his glory because to be a witness to genius is awe-inspiring, wherever you find it.