Jon Rahm dedicates Masters success to Seve Ballesteros
Jon Rahm dedicated his Masters triumph victory to Seve Ballesteros after claiming his second major title on the 40th anniversary of his late idol's second win at Augusta National.
Rahm's four-shot win over Brooks Koepka and Phil Mickelson also came on what would have been Ballesteros's 66th birthday and was rounded off with a par on the 18th of which the mercurial Spaniard would have been proud.
"History of the game is a big part of why I play and one of the reasons why I play, and Seve being one of them," said Rahm, whose father took up golf after watching Ballesteros captain Europe to victory in the 1997 Ryder Cup at Valderrama.
"If it wasn't for that Ryder Cup in '97, my dad and I talk about it all the time, we don't know where I would be or where as a family we would be.
"For me to get it done on the 40th anniversary of his win, his birthday, on Easter Sunday, it's incredibly meaningful."
He continued: "To finish it off the way I did, an unusual par, very much a Seve par, it was [unintentionally] a testament to him, and I know he was pulling for me today.
"This one is for Seve. I knew he would be up there helping and help he did."
Rahm was embraced behind the 18th green by two-time Masters champion Jose Maria Olazabal while the fourth Spaniard to win at August, 2017 champion Sergio Garcia, also triumphed on April 9.
"He said he hopes it's the first of many more," Rahm added. "We both mentioned something about Seve and if had gone on 10 more seconds, I think we would have both ended up crying.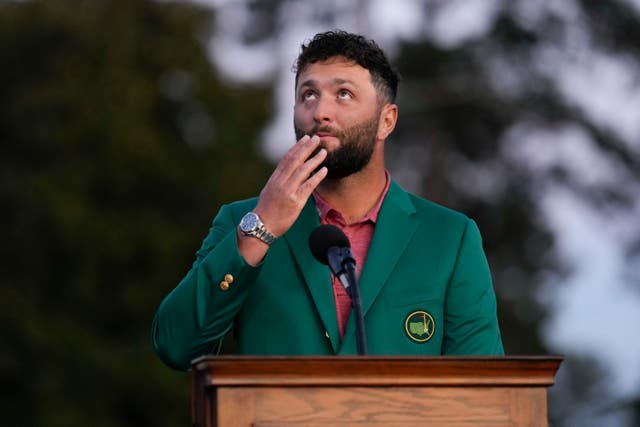 "I like to see history kind of repeating itself because when Ollie won his second Masters in '99, Sergio was the low am. My first start was the year Sergio won."
Koepka had taken a two-shot lead into the final round but struggled to a closing 75 and it was Mickelson who exerted the most pressure with a brilliant 65 that got him within two shots as Rahm tackled Amen Corner.
"My brother, Tim, was his college coach for four years at Arizona State," Mickelson said of Rahm.
"First time I played with him we played Whisper Rock, and he shot 62. And I thought I played pretty good, and he gave me a pretty good beat down.
"It was obvious to me at a very young age that he was one of the best players in the world even while he was in college. To see him on this stage is not surprising for anybody.
"It's hard not to pull for Jon, too. He's such a good guy. He has such a great heart and treats people so well. I think the world of him as a person. And as a player, that's obvious, how good he is."