England's Andy Sullivan, Oliver Wilson and James Morrison are part of a six-way tie heading into the final round of the Betfred British Masters as tournament favourite Justin Rose battled to stay in contention.
The home trio were joined on seven under par by Holland's Joost Luiten, Italy's Guido Migliozzi and Denmark's Niklas Norgaard as a blustery wind wreaked havoc at The Belfry.
Rose had been seven under following an opening 65, but carded a 73 in round two and was a shot worse on Saturday to fall three off the pace in an event he won in 2002 and hosted in 2018.
Nuneaton-born Sullivan admitted he was "absolutely buzzing" to be in contention for a fifth DP World Tour title in front of a partisan home crowd, birdies on the 17th and 18th completing a third-round 70 in style.
"I wanted to do something like that all day to try and get it going, fortunately it came on the last," Sullivan said after holing from 40 feet on the last.
"I was just grateful for it to hit the hole because it might actually have gone down the other ridge. I didn't get anything going all day, very steady, very solid, and then yeah, the last couple of holes it was sweet to finish like that.
"I'm buzzing. I'm absolutely buzzing. I'm not going to lie, I'll probably go have a little beer right now to calm down.
"It's been so nice to see so many friendly faces out there. It's lucky I've got quite a few friends on Tour and I managed to scrounge about 120 tickets so it's fantastic to have all these people come out and watch you.
"I'm very grateful for the support they give, taking the time out of their weekend and I've thoroughly enjoyed it. I can't wait for tomorrow."
Wilson surged into the lead with four birdies in his first seven holes, but missed from three feet for another on the ninth and then dropped shots on the 10th and 11th before carding seven straight pars.
"It was a massive tale of two halves," Wilson, who was part of the 2008 Ryder Cup team captained by tournament host Sir Nick Faldo, told the PA news agency.
"I was awesome on the front nine. I'm not good at bigging myself up but that was pretty good. I had a three-footer on nine to go five under for the day, missed that and then started to realise how hard it was.
"I just made a couple of errors on 10 and 11 and then it was a bit of a scramble but I did a lot of good stuff and it was so fiddly out there.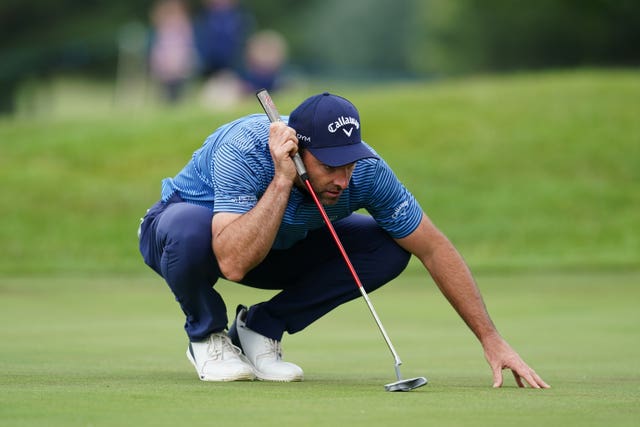 "It's hard to keep it on the fairways on quite a few of the doglegs and every shot out of the rough is jumping. But I'm in good shape and look forward to seeing what I can do tomorrow."
France's Antoine Rozner had holed a bunker shot on the eighth and birdied the ninth to join Wilson in the lead on nine under, only to dump two wedge shots into the water on the 10th and make a quadruple-bogey eight.
Rozner stumbled home in 42 but was still within four of the lead on three under, while Thorbjorn Olesen's chances of defending his title effectively disappeared when he also made two visits to the water on the par-five third to run up a triple-bogey eight, the Dane carding a 76 to finish the day one under.
Rose was initially put down for a triple bogey of his own on the 12th when he appeared to need multiple attempts to hack his ball out of a muddy lie on the edge of a water hazard, but had actually been taking two practice swings.
"My ball was plugged inside the hazard but fortunately there was a rule officials near me and he clarified you can take practice swings," Rose explained.
"My thinking was if I just wallop it really, really hard can I kind of take all the earth that my ball is sitting in and just move it forward the three or four yards that I need.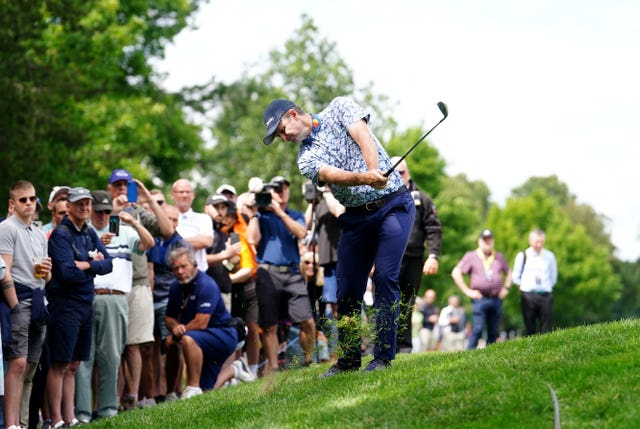 "I took big heaves of a practice swing and felt like I could do it, so the third swing you saw was my attempt at the ball."
As for his chances of victory, Rose added: "I'm in a position where there's so many guys ahead of me on seven under that one of those guys is going to go out and play well.
"It means that it's going to take a pretty low one from myself or the chasing pack to get it done, but maybe something along the lines of (my) round one might have a chance."
---