We analyse four key holes at Carnoustie where the third major of the golf season, The British Open, tees off on Thursday.
The following four should have a major (pun intended) bearing on the outcome of this year's championship.
_____
Hole: No. 6
Distance:580 Yards
Par: Five
Known as "Hogan's Alley" after the legendary American Ben Hogan who won the 1953 British Open in his one and only appearance in the major. Hard to pick the truth from the fiction with regard to how he played this intimidating hole which is usually played into the wind. However, there is little doubt the birdie on this hole in the final round played a large part in his victory.
The alley is the narrow bit of fairway between a bunker and the out of bounds fence. Curt Sampson in his best-selling biography of Hogan had little doubt about how he had played the hole:
"He could hit this green in two if he could thread a drive into a narrow haven of brown grass between the fence bordering the practice ground and a sod-faced bunker deep enough to hide a cow. He went for it and made it, in all four rounds."
Hogan was to never return to Carnoustie declaring:  "I'm not going back to a place where they never rake the goddamn bunkers."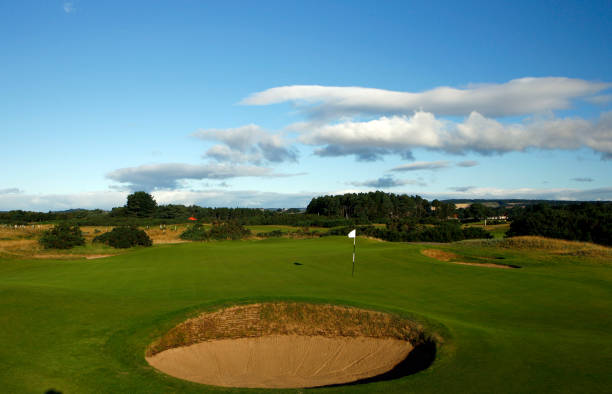 _____
Hole: No. 10
Distance: 465 Yards
Par: Four
Named 'South America' as a tribute to a man — reputed to be a caddie at the club — who said he was going to South America to promote the sport to the Latin Americans.
Unfortunately, due to over-imbibing at the party to wish him well he was found asleep next morning at the 10th hole — his adventurous spirit deserted him and he never did make it to his destination.
Players might feel like a drink after meeting the challenge of a really tough start to the inward nine with accuracy in ones drive essential as three bunkers lie in wait on the right-hand side.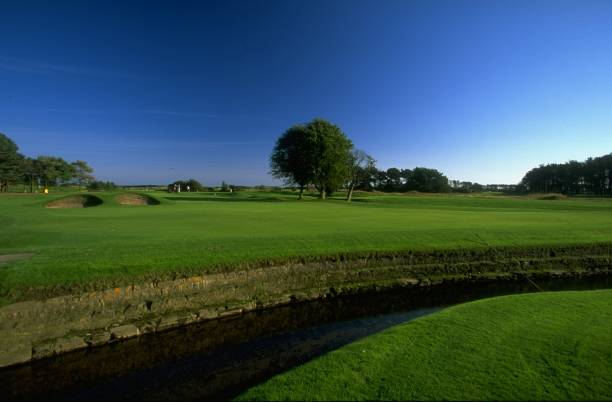 _____
Hole: No. 17
Distance: 460 Yards
Par: Four
Known as 'Island', Barry Burn has destroyed many on the penultimate hole of the course. The drive must land between the island part of the hole. However, the tough part may be to come as then they have to contend with avoiding bunkers to hit the green.
The hole has become synonymous as being a graveyard for Argentinian hopes in The Open. Jose Jurado looked set for glory in 1931 but his drive dropped into Barry Burn and he double-bogeyed the hole — a bogey on the last handed victory to Tommy Armour.
Shoot forward 76 years and another talented Argentinian Andres Romero held a two-shot lead in the final round arriving on the 17th. However, a visit to the deep rough then out of bounds saw him trail away with a double bogey and he failed to lift the Claret Jug.
"I made a mistake. And many people saw it," he told Golf Digest years later.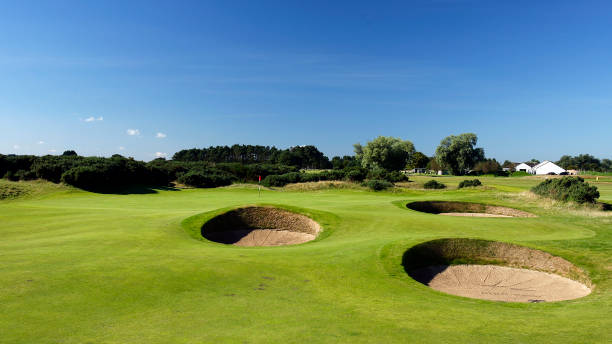 _____
Hole: No. 18
Distance: 499 Yards
Par: Four
Called 'Home' but nothing very welcoming about it and some would say it is more like hell. Deservedly ranked the most difficult hole after the 2007 Open which eventual winner Padraig Harrington would concur with as he almost lost the title there with a double bogey but eventually prevailed in a play-off with Sergio Garcia.
The Barry Burn is an ever-present danger for those who drive to either side of the hole. There are also fairway bunkers to the right.
Barry Burn will remain engraved on French golfer Jean van de Velde's heart forever as it is there his hopes of glory sank in 1999. Holding a three-shot lead coming onto the hole, van de Velde came away with a triple bogey, losing in a play-off.
"It's sad, it's very sad … can I go back and play it again, actually? That'd be nice," said a despairing van de Velde.
_____
pi/dj