Max Verstappen begins world title defence with superb win at Bahrain Grand Prix
Max Verstappen opened his championship defence with a crushing victory at the Bahrain Grand Prix.
The Red Bull driver, who dominated last season to claim his second consecutive world crown, outclassed his rivals with an ominous performance under the floodlights in Sakhir.
Sergio Perez finished runner-up, 11.9 seconds adrift, as Red Bull completed a one-two, while Fernando Alonso took the final spot on the podium after Ferrari's mechanical woes rolled into the new season when Charles Leclerc retired with an engine failure. Carlos Sainz finished fourth.
Lewis Hamilton took the chequered flag in fifth, 51 seconds behind, with team-mate George Russell seventh on a sobering evening for Mercedes.
Hamilton's display comes just 24 hours after team principal Toto Wolff revealed the team, which once dominated the sport, are ready to consign this season's car to the rubbish bin and start from scratch.
While Mercedes have already pushed the panic button, Red Bull, with the sublime Verstappen at the wheel, are in a class of one.
Verstappen, the man who won 15 of last year's 22 rounds, put his Red Bull on pole and then raced off into the distance to deliver on his billing as the pre-season favourite.
Following a smooth getaway, the Dutchman – keeping a fast-starting Leclerc at bay – was six seconds clear of the Ferrari man after only eight laps, and 17.7 seconds clear of fifth-placed Hamilton with 10 of the 57 laps on the board.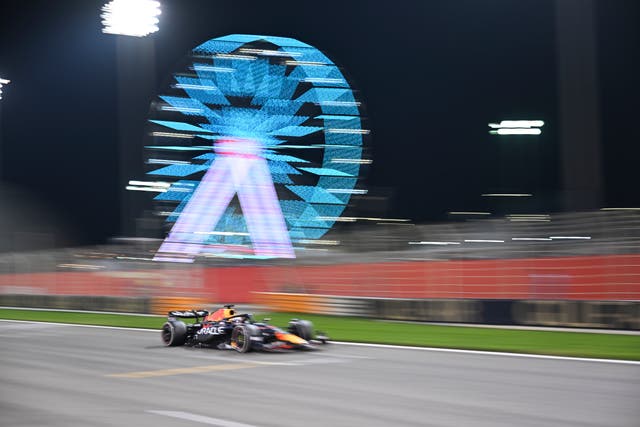 Hamilton started seventh and moved past Russell and Alonso at the start to take fifth but the 38-year-old was finding it difficult to get up to speed in his Mercedes.
"Is Lewis managing or is he slow because I feel like I have a bit more pace," said Russell, one place back. "Struggling, struggling," came the response.
Hamilton was the first of the top six to pit, and after the opening stops unravelled, Verstappen held a commanding 10-second lead over Perez, who, in his speedier Red Bull, had by now managed to get the jump on Leclerc.
With the Red Bulls in control, the attention turned to who would be best of the rest and it was Alonso, the 41-year-old on his Aston Martin debut, taking centre stage.
On lap 35, he emerged from his second stop right on Hamilton's gearbox, and the two oldest drivers on the grid rolled back the years as they diced for fifth place.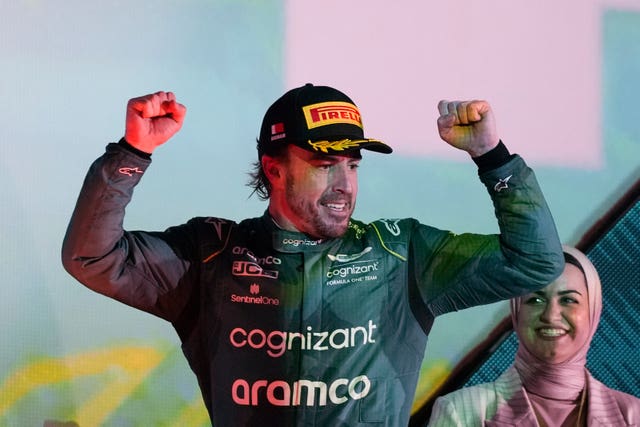 Alonso sniffed a chance at Turn 4 on lap 37 but the Spaniard was too hot on his brakes. Hamilton survived, but only for two laps before Alonso threw his Aston Martin down Hamilton's inside with a bold move at Turn 10 – a sharp left-hander.
"Let's go," Alonso screamed in delight.
Then, over at Ferrari, drama struck as Leclerc broke down with 17 laps to run.
"No, no, no, no come on," said the Monegasque as he pulled up on the side of the track. "No power."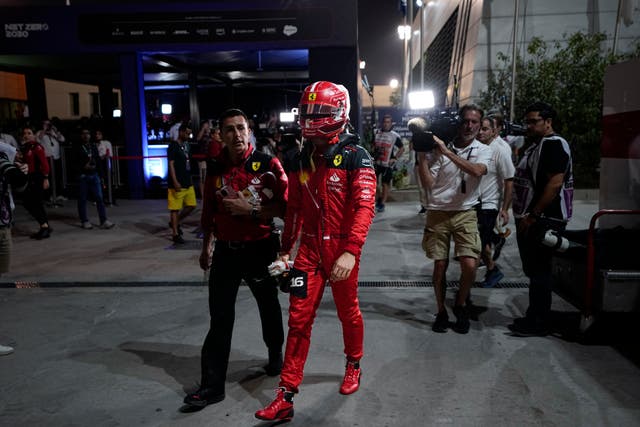 Inside the garage, shareholder Piero Ferrari removed his headphones. He had seen enough. New year, same Ferrari.
Now up to fourth, Alonso sniffed a podium with Sainz struggling. And on lap 46, the pair banged wheels before Alonso moved up to third at Turn 11.
"This car is lovely to drive," he said, with team-mate Lance Stroll taking the flag in sixth place.
Elsewhere, Lando Norris finished 17th and last after making six pit-stops with a problematic engine. His rookie McLaren team-mate Oscar Piastri retired with mechanical troubles.
Speaking after his victory, Verstappen said: "I am happy to finally win here in Bahrain. It depends race to race, but we can definitely fight with this car.
"It was a very good first stint and then it was about looking after the tyres because you don't know what happens later in the race."
Alonso said: "It was a great weekend and finishing on the podium is just amazing.
"To have the second best car at the first race is unreal."