Lewis Hamilton said his "disappointing" result in qualifying for the British Grand Prix must serve as a "wake-up call" for Mercedes.
Hamilton will start his home race in front of a 150,000 sell-out crowd at Silverstone only in seventh place, with team-mate George Russell one spot better off on the grid.
As Max Verstappen, perhaps predictably, raced to his fifth consecutive pole position, McLaren stung a surprise with Lando Norris and team-mate Oscar Piastri second and third respectively in their upgraded machines.
Informed of his position over the radio, Hamilton said: "We are so slow."
McLaren's resurgence means Hamilton is now even further away from the front – qualifying half-a-second off Verstappen – despite Mercedes bringing a new front wing to Silverstone.
"It is not a blow, but it is just a wake-up call for us," said Hamilton. "Others are overtaking us and we need to do more.
"I will be optimistic and do my best to get on the podium, but realistically I am not sure we can. We have two Ferraris and two McLarens ahead of us so it is going to be a tough race.
"It is always a great feeling to be at the British Grand Prix, but today it was disappointing that we could not deliver for the fans. Hopefully we can tomorrow."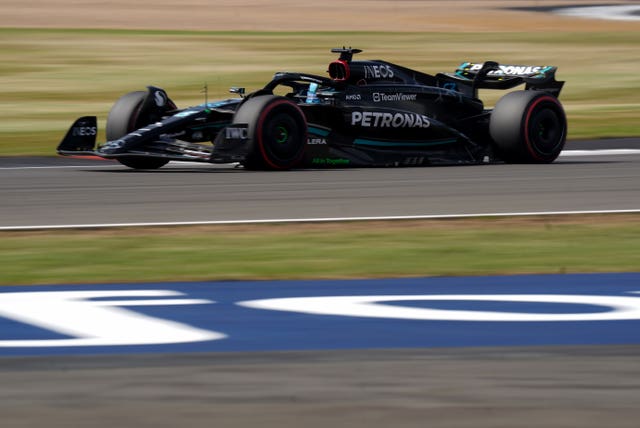 Hamilton is the most successful driver at the British Grand Prix – winning seven of the last 10 races staged here.
But 580 days have now passed since Hamilton last took to the top step of the podium – a run of 32 races which extends back to the final round of the 2021 season.
Mercedes' major upgrade arrived at Monaco in May, and Hamilton delivered successive podiums at the ensuing rounds in Spain and Canada to provide him with hope he might soon be back in winning contention.
But he finished only eighth in Austria a week ago, and he is facing a tall order to salvage a respectable result on Sunday.
McLaren have been well off the pace so far this year, but their new package – which Hamilton likened to Verstappen's dominant Red Bull machine – has propelled them ahead of the Silver Arrows.
"I am not surprised by McLaren because if you look at the car it makes sense," said Hamilton.
"If you put it alongside a Red Bull, it looks very similar down the sides and it is working. They had the edge on us at the last race so I anticipate tomorrow will be the same.
"McLaren have been on a bad run for so long so I am happy for them. We have another team up in the mix which is what we want to see in the sport."
---