Millie Bright has called for work to be done with regard to scheduling in the women's game, stressing players are "not robots".
Bright – captain of the England squad flying out for this summer's World Cup in Australia and New Zealand on Wednesday after regular skipper Leah Williamson was ruled out by an ACL injury, and recovering from a knee issue herself – says burnout is "always in the back of your mind" as a player.
The 66-cap Chelsea centre-back, who helped England win the Euros last summer and played for Great Britain at the Olympics the summer before that, said: "It's tough.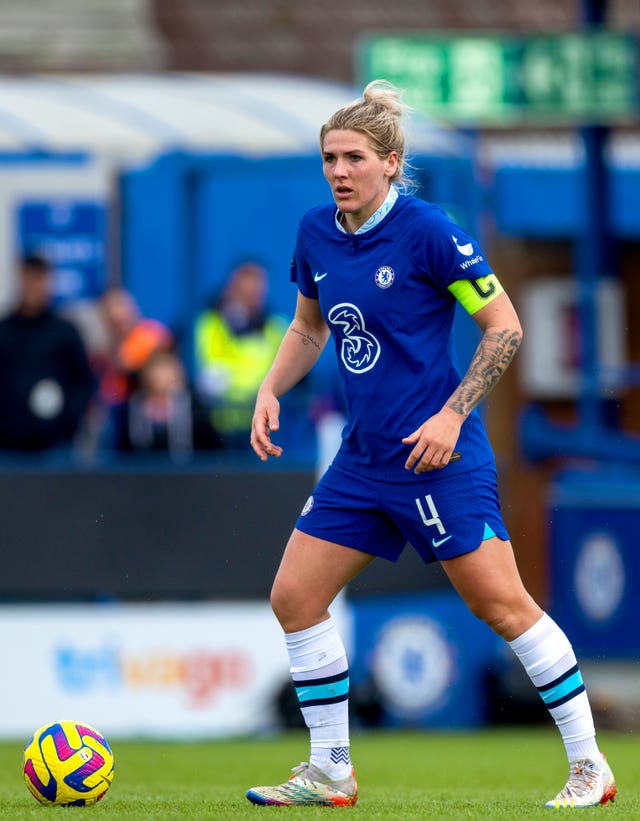 "I've been doing it for several years now. Playing back-to-back tournaments, it's hard, when you're playing every single minute for your clubs.
"That's the demands of the game now, especially with how competitive it is getting. The quality has gone through the roof and the games are getting harder to win, especially when you're competing for every trophy.
"I still think there's work to be done in terms of scheduling, making sure we can compete in every competition and do back-to-back tournaments, but also we are not robots, we need time to recover.
"We want to perform, to be at the highest level. For me, I think the scheduling of everything needs to be looked at so we can keep the quality at the highest it can possibly be.
"As a player, it is always in the back of your mind."
Injuries have been a major talking point of late in women's football, with a particular focus on the amount of players suffering ACL damage – something that has left England heading into this summer's tournament without not only Williamson but also Beth Mead, her Arsenal team-mate who was the Euro 2022 Golden Boot winner.
Asked if more research was needed, Bright said: "I think there always needs to be more done.
"We obviously know the (female) body is very different to the male, so the research needs to be done in that sense.
"For me, it's more than just one factor, it's everything that comes with it, whether it's facilities, pitches, the amount of games we are playing, the amount of rest we're having. It's everything together, and I think all elements need to align.
"We want to be performing at the highest level but we can only do that if we are fully recovered. If you play under a lot of fatigue then you are bound to be picking up injuries. It's just impossible to keep going.
"We don't want to see this amount of injuries. I guess it will be a topic where the conversation will never die really until we see change and something done."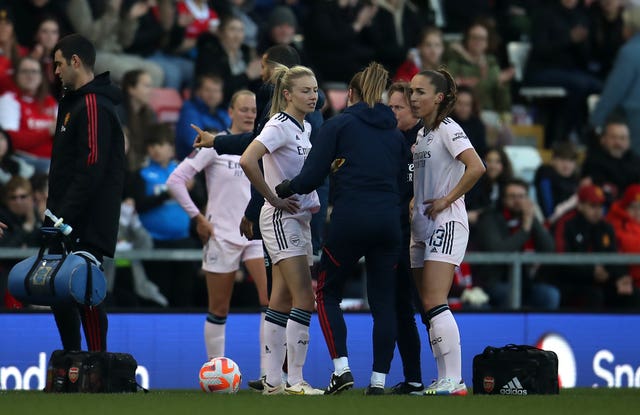 Bright has not played in a match since sustaining a knee injury while in action for Chelsea in March, after which she underwent surgery.
While she was not involved in the 0-0 World Cup warm-up draw against Portugal in Milton Keynes on Saturday, she has expressed her confidence that she will be ready for the Lionesses' Group D opener against Haiti on July 22.
The 29-year-old, who was "absolutely gutted" for Williamson after she got injured in April and has had "check-ins" with her, said of the prospect of captaining her country at this summer's showpiece: "It's a proud moment to even be going to a World Cup.
"I feel really grateful to be selected to go, let alone to be put in a position to captain the girls. It is a massive honour.
"But for me, nothing changes – I stay the same. I'd like to think everyone says they see the same Millie every day, no matter. I always think with or without the armband I lead for the team, I think that's just natural to me."
On the chances of Sarina Wiegman's team adding to their Euro glory Down Under, Bright said: "For us it's making sure we keep two feet on the ground, which I think we've always done, and know the challenge ahead will be even harder than any other tournament.
We will be prepared and ready to fight for the badge."
[mc4wp_form id="442993"]
---