The safety plans of every organisation responsible for staging next year's Champions League final at Wembley must be "tested to destruction", Football Association chair Debbie Hewitt has said.
There is immense pressure on the FA and UEFA for the event to be a success after problems arose at the last two finals.
The 2022 match in Paris almost became a "mass fatality catastrophe" according to an independent report commissioned by UEFA. Liverpool fans found themselves penned against stadium perimeter fences ahead of the match against Real Madrid due to organisational failings, and were then tear-gassed by French police.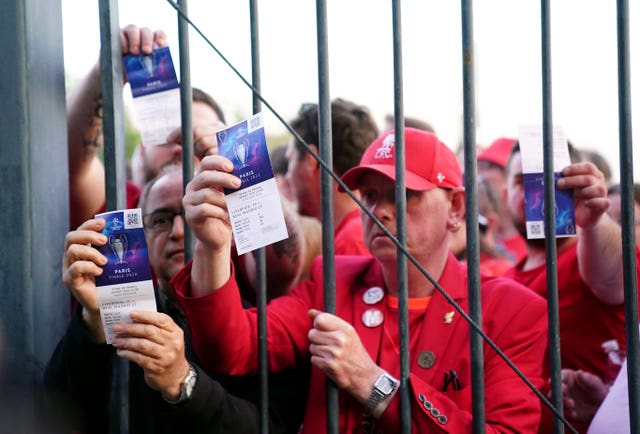 While the problems around this year's final in Istanbul were less severe, UEFA president Aleksander Ceferin admitted last week that "not everything was perfect", with supporters reporting problems getting to and from the Ataturk Stadium and in accessing drinking water and toilets.
Ceferin assured delegates at the European Football Fans Congress in Manchester that the 2024 final would be "a unique experience" for supporters.
That appeared to ratchet up the pressure on Wembley, a venue which itself hosted a chaotic Euro 2020 final two summers ago.
An independent review by Baroness Casey identified more than 20 near-miss incidents that could have resulted in serious injury or death at the match between England and Italy on July 11 2021, as ticketless individuals stormed turnstiles to force entry.
FA chair Hewitt insisted there was "healthy paranoia" among organisers around what could go wrong at every Wembley event, and pledged everyone involved would aim to work out the pitfalls and how to respond to them.
"It isn't the regular stuff that goes wrong," Hewitt said.
"It is the stuff that hasn't happened. In that particular tournament (Euro 2020), it was the first time we had 30,000 empty seats (due to Covid-19 capacity restrictions).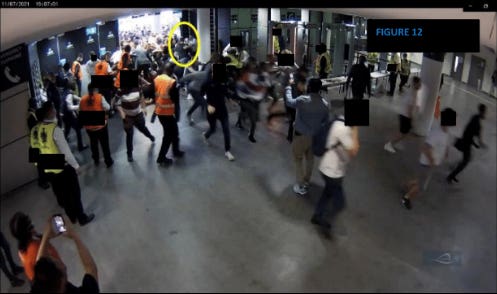 "It's really easy for me standing here and saying 'well, that was obvious, that was the thing that was different'. You have to search for the thing that is different. You don't make the same mistakes, you make different ones. So what is the thing that is different?
"Secondly, it is about making sure every one of the stakeholders completely and utterly understands, and tests to destruction, the plan.
"It is no good the police doing their bit in one room and the stewards doing their bit in another and us doing our bit in that room and UEFA doing theirs in that room. It is getting everyone in the same room and testing each other's plans to destruction.
"I believe in a process called pre-mortem, not post-mortem. I use it a lot in business, what could go wrong and how do we deal with it? It's a bit like pretend crisis management in a way but it is much more deep than that.
"There is pressure on every event we host at Wembley. We have got paranoia, healthy paranoia I would say, but we are paranoid. Yes, there is pressure but there is pressure on everything we do.
"You write about (the pressure) because of the fact there have been two finals where things have gone wrong. But every time we host something at Wembley – (a) Tyson Fury (fight), Harry Styles, Coldplay, no matter what, where you have groups of people together, something that can go wrong will go wrong, and it is times so many multiples because it is the national stadium.
"We are paranoid about it and we try to test to destruction. I am sure we will make some mistakes that have yet to be made in other stadiums, but it won't be because we didn't try and test. That is important to us. It is very important we learn the lessons from Paris and Istanbul."
Asked if she was confident there would be no repeat of the storming of the turnstiles at Euro 2020, Hewitt said: "You can never be confident with something like that can you? It would be very over-confident for me to say that. Because anything can happen.
"It is one of the biggest events in Europe and anything can happen. You just have to be confident you have thought through what you would do if something did happen. Rather than say 'I am confident that will never happen', the question is 'what if it did? What would you do?' That kind of testing is crucial."
By the time Wembley hosts the Champions League final on June 1 next year, the FA will also know whether or not the stadium will host the Euro 2028 final.
The UK and Ireland is bidding to host that tournament in competition with Turkey, with a decision due to be taken by UEFA's executive committee on October 10 this year.
Hewitt is expecting tough questions given the chaos of July 2021 and knows it is important to have the answers.
"We are on our feet in October convincing people why we should win," she said.
"One of the things I am absolutely convinced UEFA's Exco will ask us is 'how can you assure us nobody will storm the turnstiles?'.
"Being well rehearsed – and not just having the answers but having worked through what is the answer – that is an important part of the bid. We have to convince every one of those Exco members we have not only thought about it but that we have planned for it – that we know what we would do in what order and who is accountable, and that is why they should vote for us."
[mc4wp_form id="442993"]
---