Rodri relishes scoring 'most important goal' in history of Manchester City
Rodri recognises he may have scored the most important goal in Manchester City's history.
The Spanish midfielder tucked home City's winner as they beat Inter Milan 1-0 in the Champions League final and completed the treble in Istanbul on Saturday.
The 26-year-old now hopes City can build on winning the European crown for the first time to establish a long-lasting dynasty.
Rodri, who has developed into one of the world's best midfielders since his £62.8million move from Atletico Madrid four years ago, said: "From my point of view I want to thank the team. It's a victory of many years of work at this amazing club.
"They trusted me to come here, even though the change wasn't easy. It was a new culture for me and I arrive now scoring the most important goal in the history of this club.
"We deserve this. What a season. We deserve it.
"I said this before the game it was so important to win against Inter because we can build a legacy for the future. This is what teams like Real Madrid, Bayern Munich, Barcelona, AC Milan – these kind of clubs – did in the past.
"We believe we can do it again. I think that's why it's so important."
City were not at their sparkling best at the Ataturk Olympic Stadium.
With Inter proving obdurate opponents, City could not replicate the swashbuckling football that swept aside Arsenal and Real Madrid recently, or even reproduce the control they exerted over Manchester United in the FA Cup final.
They instead relied on their character and quality and Rodri eventually made the crucial breakthrough in the 68th minute with a controlled strike from just inside the area.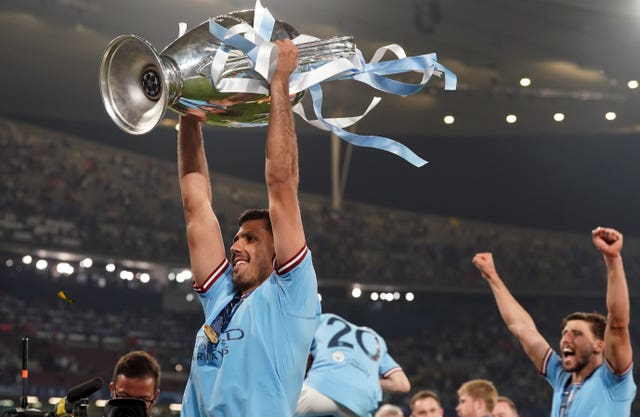 Rodri said: "I think it was the only time I went forward in the game because Inter were so narrow and I wanted to make sure the two strikers weren't comfortable.
"In that moment I just saw the space. In the first moment I thought about shooting strong but then I realised there were six or seven players in the goal area and I was like, 'no, I'm going to put it inside the first post'.
"The end result was incredible but there was half an hour still to go so it was a big effort from all of us."
The goal capped a memorable season in which City retained the Premier League – their fifth title success in six years – and beat arch-rivals United at Wembley to claim the FA Cup.
They are only the second side to win all three of those trophies in the same season, emulating United's achievement in 1999.
Their success was savoured by owner Sheikh Mansour, who had travelled to Turkey to watch a City game in person for only the second time since he purchased the club in 2008.
The sheikh's backing has propelled City from mid-table in the Premier League to the top of the European game and Rodri was keen to pay tribute to the players that paved the way for their success.
He said: "I said when I finished the game I don't want to forget players like Fernandinho, Sergio (Aguero), David Silva, (Vincent) Kompany – many players who worked eight, nine, 10 years at this club to help it arrive at this level.
"We take the fruits (of their labour) and this victory is for all of them."
City partied overnight at their hotel in Istanbul before leaving for home on Sunday afternoon. They were flown back to Manchester on a club-liveried Boeing 787-9 Dreamliner.
Players and staff arrived at Manchester Airport at 4.30pm where they were were greeted by celebrating fans.
The celebrations will continue on Monday as they hold an open-top bus parade through Manchester city centre.