Pep Guardiola: Manchester City 'part of history' after winning Champions League
Pep Guardiola hailed his players for writing themselves into history after Manchester City finally claimed Champions League glory.
City secured the prize they have craved for so long when they beat Inter Milan 1-0 in a hard-fought final in Istanbul on Saturday night.
Rodri scored the only goal of a tough contest in the 68th minute at the Ataturk Olympic Stadium, landing City's first European crown after several years of near misses and completing the treble.
Guardiola hopes all of City's successes, including their five Premier League titles in the past six years, will now be given due credit without the shadow of Champions League under-achievement hanging over them.
The City manager said: "Especially this season, the entire world has said if we don't win the Champions League we will not be complete, it will not be enough.
"Winning these five Premier Leagues and arriving in three semi-finals, and two finals, is exceptional, but everyone says, 'no, you have to win'.
"But winning the Champions League every season is difficult unless you are Real Madrid. The other ones sometimes arrive and do it.
"Not just for me, for the club, for our CEO and players – we had everything but not the Champions League, as if the Premier League is nothing.
"So I like this competition for the fact we won it, to be part of history. The players know they will be remembered for the rest of their lives.
"But now give credit for the five Premier Leagues we won in six years.
"It is important because people now forget about it and focus on creating a museum to put all our trophies in, because what we have done in the last years is unbelievable, not just the Champions League, but many titles."
City had to dig deep to claim the trophy against a determined Inter side.
The Italians sat deep to soak up pressure but, with City also lacking their usual sparkle and losing Kevin De Bruyne to injury in the first half, they grew in confidence.
Inter were just beginning to assert themselves when Rodri broke the deadlock, driving from the edge of the area after a Bernardo Silva pass was deflected into his path.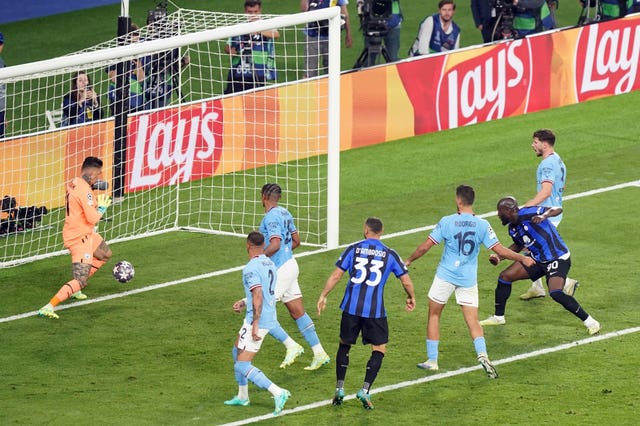 They then lived on the edge with Federico Dimarco hitting the bar and having another good chance before Romelu Lukaku was denied by Ederson in the dying moments.
City will now celebrate their treble with an open-top bus parade in Manchester on Monday.
Guardiola has said he hopes City's Champions League win will prove the first of many but his tongue was firmly in cheek as he responded to a question over whether the club could build a dynasty like Real Madrid.
"We are just 13 Champions Leagues away from them – just 13!" he said. "So be careful Real Madrid because we are on our way. If you sleep a little bit we will catch you."