David Beckham gave 'good luck' message to Jude Bellingham after Real Madrid move
Jude Bellingham has revealed David Beckham sent him a good luck message after joining Real Madrid.
The 20-year-old has become just the seventh British player to join the Bernabeu club following his 103million euros (£88.5m) move from Borussia Dortmund last month, following in the footsteps of the likes of Beckham, Gareth Bale and Michael Owen.
Beckham was perhaps the highest profile to make the switch to the Spanish capital following his 2003 move from Manchester United, which only heightened his global profile, and the former England captain recently got in touch with Bellingham.
And the new Bernabeu star said he might tap into Beckham and other former players' knowledge of playing at Madrid.
"David Beckham messaged me briefly to wish me all the best," Bellingham told the PA news agency.
"It is one of those moves where everyone has their input from the outside so you do hear a lot of things and advice, I am quite good at filtering out the good from the bad, so far it has been really positive from ex-players.
"I will try and take that on board and at some point maybe get in touch with them and see how they adapted to life in Spain."
One of the things Bellingham will be doing to adapt to his new lifestyle in Spain is to learn the language.
The midfielder has started using a learning app, aiming to build on the vocabulary he got at school.
"I have got it on my phone, I've got a good little streak going at the minute," he added. "It's nine days since I started taking it properly seriously.
"It is one of those things where you hear it and you start to pick up little things and you see it on TV with interviews of other players, so it comes a bit more naturally than you think.
"It is a lot easier than trying to learn German at least. I did Spanish at school up to year 9, obviously, in hindsight, I would have carried it on."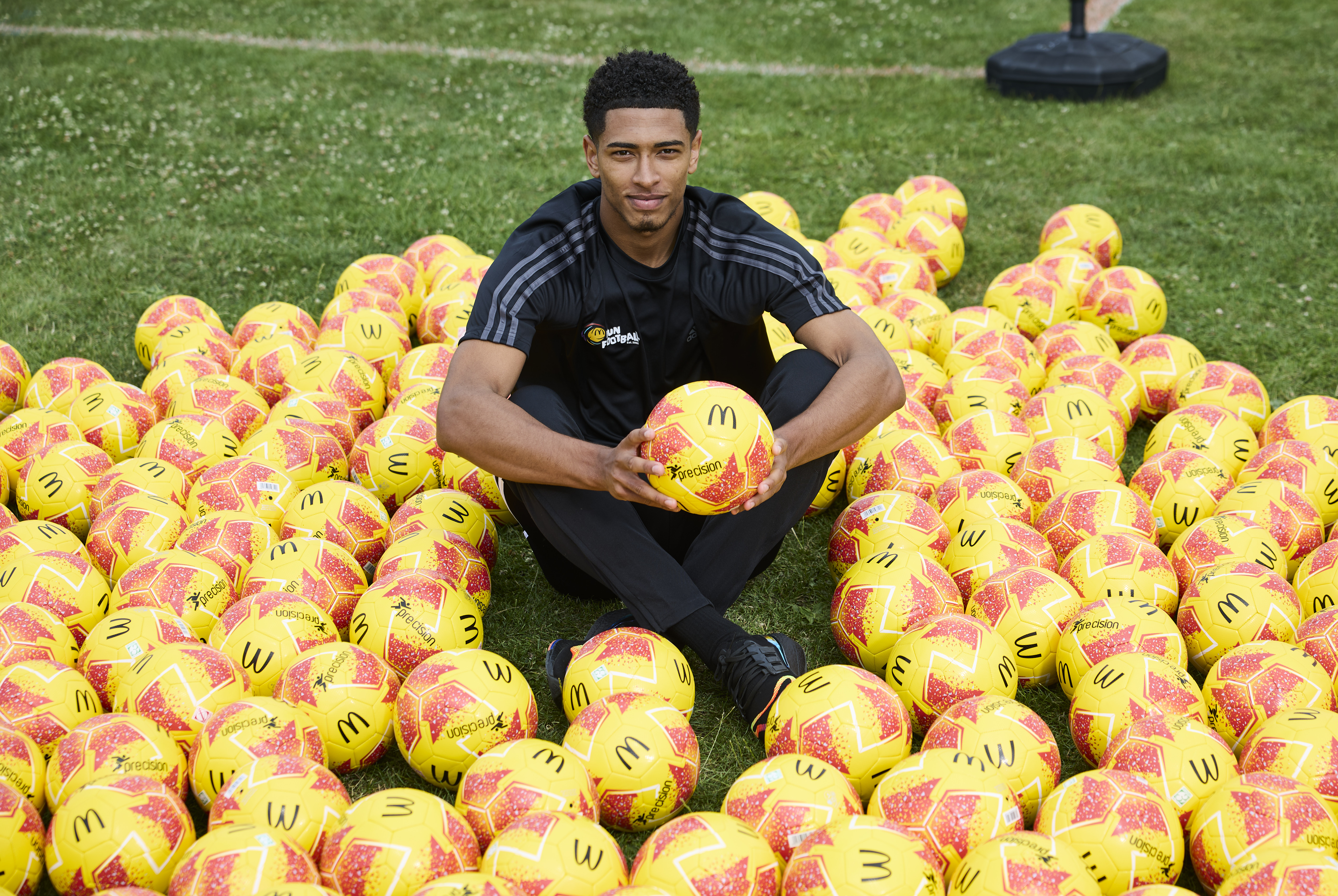 Bellingham is now an ambassador for McDonald's Fun Football programme, the largest grassroots programme in the UK for 5-11 year olds, where 250,000 children have had access to free football in the last 12 months.
He used to attend similar events but admits that it was not immediately obvious that he was destined for greater things.
"For the first year or so of going to things like that I was more interested in British Bulldog and some of the fun games," he said. "So for me it was a process of getting into the game, but it was made easy because there was no pressure on me.
"For my parents that was the main thing, just getting that social aspect of it and something that is healthy and good for me."
:: Jude Bellingham was speaking at the largest ever McDonald's Fun Football session to celebrate the landmark of over 250,000 children across the UK benefiting from access to free football this season. Sign up to a free session near you at www.mcdonalds.co.uk/football