The Arsenal Football Club hierarchy could do a lot worse than to take heed of AC Milan's remarkable turnaround in recent years, writes Colm Egan.
'Something is rotten in the state of Denmark'
Hamlet's expostulation was, of course, referring to the toxic ruling hierarchy of his homeland but as one scours the English football landscape, it's easy to see that 15th Century Denmark does not hold a monopoly on all things rotten, toxic and seemingly doomed to fail. I speak of course, of Arsenal football club.
Much to the chagrin of their supporters and delight of everyone else, Arsenal FC is again in crisis mode. Like an infection so widespread its genesis becomes unknowable, the root cause of Arsenal's malaise is difficult to determine although the fact that the malaise exists is undeniable.
It could be their owner's ostensible indifference as to their on-field performances or the fact that their manager's hold over his players can only be deemed strong when compared with his tenuous grip on reality. It could even be due to the players that appear less than perturbed by their string of inept implosions, insipid performances and non-existent title challenges.
Arsenal has, of course, known a stellar history. The club of the Invincibles, of Henry's swagger and Bergkamp's panache, Vieira's power and Pires' poise, this is a club that is greater than the current motley assortment of prima-donnas and jet setters that don the kit on a weekly basis.
Arsenal is about its stellar past, its global array of fans but most importantly it is about its future. And it is that future which may well be squandered by the dysfunctional leadership of Stan Kroenke and Arsene Wenger.
They are set to face AC Milan in the Europa League on Thursday, a club from which Arsenal could learn more than most in light of the journey The Rossoneri have been on in recent times.
Since their chairman, Adriano Galliani, was sacked amid the morass of the Italian match-fixing scandal of 2006, Milan was acquainted with mediocrity and experienced a sustained absence from European competition. Indeed their current Europa League campaign is their first foray into European competition since 2014.
Following Yonghong Li's acquisition of the club for €740m in April 2017 the club have set their sights on ushering in a new era at the great Italian institution while leaving the stale administration of Silvio Berlusconi in its wake.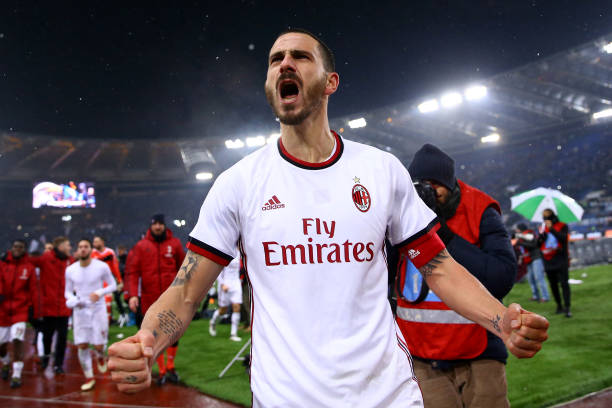 Last summer saw a level of spending unprecedented in the red half of Milan. Andre Silva, Andrea Conte and Lucas Biglia were acquired for significant sums but it was the signing of Leonardo Bonucci from Juventus for €42m that really caught the attention of not just the Italian football press, but that of wider Europe as well.
AC Milan were no longer going to accept languishing in mid-table. Theirs was a tradition and heritage that deserves more and they were determined to once again prove that to the rest of Europe.
There are several traits that separate Europe's elite from the rest and prime among these reasons is arrogance. An attitude that screams to the world that you dine at Europe's top table and that to settle for anything less is a disservice to past greats, to fans and to the club as a whole.
Arsenal's willingness to go so many years away from this pedestal smacks of a club that doesn't feel deserving of such a stature and their sustained period without major honours is becoming their new normal.
Such banality would not be tolerated at AC Milan, and their years away from European glory looked assuredly to have come to end following their summer spending spree.
Except, they hadn't quite gone away.
Under Vincenzo Montella Milan spiralled aimlessly down the table and on the day he was shown the door, November 27th, they stood a shocking 18 points behind their bitter city rivals, Inter Milan. The club had sought such radical changes, new ownership, new culture and a new style of play that perhaps it had forgotten who they were and where they were coming from. The appointment of Genaro Gattuso, it was hoped, would put that right.
Gattuso was hardly an obvious appointment as head coach. Having lead Pisa to promotion to Serie B, he then walked away from the club for 'serious, constant and unacceptable problems' before embarking upon a distinctly unremarkable stint at youth level in Milan. But it was not management nous that got him the job.
It was his story, his legend and his fabled history in the colours of the Rossoneri.
Milan, with figures such as Bonucci, were already awash with leaders but what they needed was a purpose and a reminder of what it means to play for AC Milan. Gattuso would be the personification of that purpose.
This willingness to embrace former greats is also curiously absent from Arsenal. Dennis Bergkamp has almost exclusively dedicated his coaching time to Ajax and Thierry Henry was forced out of a youth coaching position having accepted a role as a Sky Sports analyst.
As Patrick Vieira pointed out during his time as coach at New York City FC,
"I'm disappointed not to have ex-Arsenal players working at Arsenal. It is good for the young players who could see an Henry, Ljungberg, Campbell or Keown who have been at the club a good few years working in the academy, or working somewhere.

"Players want to do it but do not have the opportunity. I don't understand it."
While the reasons for such hesitation in embracing the expertise of their former luminaries is perplexing, it's far from a mystery as to why their rivals have been quick to make the most of such knowledge within their own systems. Even Patrick Vieira himself went to Manchester City to earn his coaching badges rather than his beloved Arsenal.
Gattuso's ascension to Milan first team coach was widely derided as misjudged and reckless at the time, but their stellar form of late makes a mockery of such scorn. Just seven points behind Inter and fresh from a 2-0 defeat of Roma, Milan are assuredly the form team in Serie A and very much in the hunt for Champions League qualification.
The club have supplemented their summer acquisitions with youth in the form of Donnarumma, Davide Calabria and the prolific Patrick Cutrone. They are a team with balance, desire and a ferocious work ethic imbued by their new head coach.
Each one is a trait that Arsenal appears to lack in, but it is from the club hierarchy that such traits are generated.
As reported in the Guardian, a crisis meeting was held at Arsenal last week in which a senior player claimed,
"We are a big club. But we need more help from the coaches."
Such a plea is not an attempt to shift the responsibility, but a recognition that players can only do so much.
AC Milan provides evidence that a club can rebuild and return to success, but vision and leadership at the top are a prerequisite for such reform. Arsenal Football Club would be wise to take note.
Colm Egan, Pundit Arena.
Read More About: ac milan, Arsenal, arsenal news, Arsene Wenger, English Football, europa league, european football, football news, genaro gattuso, premier league news, soccer news, Sport, Top Story