Like many broadcasters in recent weeks, the BBC have selected their Premier League XI of the last 25 years.
Gareth Brooks has come under criticism in the past for his 'Team of the Week' selections in the past for various reasons. However, the ex-Spurs man was not tasked with this celebratory team.
Instead, former England quartet Gary Lineker, Ian Wright, Danny Murphy and Alan Shearer selected the side.
Their selection saw an all English back-four in Gary Neville, Rio Ferdinand, John Terry and Ashley Cole with Peter Schmeichel behind them. Two more England players in Frank Lampard and Steven Gerrard were the central midfielders flanked by Cristiano Ronaldo and Ryan Giggs.
One of the selection panel, Shearer, was deservedly announced as one of the strikers alongside Thierry Henry. The former Newcastle man is the leagues all time leading scorer with 260 goals.
However their were some notable absentees from the list. It is impossible to please everybody with these kinds of line-ups but the four Match of the Day regulars seemed to give an overwhelming preference to ex-England internationals, which of course they are entitled to do.
However, it is hard to see how the likes of Roy Keane and Patrick Viera, who were arguably two of the greatest players in football never mind the Premier League were overlooked. Another ex-England player Tony Adams who played with Wright at Arsenal is also unfortunate not to be named as is Denis Irwin.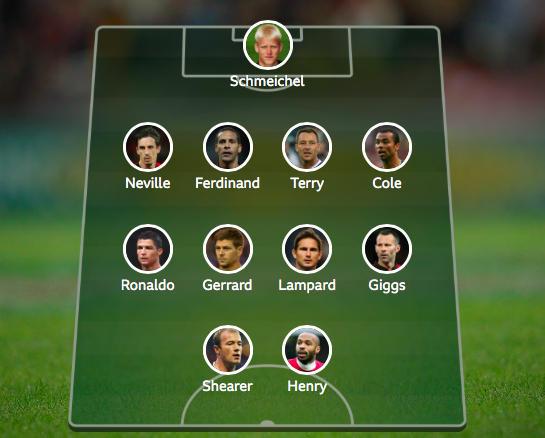 Nick Menezes, Pundit Arena
_____
Check out the latest episode of The Mixer where we spoke to Vinny Faherty.
https://soundcloud.com/punditarenairishfootball/vinny-faherty-reflects-on-sligo-rovers-win-over-cork-city-and-much-more
Read More About: BBC, Dennis Irwin, match of the day, Premier League XI, roy keane