Tammy Beaumont insisted she would only take satisfaction from her maiden Test hundred if it counts towards an England victory in the Women's Ashes series opener.
Beaumont reached three figures in the penultimate over of day two, going to stumps unbeaten on exactly 100 as England closed on 218 for two having rallied after Australia posted a formidable 473 all out.
She rode her luck as she was dropped on four while leg-spinner Alana King twice found the England opener's inside edge after she had passed her fifty – the first looped over the short-leg fielder while the second struck Beaumont's boot on the full before being caught but Australia neglected to review.
Despite admitting she has ticked an item from her bucket list in compiling an Ashes Test ton, Beaumont will rank its significance at the end of the match which marks the start of the multi-format series.
"There were probably moments where I thought I wasn't going to face enough balls to get there but it put the team in a good position," she said.
"If we go on to win this Test match then it would be right up there. It's great to tick it off and as a kid, I dreamt of scoring an Ashes Test hundred. But as I've gone on, it's contributing to the team.
"If you apply yourself as a batter there's definitely runs out there to be had and so far our batters have pretty much looked at ease.
"I guess I got lucky with one but then again I've probably had a couple of unlucky decisions in the last month or so in regional cricket – luck came at the right time."
This innings a decade on from her Test debut carried Beaumont into an exclusive group as just the second woman to register a ton across all three international formats, joining England captain Heather Knight, with whom she shared a crucial 115-run stand as the hosts launched a robust fightback.
"Heather said to me when I came into the changing room 'welcome to the club' – I didn't realise she meant the all three formats one, I thought she just meant an Ashes hundred," the 32-year-old said.
"It's always good to look back at personal milestones and nice to tick that one off – something that I thought probably might evade me as I'm coming to the later half of my career."
With Nat Sciver-Brunt unable to bowl on Friday after jarring her right knee – she fielded and later batted, registering a fluent 41 not out – England's bowlers were understaffed on a flat pitch.
But Sophie Ecclestone rose to the challenge as she claimed a maiden five-wicket haul in Tests, a fitting reward following 46.2 overs of hard toil, and Beaumont cheekily suggested afterwards the slow left-armer could be an option for the men's side as doubts swirl over Moeen Ali's readiness for Lord's.
"There's not enough adjectives for how good Sophie Ecclestone is and how good she can be," Beaumont added.
"To bowl 40-odd overs in the first innings of a Test match, how she held an end like she did and also challenge to look like she would take wickets consistently – maybe if Mo's finger doesn't hold up, she'll have to go off there or something."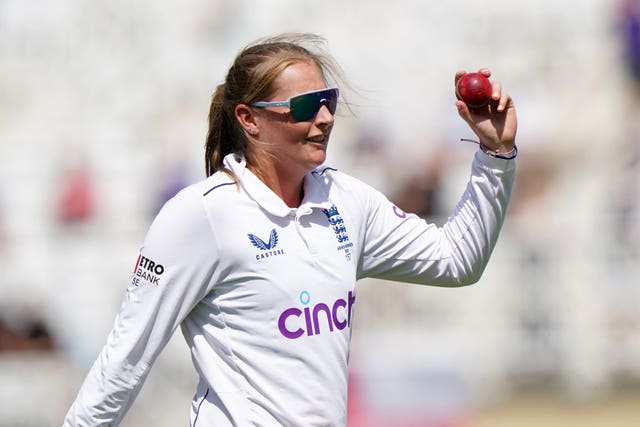 Australia added 235 for the last four wickets, largely thanks to a maiden international century from Annabel Sutherland, whose highest score in 33 previous internationals in all formats was 35.
But she capitalised on England's aching limbs – they were kept in the field for 124.2 overs – to record the fastest Test hundred by an Australian woman off only 148 balls.
She showed the enviable depth of Australia's batting pool with the highest score by a number eight in women's Tests and there was no keeping her out of the game as she snared Emma Lamb before Beaumont and Knight, who registered a composed 57, redressed the balance at Trent Bridge.
"It's pretty special. I'm not sure it's quite sunken in yet," she said.
"It's something you dream of growing up. To do that job for the team was pretty cool."
---