Stuart Broad took two huge wickets in as many balls and Ben Stokes defied injury concerns to land a crucial blow as England seized control on the second morning of the first Ashes Test.
Having sprung a surprise declaration at 393 for eight on the first evening, England were on the hunt for wickets at Edgbaston and enjoyed a stirring first session as Australia's much-vaunted top order caved to 78 for three.
Broad, picked here ahead of Mark Wood for his experience and big-game mentality, cracked the game open in the first hour as he renewed his dominance over old rival David Warner and then snapped up the world's number one batter Marnus Labuschagne with the very next ball.
With the lunch break hoving into view, Stokes banished concerns over his longstanding left knee issues and backed himself to break up a burgeoning stand between opener Usman Khawaja (40no) and Steve Smith.
Smith has a formidable Ashes legacy and scored twin centuries at this ground in the corresponding fixture four years ago, but this time succumbed to the force of Stokes' will as he was dispatched for 16.
Showing no signs of discomfort, Stokes skidded through the final ball of his second over, nipped it back in off the pitch and beat Smith's defensive prod to strike him just above the knee-roll.
Stokes flung both arms into the air, bellowing an appeal at Marais Erasmus, who pondered for a few seconds before driving a sold out Birmingham crowd wild by slowly raising his finger.
Smith was quick to signal for DRS, presumably hoping the delivery was set to clear the stumps, but replays merely confirmed his fate as Stokes led rampant celebrations in the middle.
Broad had earlier raised the roof with a brilliant double strike. After half-an-hour of searching, he delivered the breakthrough as Warner attempted to muscle his nemesis through an inviting gap at cover.
But the left-hander got himself in a terrible position, dragging down his stumps via a thick inside edge to fall to Broad for the 15th time in 27 Tests.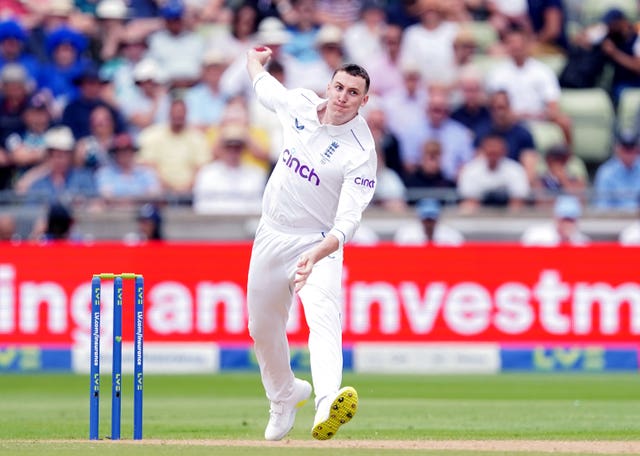 Labuschagne has spent a long spell on top of the ICC rankings but banked a golden duck as Broad sent him packing instantly.
The 36-year-old had spoken earlier in the season about developing an outswinger designed with Labuschagne in mind and his plan worked a treat as the ball shaped away, took the outside edge and was brilliantly caught as Jonny Bairstow tumbled one-handed in front of first slip.
Stokes had earlier given a single over to the very occasional seam of Harry Brook, continuing to rip up established protocols, while Moeen Ali threatened with a dangerous spell late in the session.
---