Mark Wood is convinced he can bowl even faster after approaching a searing 97mph and reigniting England's Ashes campaign with a maiden Test five-wicket haul on home soil.
An elbow niggle kept Wood out at Edgbaston and Lord's but he was worth the wait after turning up the speed dial at Headingley, clocking 91mph from his first delivery and topping out at 96.5mph.
His opening four-over burst ended with Usman Khawaja's leg stump flattened by a 94.6mph thunderbolt and was recorded by the CricViz database as the second quickest spell in England – he also owns top spot.
"It's disappointing that this one wasn't the first," Wood said with a smile. "To have two of them is great but I keep wanting to get better and push, push, push, to make sure I can bowl even faster."
Wood then polished off the tail to bag figures of five for 34 from 11.4 overs as Australia lurched from 240 for four to 263 all out before England closed on 68 for three after the opening day.
The 33-year-old – whose average of 90.5mph across the innings is bettered only by Australia great Brett Lee in 2005 – has been thrust into the fray with England already trailing 2-0 with three to play.
"It's an incredible feeling," Wood said. "My mum and dad were here and to be able to raise the ball to them, it was the first time they've seen me get five wickets, was a pretty special moment.
"I was chomping at the bit a couple of games ago, so to finally get in now, I'm really, really happy. (Bowling quickly) just feels like you've got all this energy surging and you're about to let it fly.
"When I was growing up you look up to players (such as Lee) and you think they're amazing, you'd love to emulate them, so to be able to put my speeds against his is a great feeling."
As for whether he could emulate Pakistan's Shoaib Akhtar and Australia's Shaun Tait and officially breach the 100mph barrier, Wood added: "No. It would have to be a bloody strong wind. Maybe my average pace could be quicker."
While Wood's lightning pace has been a must-have accessory on flat pitches overseas, his record in his own conditions is more modest, averaging 40.71 in 13 home Tests before stepping out at Leeds.
He took particular satisfaction in being able to move the ball laterally on Thursday and was thankful for tips from mentor and ex-England quick Steve Harmison on how to handle stepping into the cauldron.
"He was texting me last night and wishing me well and making sure I gave myself 10 seconds before I bowl and a few pointers and a few tips," Wood said.
"He's been in the pressure cooker of an Ashes. My record isn't great in England and the thing I was most pleased about was that I managed to move the ball. I feel like that's what got me the wickets.
"I've felt for a while I have a point to prove here, all my good stuff has happened away from home, so to be able to finally do it at home was a massive relief."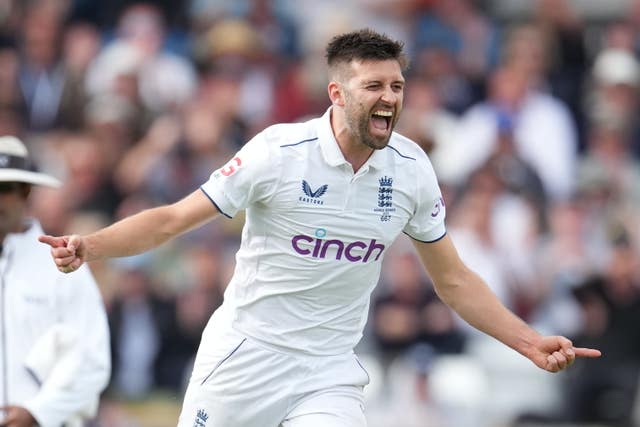 England, who saw Ollie Robinson depart before tea because of a back spasm which curtailed his day, could have been firmly on top but were left to rue more substandard fielding as Jonny Bairstow and Joe Root dropped two catches apiece, with Mitch Marsh in particular making use of his reprieve.
"It's disappointing when catches go down but it can't be helped," Wood added. "As soon as they go down, you move on. We know they're trying their best, and they're trying to do us a favour by catching them."
After being drafted into the side because of a minor thigh strain to fellow all-rounder Cameron Green, Marsh shrugged off being dropped on 12 to bludgeon an astonishing run-a-ball 118 in his first Test appearance since the 2019 Ashes after he had walked to the crease with Australia in a precarious position of 85 for four.
"I knew Greeny was a little bit sore two days out," Marsh said. "So I started to switch on. The day before the game after Greeny had a scan I knew I was playing and it was nice to have that time.
"All tour I just wanted to stay ready and I think I've become the first man to score a Test hundred while on holiday in the UK!"
---