Joe Root reinventing himself like David Bowie under Bazball – Mark Nicholas
Broadcaster Mark Nicholas has likened Joe Root to rock stars such as David Bowie and Bruce Springsteen for his ability to continually reinvent himself.
Root has been England's most dependable batter for several years but since handing over captaincy duties to Ben Stokes, the Yorkshireman has adapted his approach to be in keeping with the ultra-attacking philosophy under his successor and head coach Brendon McCullum.
His strike-rate has skyrocketed in the last 14 Tests, up to 76.35 from a career mark of 54.65 before Stokes took the reins, while Root's output remains excellent with 1,279 runs at 67.31 in the Bazball era, again a significant improvement from a stellar career average of 50.76 in 131 Tests.
Nicholas, the former Hampshire captain who will serve as the next MCC president from October, believes relinquishing the captaincy last year played a role in unlocking Root 2.0.
Nicholas told the PA news agency: "He's an amazing man and cricketer actually and I think the ability to keep reinventing himself as a batsman. It's almost like rock stars do it.
"David Bowie kept reinventing himself, Bruce Springsteen to a degree. There's a number of them. It's amazing actually.
"It's incredible to think that he averages more under Stokes than before Stokes and in itself that tells you that he's freed up his mind. I think that as a captain, he felt the responsibility heavily.
"By freeing his mind up, he's a little looser in the shoulders, (has) a looser grip on the bat and therefore everything is more ready to go in the attacking sense."
Root has risen to the top of the Test batting rankings after swashbuckling innings of 118 not out and 46 in England's agonising two-wicket defeat in the first LV= Insurance Ashes Test.
His second dig typified his outlook as he outlined his intent on the first ball of the penultimate day by attempting to reverse ramp Pat Cummins.
While he made no contact on that occasion, Root was undeterred and unleashed the same shot off back-to-back deliveries in Scott Boland's next over, bringing a six then a four.
Root's blitz came to a premature end after he charged down the pitch to Nathan Lyon and was stumped.
While Nicholas disagreed with the bullish approach, he accepts the England camp may not share the same view.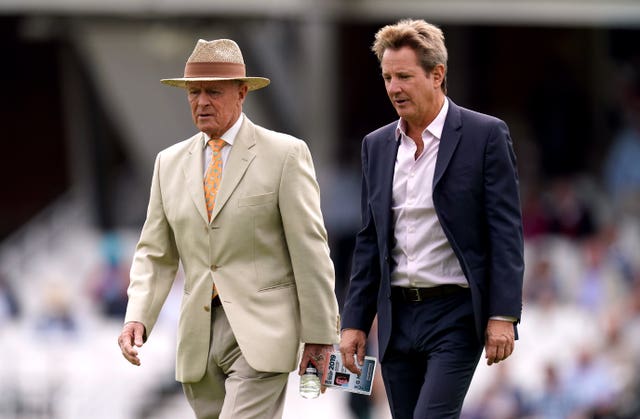 Nicholas added: "The choice of the reverse scoop first ball of the day, I think that is overdoing the bravado because if you get out, you're going to feel you've let a lot of people down quite unnecessarily.
"If you're in and you're seeing it bigger, completely fine, but first ball of the morning against the best fast bowler in the world, there's no obvious necessity for it.
"(Former England captain) Tony Greig once said 'it's a greater crime to get out for 30 or 40 than for nought'. In other words, once you're in, don't give it away.
"Does this England team take any reference in that sort of principle at all? Maybe not.
"I noticed when he walked past Stokes who was (the next batter in), Stokes gave him a kind of touch (on the shoulder) and said 'brilliant mate', not 'you clown'."