Moeen Ali hailed another "brilliant" intervention from Ben Stokes and insisted England's Ashes destiny remains in their own hands as long as their talismanic captain is still in the game.
His body may appear to be in rebellion against him as he battled hip discomfort to add to longstanding concerns over his left knee but Stokes lifted England from 87 for five in the third Test at Headingley.
Following on from his jaw-dropping 155 in a losing cause at Lord's, Stokes thumped five sixes in his 80 off 108 balls to drag England to 237 before Australia extended a first-innings lead of 26 to 142.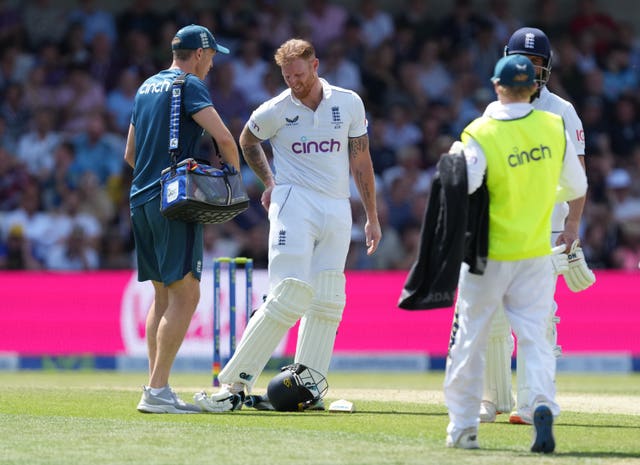 Thoughts have already drifted towards what England might be able to chase down, with three days still to go at a ground where Stokes' unbeaten 135 secured a victory for the ages against Australia in 2019.
Moeen cautioned against an over-reliance on Stokes but always feels they have a shot at narrowing their current 2-0 deficit in the series if he is at the crease.
"Ben's a brilliant player," Moeen said. "He's the one player in the world who everyone will be thinking about in that situation, especially against Australia because he has done it a couple of times now.
"Whether it's a white ball or a red ball, as long as he's there you've always got a great chance of winning. It's the situations more than anything, he loves those situations, he thrives off them.
"We can't rely on him all the time. We do have dangerous players who we just need to come to the party as well as Ben. Ben's playing brilliantly but there are runs out there for other players."
Stokes called out the physiotherapist twice and took a couple of pain-killing tablets in the morning before cutting loose after lunch and Moeen hinted there may be more than the all-rounder is letting on.
"It's difficult, there's so much he's dealing with," Moeen said. "I think when I was batting he was a little bit sore. There's a lot more than he's showing. As long as he's batting well, he's fine.
"His body has obviously been through a lot but there's one thing with Ben, he can't do anything without it being 100 per cent. Hopefully he'll get through this series well, scoring a lot more runs."
Moeen was recalled after his finger drama at Edgbaston and reached 200 Test wickets – only Graeme Swann and Derek Underwood have more among English spinners – by snaring Marnus Labuschagne and Steve Smith.
Both perished to loose strokes but Moeen was able to hold up an end as he bowled 17 consecutive overs after tea, critical to a side that were unable to call upon Ollie Robinson because of a back spasm.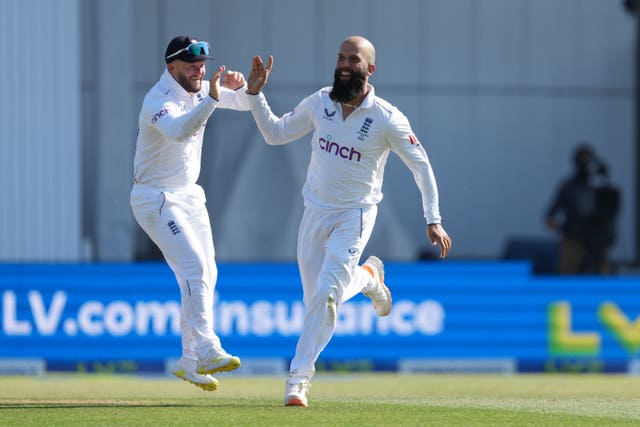 Moeen is not renowned for containment – he was selected for his ability to bowl the odd magic ball and add batting ballast to the lower order – but this was a quietly impressive spell of 17-3-34-2.
"My finger is fine, it's sore but I can bowl," Moeen said. "I'm pleased with the 200 wickets. We are in a good position and those two wickets were gifted in a way but generally I bowled quite well."
While Mark Wood is wicketless so far, he once again troubled Australia's batters with his express pace and Moeen felt like a beneficiary when bowling at the other end.
"It's great to have him someone like him and as a spinner, you do definitely take more wickets just by batters being anxious to score (at the other end)," Moeen added.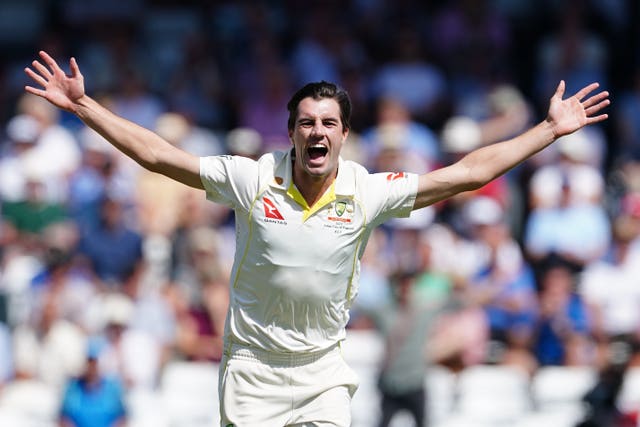 "There's a lot of belief that if we can get a couple early (on Saturday), we've got somebody who can knock over the tail with pace."
While Pat Cummins' Ashes-best six for 91 went some way towards stifling England, they were once again left to rue a defiant Stokes.
Australia head coach Andrew McDonald was singing off the same hymn sheet as Moeen when asked about the influence Stokes – who was dropped on 45 by Mitchell Starc – has on opposition sides.
"When Stokes is there you are never in total control," McDonald said. "We have seen that over a period of time. We created a couple of opportunities so there was a bit of dysfunction there on our behalf.
"Full credit to Ben, his way of batting with the tail is probably second to none. We have to work out a way to navigate through Ben Stokes in the second innings."
---