Chris Woakes admits his triumphant return to Ashes cricket left him "quite emotional" after accepting his time as a Test player might have come to an end.
Woakes stepped up with bat and ball after being thrust into last week's must-win clash at Headingley, 16 months after he last donned his England whites on the ill-fated tour of the West Indies.
Defeat in Grenada spelled the end of Joe Root's captaincy and ushered in the 'Bazball' era, with Woakes watching on from the outside as English cricket turned a new corner under Brendon McCullum and Ben Stokes.
Injury saw Woakes miss the entirety of last summer and, although he returned to the limited-overs set-up in time to win the T20 World Cup in November, the 34-year-old was beginning to believe the Test team had left him behind.
Watching the all-rounder take three Australian wickets in each innings in the third Test, then guide his side home with an unbeaten 32, that now seems hard to imagine.
But Woakes, who opted not to put his name forward for this year's Indian Premier League in a bid to keep his red-ball skills sharp, is honest enough to say he was worried.
"It's quite emotional actually. You sometimes think the ship has sailed, of course you do," he said of his match-winning return.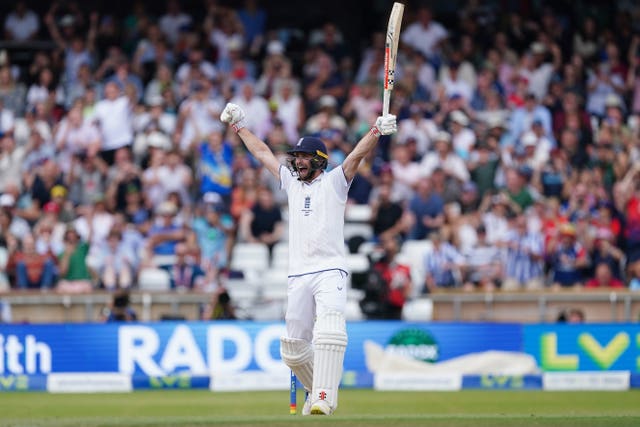 "You do wonder, especially when the team was going so well last summer and I wasn't involved. It's hard.
"Obviously I had injuries and stuff, but I made a big decision at the start of summer not to go to India and, you know, it's days like these which make that sort of decision pay off, comfortably.
"Sometimes you don't always get the rewards that you deserve, but I felt like I played well in this game and got the rewards I deserve."
Those rewards included scoring the winning runs, clattering Mitchell Starc through point for a boundary which sent a sold-out crowd wild.
"It literally doesn't get any better than that, I don't think," he reflected.
"The feeling of that roar, the Western Terrace going mad. It's pretty special, pretty cool. If you could bottle that up forever and come back to it, you would."
Attention now turns towards Emirates Old Trafford, where England will look to level the series scoreline at 2-2 to set up a decider at the Kia Oval.
The tourists have two chances to become the first Australian men's side to win an Ashes series on English soil since 2001, but Woakes has warned that the task will not get any easier.
"In our dressing room the belief is we can win 3-2, I think it's always been there," he said.
"You don't want to look too far ahead, you have to play what's in front of you, each ball, each day, each session, each Test match as it comes. I'd imagine when you're so close to getting something, the harder it gets, and I'm sure the Aussies will be feeling that now.
"Once you get so close to something, it's actually hard to get that over the line, isn't it? We've got turn up in Manchester and put in another performance. They're an extremely good side and we're going to have to be at our best to beat them again."
---