Australia great Glenn McGrath stirred up an Ashes controversy at Lord's, branding the umpires' decision to reprieve England opener Ben Duckett late on the fourth evening "a disgrace".
Duckett was on his way back to the pavilion for 50 after Mitchell Starc held on to a mis-hit uppercut at fine-leg, apparently leaving England in dire trouble at 113 for five chasing a distant 371.
But he was called back after TV umpire Marais Erasmus reviewed the footage and ruled that the ball was not under Starc's control before he slid it along the outfield.
Duckett appeared uncertain about his own fate, shrugging his shoulders before resuming his innings as he and Ben Stokes reached stumps a few moments later on 114 for four. The issue may not have a bearing on the result, with England still needing another 257, but Duckett's slice of fortune and Stokes' presence mean it cannot be ruled out.
Marylebone Cricket Club, owners of Lord's and custodians of the laws of the game, tweeted to support the on-field decision but McGrath was incandescent during a commentary stint on BBC's Test Match Special even suggesting the home side had been given preferential treatment.
"That is a disgrace. That is ridiculous, I cannot believe it," he said.
"I've seen everything this game has to offer, if that is not out, then every other catch that has ever been taken should not be out. That's a regulation catch.
"That's the biggest load of rubbish I have ever seen. He has the ball under control. If I was (Australia captain) Pat Cummins, I would be popping up and seeing the match referee. I am sorry that is out, I don't care who you are playing for. If that's England taking that catch, that's out."
The view from within the Australia dressing room was considerably milder, with Nathan Lyon offering a non-committal assessment.
Lyon had earlier made a remarkable cameo, ditching the crutches he has been using since tearing his calf on the second evening to make an unexpected and painful appearance at number 11.
"Emotions would be high but obviously there is a ruling in the cricket world with the umpires that you have to complete the catch," he said.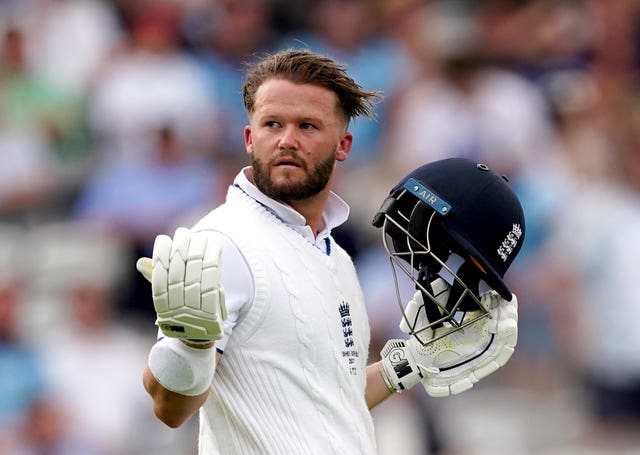 "In my opinion….no, I'm not going to give you my opinion because it doesn't matter."
England's assistant coach Marcus Trescothick was happy to leave the call to the match officials.
"Trust the process, the umpires make the decision so let's sit back and trust in what they call," he said.
"It's probably the same sort of situation with VAR in football, which we all know is a difficult one. When you put the technology on and see the ball sliding along the floor, that's when you start to question it. From what's been said by umpires, you've got to have control of the ball and your body until the motion is finished."
England will undoubtedly need a special performance to find a route to victory, but Trescothick took heart from the fact that Stokes remained in play.
The all-rounder has seen his country out of several outrageously tight spots over the years, in the 2019 Ashes at Headingley as well as two World Cup finals in two different formats, and looked in determined mood when he sent down 12 consecutive overs during the Australian innings.
"You see that from Ben often, he is the master of bowling big, long spells and really grabbing the game," he said.
"He's showing to the opposition, to himself, to his team-mates, to the public, this is what he's all about. Whenever he is ready to go, when he's up for a fight, he's in the contest and it's great to have someone like that in your team.
"Everybody around the world is wary of him when he's in that frame of mind."
---